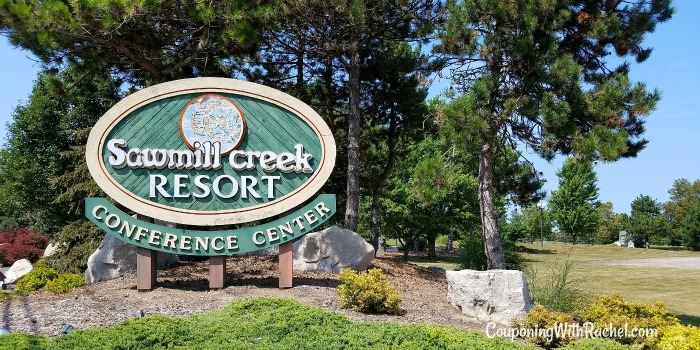 **Find me on Facebook, Instagram, and Twitter!**
Our family visited Sawmill Creek Resort a few years ago in the dead of winter and had a blast! We enjoy ice skating, a dip in their warm indoor pool and so much more. Since we had enjoy Sawmill Creek Resort so much in the winter, we wanted to check it out during a different season!
Sawmill Creek Resort located near Sandusky, Ohio is the perfect retreat for a romantic night away, a girls trip, or even a weekend stay with the family. With an 18-hole golf course, private beach, on-site dining and comfortable accommodations, Sawmill Creek provides just the escape you are looking for. In fact, it's even perfect for your pup. That's right, Sawmill Creek Resort is one of the only properties in the area that allows well-behaved dogs that weigh under 35 pounds.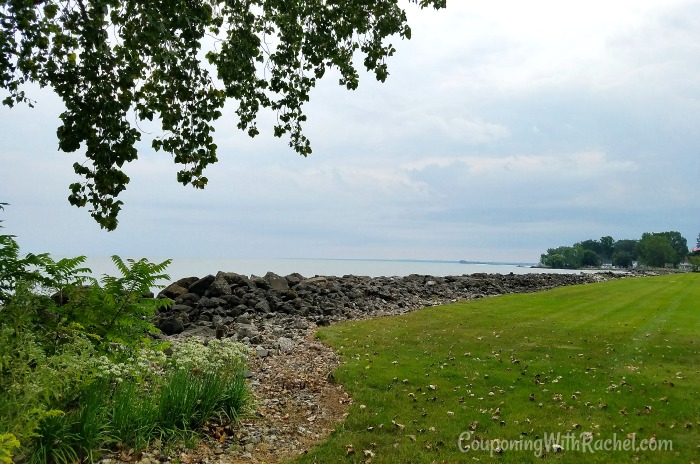 Why you'll love  Sawmill Creek Resort
Located on Route 2 and just a short 10 minute drive from Cedar Point, Sawmill Creek Resort offers many activities for their guests but is also close to other area attractions in the Lake Erie Shores area.  Choose to stay on-site or take a short drive to other popular spots in the area such as the Merry Go Round Museum or Ghostly Manor in Sandusky.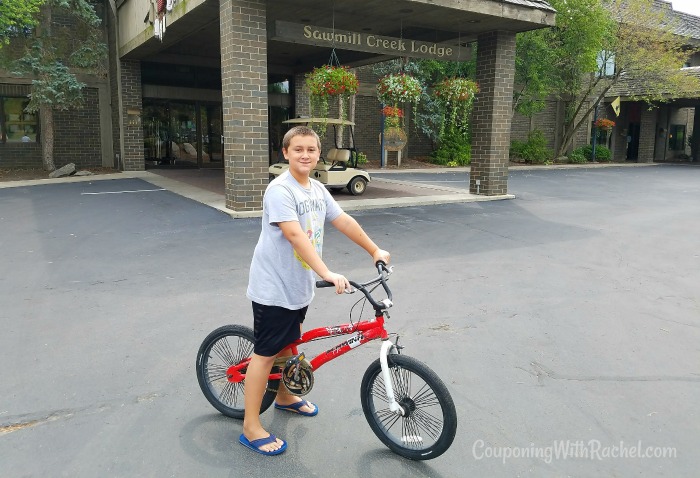 If you decide to sit back and relax, Sawmill Creek has it all. Golf, bike rental, indoor and outdoor pools, tennis courts, restaurants, on-site shopping, kayaking, jet ski rentals, a nature trail and more. On the weekends, live bands play in the lounge and often throughout the year special events are offered such as murder mystery nights. For those planning a business meeting, Sawmill Creek Resort also has an attached conference center.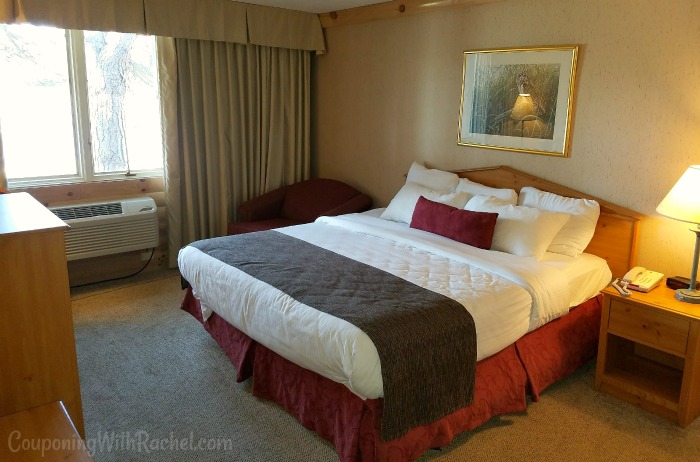 The Resort & Guest Rooms
My family stayed in a large family suite complete with two rooms. It was more than large enough for our family of five. It offered two TVs, a king sized bed in one room with a twin bed and trundle bed, a pull out couch and a pull out chair in the adjoining room. There was a door that closed in between the two rooms which gave us privacy and allowed my husband and I to continue watching TV after the boys had fallen asleep.
Our room also had a dresser, night stands, desk, refrigerator and coffee maker. My only disappointment was that the room didn't have a ton of plugs for our "electronically advanced" family. We made due though, so it wasn't too big of a problem. We were there to unwind after all, right?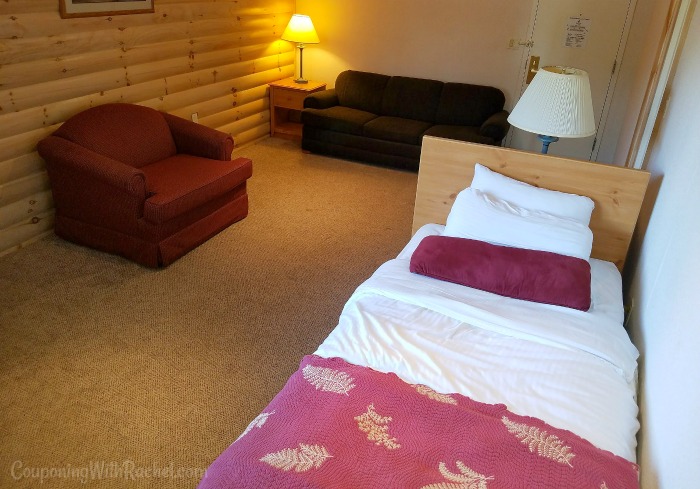 Our King-sized bed and pillows were comfortable and both my husband and I were able to get a good night's sleep. My boys LOVED their room and that there were so many bedding options. I think they tried them all.
Our room was on the first floor of the Huron Lodge and very close to the door to the outdoor pool. In fact, we were really close to the indoor pool too. This is perfect if you are bringing your kids along. I found that the Huron building is centrally located and I'd definitely request this area when we stay again.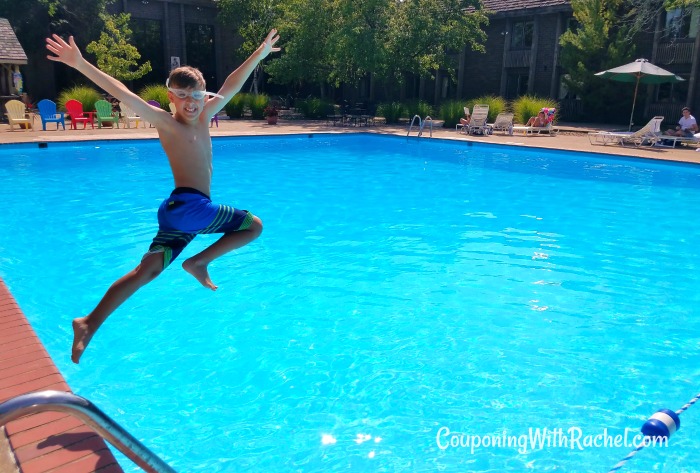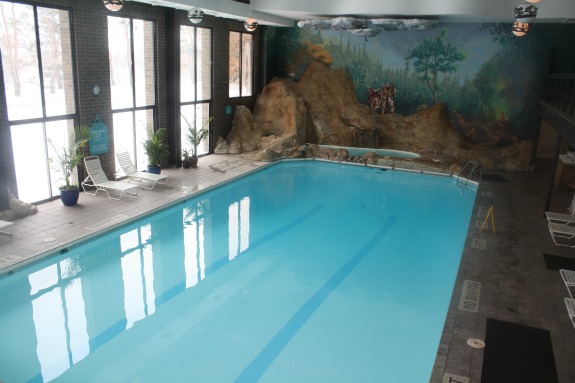 Fun and Food at Sawmill Creek Resort
While staying at Sawmill Creek Resort, we enjoyed as many activities as we could fit in. Of course a dip in the pool was a must for my boys and Sawmill Creek Resort offers two to choose from. I did notice that the indoor hot tub wasn't hot at all but my kiddos didn't seem to mind. What I loved the most about the pools is how big and perfectly clean they were!
After swimming, we took a hike at the Nature Preserve and grabbed bikes to ride around the property. We checked out the observation deck located right on the shores of Lake Erie and got a complimentary ride to the beach (this is open for everyone).
We had worked up an appetite so we grabbed a bite to eat at the laid back Mulligan's Pub which is located inside Sawmill Creek Golf Clubhouse. You can choose the cozy dining room but the weather was perfect to sit outside on the patio. We enjoyed the views which munching on some juicy burgers and appetizers. If you'd rather relax in your room, carry out is available too.
Special Events
Looking for a night out? Every Saturday evening, the Black Bear Saloon located at Sawmill Creek Resort, offers up great music, dancing, and drink specials. You can grab a dinner special at Salmon Run (also located at the resort) from 5-9pm and then head to the Black Bear Saloon which hosts a local live band every Saturday from 8:30pm to 12am!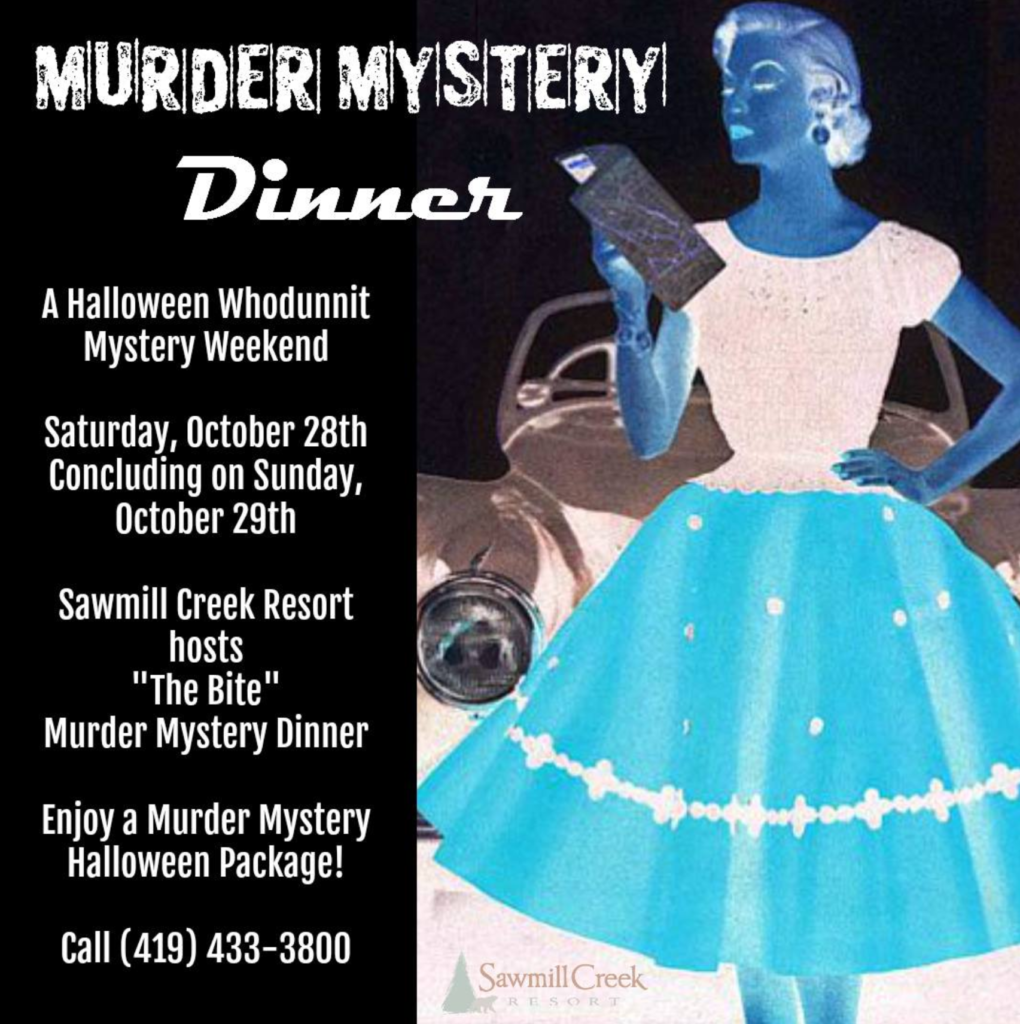 On top of this Sawmill Creek Resort offers events throughout the year such as murder mystery dinners and wine tours. Be sure to keep an eye on their Facebook page for upcoming events and entertainment schedules.
Our family really enjoyed our stay at Sawmill Creek Resort. With 235-acres, this resort provides families and couples a relaxing location to unwind and have fun. With so many activities offered, you can truely unpack for the weekend and never leave the resort. This makes Sawmill Creek perfect for a family getaway, girls weekend trip, or a night away just for the two of you!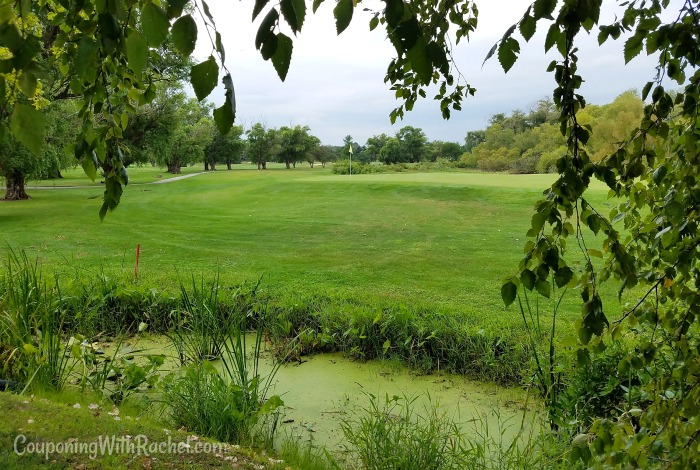 PLAN YOUR STAY AT SAWMILL CREEK RESORT

Sawmill Creek Resort
Address: 400 Sawmill Creek Dr. Huron, Ohio 44839
Phone: 800-729-6455
Follow Sawmill Creek Resort on Facebook
Rates can vary but start around $99. Packages are available.