Sawmill Creek Resort Review ~ Snow Fest
Last weekend my family braved the cold weather and took a short drive to Sawmill Creek Resort in Huron, Ohio to learn more about their Snow Fest.  As avid Cedar Point fans, we drive right by Sawmill Creek countless times each summer so I was really excited to finally check it out!
Sawmill Creek Resort is a short 30 minute drive from our home in Lorain County so it was far enough away to feel like a weekend getaway without an unnecessary long drive.  When we arrived, we drove a bit around the property and I was amazed how large it was.  While most of the  property was covered with a few inches of snow, I could clearly see how well kept up the property was.  It was absolutely serene and I could only imagine how beautiful it would look in the summer.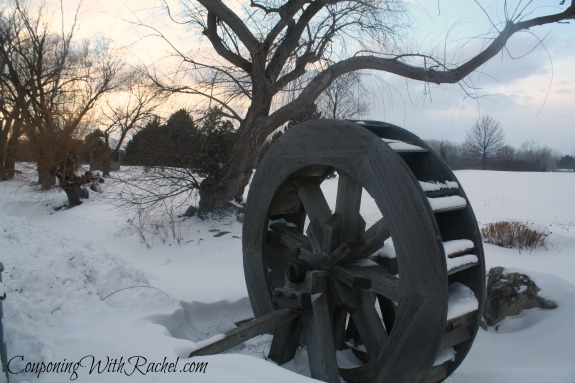 When stepping into the lobby, we felt right at home, as we were greeted by a friendly staff member.   The cozy fireplace located right at the front door added to the charming decor which reflects the North American Woodland Indian.  As we walked to our room my boys got a kick out of looking at the "outdoorsy" decorations such as a mounted moose head and animal skins, they even had a large fish tank.
We were told when checking in, that the resort was full that weekend with a group of over 100 teens.  While I hardly heard a peep from them once in our room, I was happy to see that they were all enjoying the expansive public areas playing card games, chatting on the comfy couches, or playing pool with friends.  What a perfect place for a teen retreat.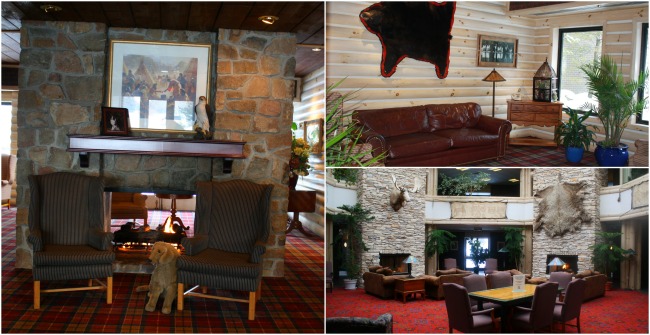 As we walked into our room, I noticed right away the amazing view we had from our expansive window.  Our large room had updated furnishing and new carpet and I was pleased to see that each bed had 4 pillows and upgraded linens.  Even the bathroom was inviting with Bath & Body Works toiletries. hair dryer and comfy bathrobe.  To make you feel right at home, each room comes with a coffee/tea maker, clock radio, work space and high speed internet.
Since my husband had to work that weekend, my mother came with us.  I was happy to see that we were given adjoining rooms as with 5 kids under 8, this made our trip much more relaxing.  Sawmill Creek offers many other types of rooms bound to fit anyone's budget including deluxe guest rooms, jacuzzi/fireplace suites, and large two room suites.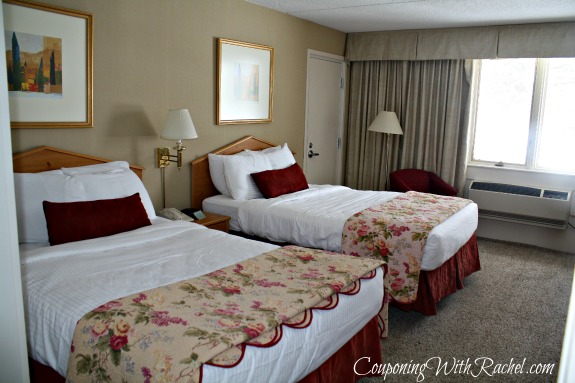 While we loved our room, we were there to enjoy Snow Fest after all so we bundled back up to check it out.  Snow Fest is held at Mulligan's Pub which is one of the restaurants on the property and just a short distance from the lodge.   Here, in this family friendly restaurant, you can rent equipment to enjoy ice skating, ice hockey, snowshoeing and cross country skiing.  Snow Fest is held each Saturday from noon-9, while the weather cooperates.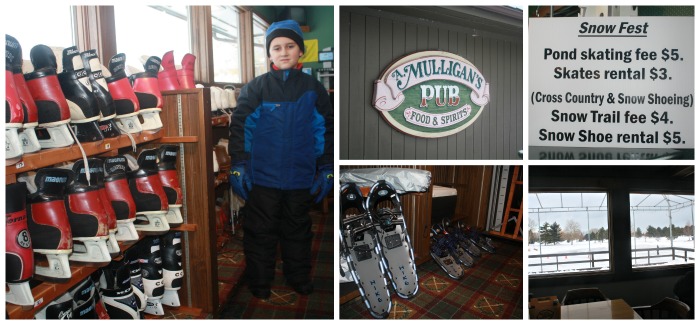 My kiddos were excited to ice skate for the first time and even more pumped that it was on a ice covered pond, so we grabbed our skates and headed out to the ice.  What a treat it was the weather cooperated for us to be able to skate for quite a while on the large pond.
The cost to skate is only $5 with an additional skate rental of $3.  Sawmill Creek has a nice assortment of skates available including trainers with double blades for little ones and hockey and figure skates for the more advanced.  Sawmill Creek also offers snow shoes rental or for a small fee you can bring your own skis and go cross country skiing.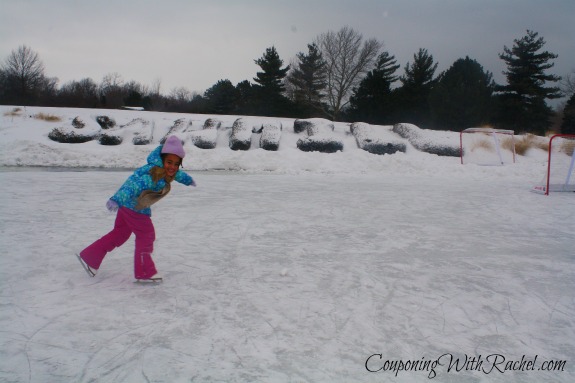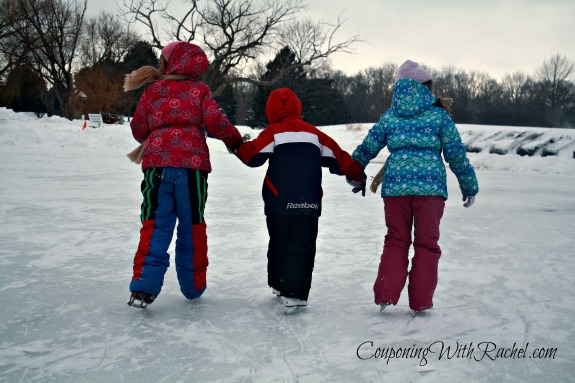 After a bit of ice skating we came back into Mulligan's Pub to warm up. Mulligan's Pub offers an assortment of easy to eat food such as soups, sandwiches, and appetizers as well as both alcoholic and non alcoholic drinks. As we sat drinking our hot chocolates and enjoying our snack, we were able to look out the big window to see all the skaters outside.  In fact soon after we left the ice a large group of boys came out to play ice hockey…of course, I had to stop their game and grab a picture!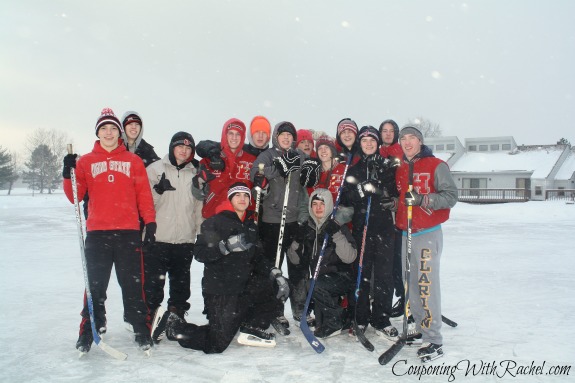 Once we were done skating the kids couldn't wait to check out the pool, and boy was it worth the wait.  Located on the ground floor of the lodge, Sawmill Creek offers a large Olympic sized pool complete with a hot tub decorated by a large mural.  There are towels offered at the pool as well as changing rooms, restroom and a ping pong table.  I did notice that the hot tub wasn't very hot but since my kids like to get in, I'm glad that it was the right temperature for them.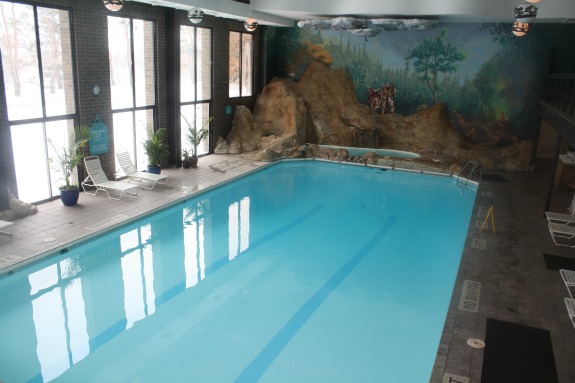 Whether you are stopping in just for Snow Fest or you are staying for the weekend, be sure to check out Sawmill creeks shops located towards the front of their property.  Since we had all the kiddos with us I wasn't able to shop long so I can't wait to come back.
As soon as we stepped into the shop, I was blown away by how much they had to offer!  From ladies clothes, to kids toys, to gourmet foods, this place has it all.  They also carry Vera Bradley and many other boutique gifts inside their two story shop.  If you are a hotel guest don't forget your $5 coupon in your room…you know I grabbed mine!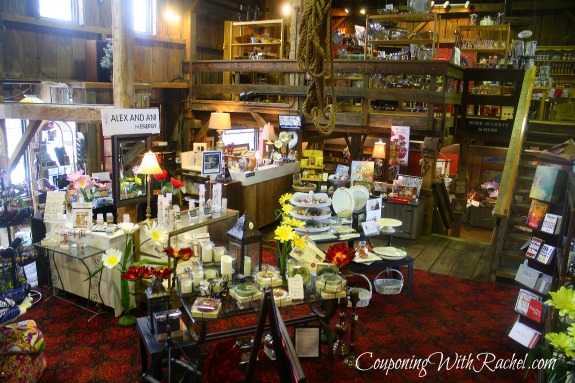 I'd highly recommend Sawmill Creek Resort in Huron, Ohio.  They offer a variety of specials including overnight deals for Snow Fest, Valentines Day, and even winery tour packages.  With Sawmill Creek Resort, you are bound to find the perfect romantic excursion or even a weekend getaway for your family.