This giveaway is now closed.
A few weeks ago my family and I headed to Maui!  Maui Sands Resort and Indoor Waterpark that is.
Maui Sands Resort is located in Sandusky, Ohio and just recently opened their large indoor waterpark.  When we first arrived we walked into a warm and inviting lobby decked out in full Hawaiian décor.  We were even greeted with leis by a friendly staff member at the front desk.  I loved the floor to ceiling windows located at the end of the lobby that allowed you to look right into the waterpark.  Once my kids looked in they just couldn't wait to get their suits on!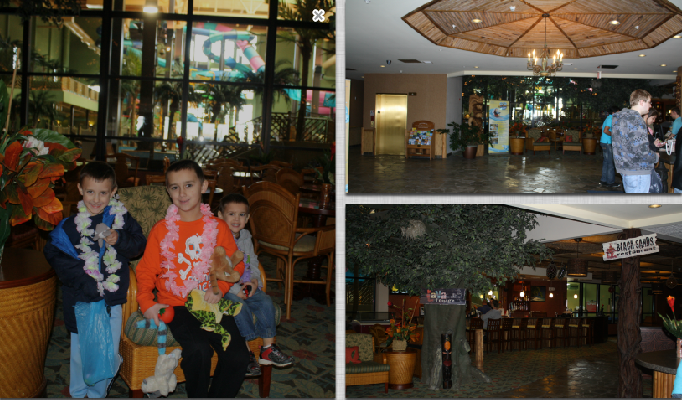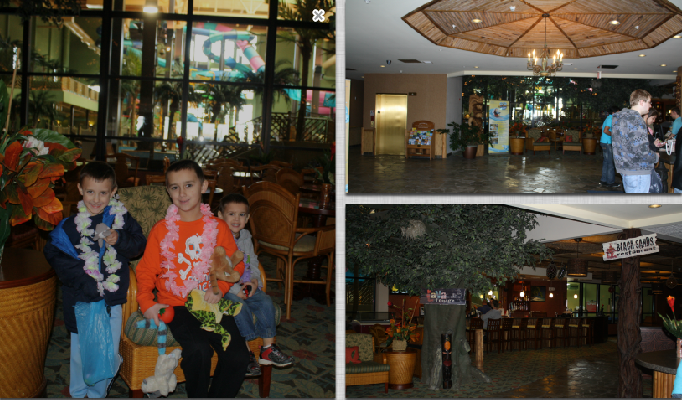 We headed straight to our room to make a quick change…or at least I thought so.  When entering our room our boys were head over heels happy to find that they had their own area filled with two bunk beds and TV.  I must say that I too was excited that I wouldn't have to watch cartoons that weekend as I found I had a separate TV.  Since the kids were so happy in their area we put off heading straight to the pool and my hubby and I were able to relax a little.  Sweet!
Our room was spacious and very clean.  I loved that the sink area was detached from the bathroom and provided ample counter space along with many outlets.  Since I had packed everything except shampoo and conditioner, I was delighted to see the toiletries were from Bath & Body Works.    I also loved that our adult room had a sliding door.  This made it feel like my hubby and I had our own room even with the kids right near by.   Our room also had a huge closet, mini fridge, coffee maker, and small desk.
One of my favorite features, hands down, was the keyless entry.  Every time we go to a hotel my husband and I have a conversation like this each time we leave the room.
"Do you have the room key?"
"I don't, I thought you did"
Both of us search frantically for the keys.
At Maui Sands Resort and Indoor Waterpark you won't have to spend time finding your keys because they are right there on your wrist.  See the picture in the bottom right corner?  Those are your keys.  Neat- O, huh?  To enter your room all you have to do is scan your bracelet.  I love this idea and wish more hotels offered this.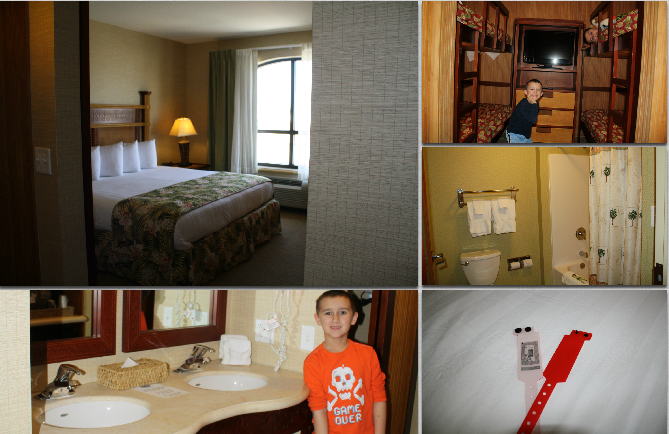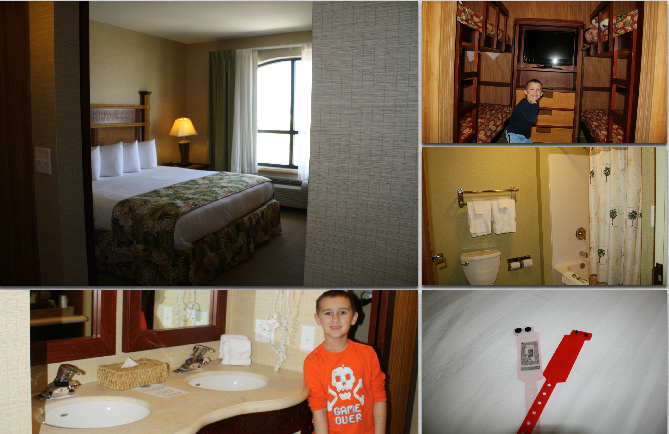 After a little rest we headed down to the waterpark.  The first thing I noticed was how bright and beautifully decorated it was. It was also VERY clean!  We headed straight to the Kai River for a few turns on the "not-so-lazy" river.  We loved that while it was family friendly there were a couple rapids and moved us right along.  On the Kai River you can even choose from a single or double tube.
If you have little ones, they'll really enjoy two areas created just for them; MakaMaka Treehouse and Pineapple Bay.  The three-level treehouse is filled with small dump buckets, water cannons, a climbing rope and 4 slides.  The kids loved that they had slides geated just for them.  You'll also want to check out the Pineapple Bay area which is for the smallest guests (under 52″).  While a lifeguard is present, the water is shallow enough to keep everyone safe.  Even my oldest son, who is seven, enjoyed hanging out here with his brothers and water toys.
For you thrill seekers, Maui Sands Resort has 4 slides that are full of twists and turns: Maui Wowie Bowl Slide, Hammerhead Plunge, Kana Storm and Hana Half Pipe.  You can reach up to 40 MPH as you zoom down the tubes either by yourself or with a friend.  My hubby and I really enjoyed all of these and we were even able to coax my 5 year old son to go; of course once he went one time he no longer needed coaxing.
Looking for a little adventure?  Then challenge yourself on the Water Walk Crossing in the Coconut Cove!  This 12,000 sq ft. area of fun also houses water basketball hoops and the Vortex Pool.  The Vortex Pool is an actual whirlpool which will have you spinning in delight as it gently pushes you in around the perimeter.
Once you're ready to relax you can head to one of two spas.  The Half Moon Lagoon is a huge  "all ages spa" where the whole family can enjoy a nice warm soak. My kids loved this area so much that it was one of the most requested attractions.  If you need a little time away then head to the second floor and relax in the adult only, rooftop Ka'anapali Spa.  While I loved my family-time at the waterpark I also enjoyed a little time away by myself.

After all this playing you're sure to build up an appetite. We sure did, so we checked out their indoor grill located just a few steps away.  I loved that we didn't have to leave the park to grab some food!
We ordered a few different items and I was quite pleased with the prices which I thought were fair for a waterpark.  Our homemade pizza and chicken wrap sandwiches were yummy and filling and since we had a refrigerator in our room we even had a place for the leftovers.  If you're in need of an adult beverage you can head over to the walk-up window of the Lava Lounge or take a seat at the bar.
Located right next to the Lava Lounge is the Black Sands restaurant which will be open soon with a full menu.  It has ample seating room and I'm sure will make a wonderful addition to Maui Sands.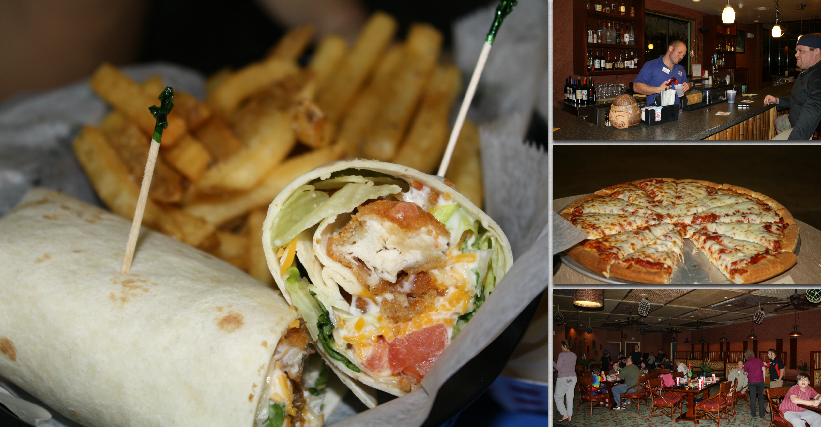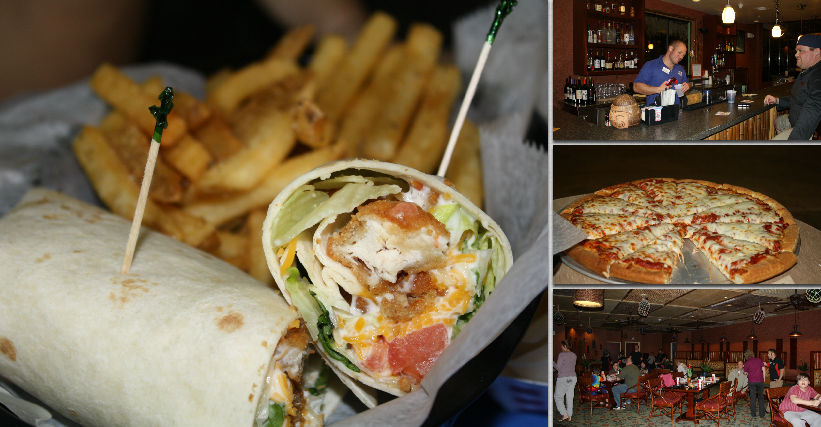 Before we turned in for the night, we checked out the FREE ice cream social they were having that evening in the lobby.  They should of called it an "Ice Cream Extravaganza" with all the toppings that were offered.  My kids were in heaven! I thought it was a perfect way to spend the end of our day.
The following morning we had a quick breakfast in our room before heading down for another fun day of swimming.  I heard later that there was a FREE breakfast but I wasn't told this when checking in so you may want to ask when booking you room.
Once we were done swimming we were able to use the family changing area complete with a changing table, toilet, sink and shower.  It was spacious enough for our family of five and I loved that I were able to all stay together.
Before we left we popped into the arcade area complete with several games and a pool table.  While the games were too old our kids they didn't seem to mind pretending to play.  If you have older kids this would be a nice place for them to check out.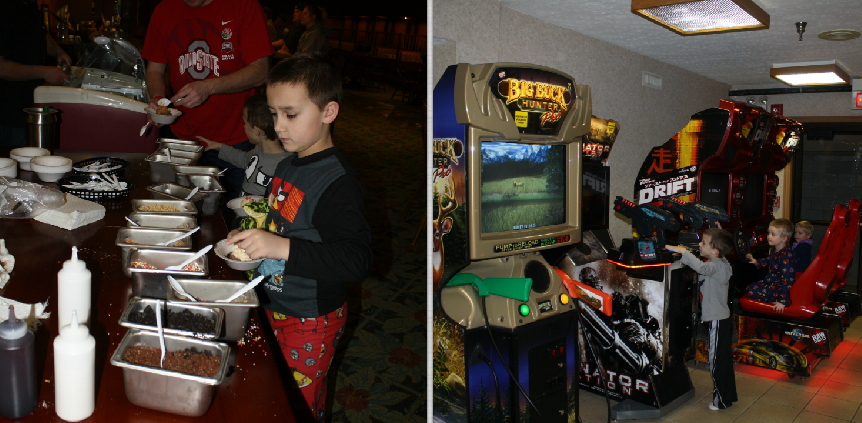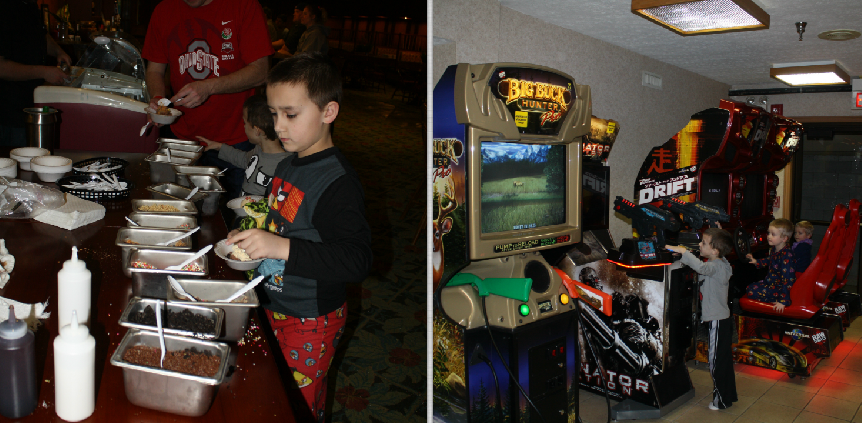 All in all, our stay at Maui Sands Resort and Indoor Waterpark was fabulous!  Yes, it's a little smaller than one of the huge parks in our area, but that's one of the BEST things I like about it!  With our boys still being at the age where I must keep a constant eye on them, Maui Sands offers enough attractions for an action-packed day but is still small enough that that I can keep my kids safe.
We also enjoyed that it wasn't crowded and that we could all ride the slides with very minimal wait time.   I was also delighted to see all the life guards stationed throughout the park and actively engaged .
We will definitely be back!
Please note:  The waterparks new hours: Open Thursday, 4:00 pm through Monday, 1:00 pm, effective April 8th through May 23rd.
Giveaway!
And now to the giveaway!  Maui Sands Resort and Indoor Waterpark have graciously offered a FREE overnight stay for up to four guests in a two- queen bedroom.  This giveaway also includes waterpark passes.  You can enter once a day by leaving a comment and tweeting!
Enter below and good luck!
Disclosure: This is not a paid review. All opinions are my own. I was offered an overnight stay in exchange for my honest review.  I will only accept opportunities that I feel best represent my blog and audience.