Disclosure: A big thanks to Kalahari for teaming up with me to offer this content for my blog. I was offered day passes to Kalahari. Regardless all opinions are my own.

Kalahari Sandusky, Ohio
"PIN IT"
My family LOVES Kalahari in Sandusky, Ohio . We've been so many times during Ohio's cold winter months but had yet visited during the summer. When Kalahari announced it had expanded it's outdoor area and added five brand new slides this year, I knew we HAD to check it out! With summer coming to a quick end (and the outdoor area closing Labor Day), a few days ago, I grabbed the kids and we headed out to Kalahari!
If it's a rainy day when you visit, see more of what Kalahari Sandusky offers indoors!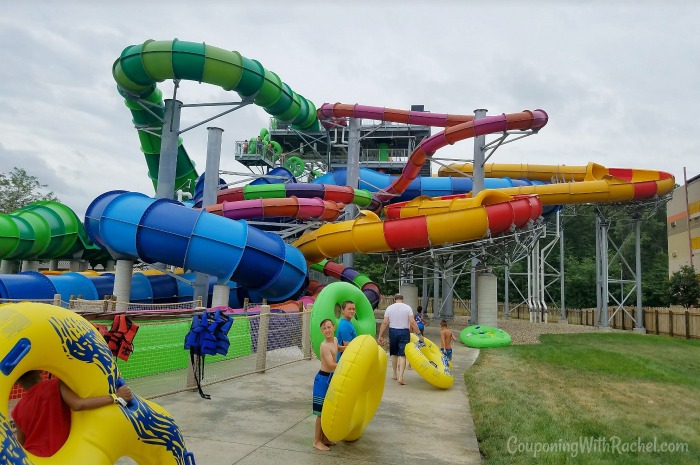 As soon we walked in the doors of Kalahari Sandusky, my kids were begging to head outdoors to see the new addition. We quickly changed into our suits and headed outside. Standing in the far corner of the property, you could see the bright towering structure that includes the five new slides; Stingray, Sahara Sidewinder, Tornado Alley, Serengeti Spinner, and Extreme Rush.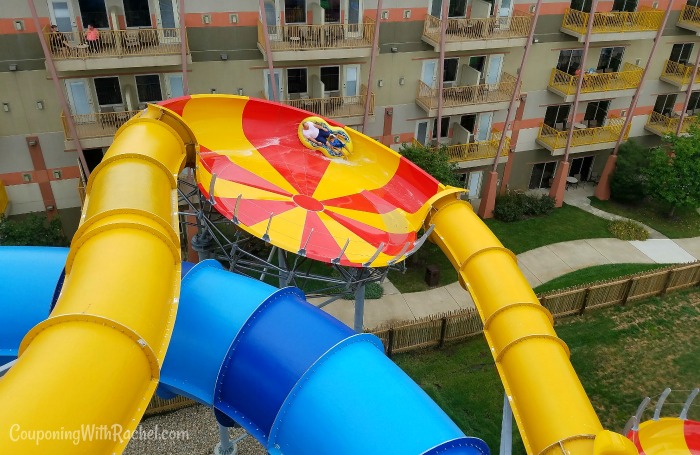 The first slide we tried was the Sahara Sidewinder. This super fast slide takes you through dark tunnels then rockets you into wide-open and steeply-angled saucers. Over and over you'll twist and turn through of tubes. We loved that this was a two person slide that even allows riders as short as 42 inches (when accompanied by an adult).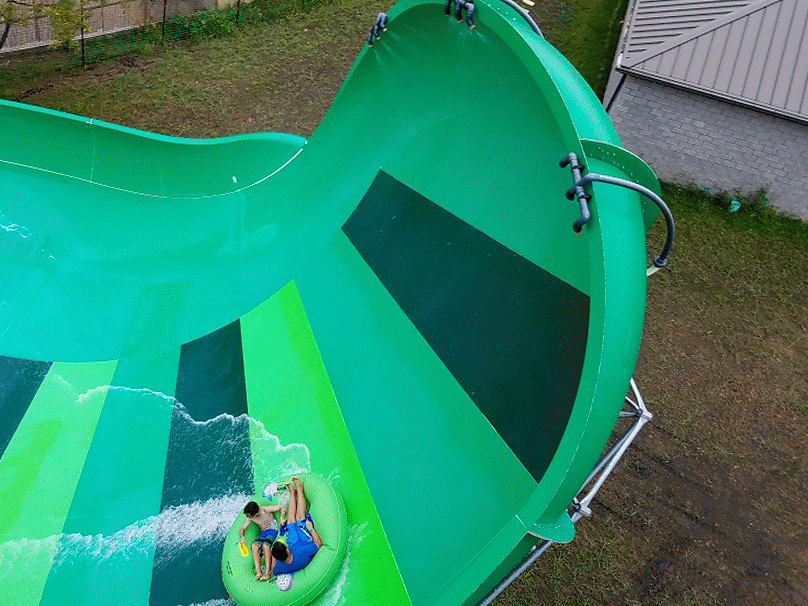 Next up was Stingray! This massive funnel slide towers off to the left of the new slide structure and got the most oohs and aahs from my boys! This raft slide zooms down a barrel, drops into a 45-degree tunnel and then explodes into a five-story funnel. You are then launched up the far wall of the funnel where you hang for a moment in zero gravity! Standing on top of the slide structure and peering down into the funnel makes it look quite intimidating but I'll tell you one thing, this slide is amazingly FUN!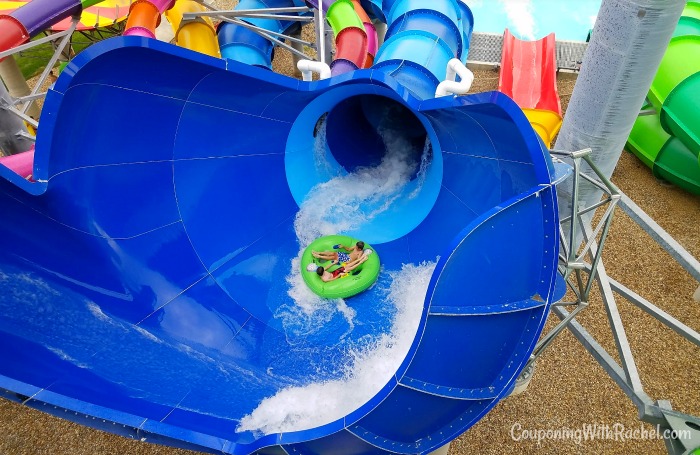 Tornado Alley was my favorite of the slides that I rode. It's very intense and took my breath away! I'll warn you, this ride has some extreme moments complete with sudden drops and crazy high swings. I've been on a lot of waterslides but this one was was probably the best! This slide is a must-do for waterslide enthusiatists.
While the other slides were partner slides the last two are single riders. The Serengeti Spinner is a high-speed enclosed bodyslide which features back-to-back curves and tight 360 degree loops. You'll twist and loop down the tunnels before splashing into the pool at the end. This was my middle son's favorite slide and he asked to ride it over and over!
If you dare, Extreme Rush is a must. Extreme Rush allows riders to get into a near-vertical pod. After the countdown, the floor drops out and you go into a free fall. This is an extreme thrill ride and my boys were brave enough to try it. Me? I'm a scaredy cat. Maybe, next time!
On top of Kalahari's new outdoor waterslides, they offer a large outdoor area with activity pools, hot tubs, a playground, sand volleyball courts and more! My boys and I enjoyed the large outdoor pool and my youngest really liked an area just for him in the kiddie pool.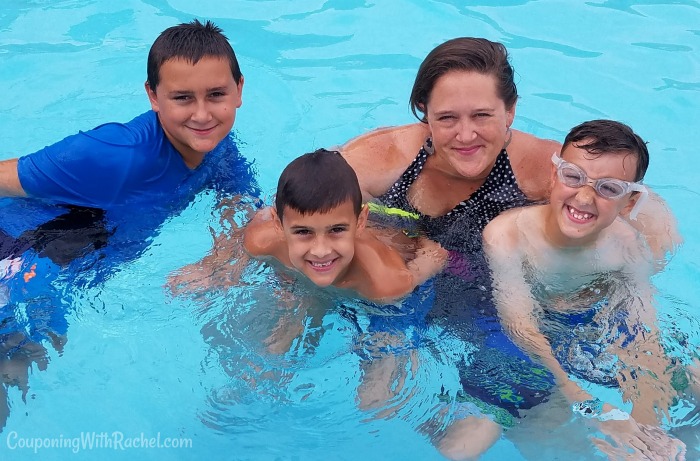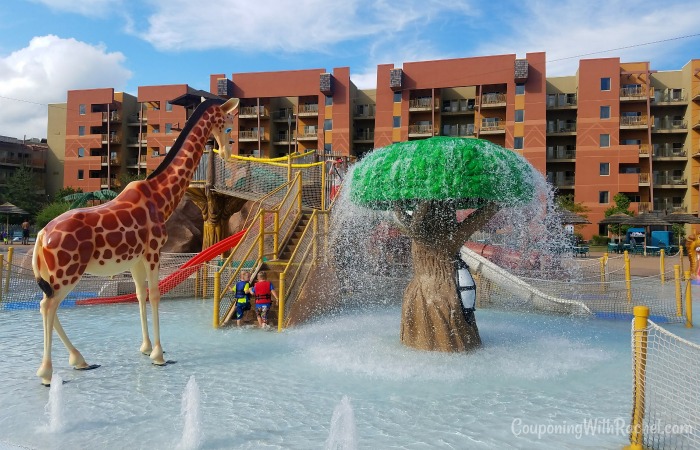 One area that my family had never experienced before that we were itching to try was the Safari Outdoor Adventure Park. Open Memorial Day through Labor Day, the Safari Outdoor Adventure Park features a ropes course, a zip line tour and climbing walls. We were bummed that the zip line was closed for the day because of high winds but my boys spend hours on the other activities.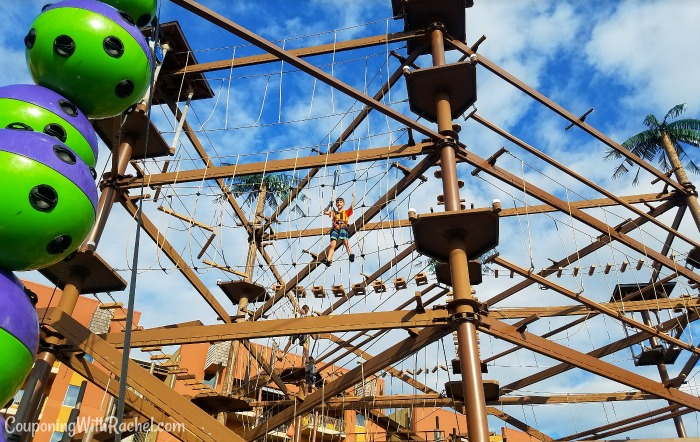 The ropes course offers three levels and 48 elements spanning over 750 feet. It's huge! When we arrived we didn't plan on visiting this area and didn't have the right shoes but I was pleasantly pleased to see that you can rent Crocs for a small fee. My boys loved this attraction and I felt completely safe with them on it.
The Adventure Climbing Walls were a hit with my two youngest. They climbed up those walls like they were pros. They asked to do it again and again, sometimes racing each other while other times trying to beat their own personal times. There was also a ball looking structure that could be climbed too. They both gave it a try and got pretty high. They were in heaven!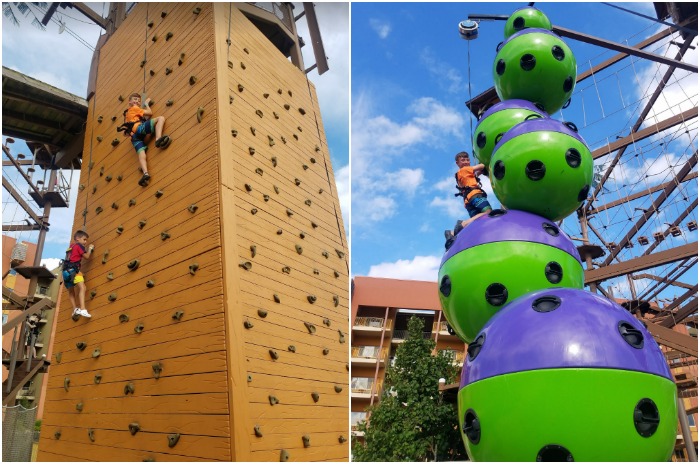 While this was our first time at the Outdoor Adventure Park, we will definitely be back to do it again. Prices for resort and day pass guests are $35 while is it $40 for non-resort guests. The best thing is the passes for resort guests are valid for your entire stay!
When the boys needed a break at the Safari Outdoor Adventure Park we walked next door to the Animal Park. Open year-round, this area allows guests to experience animal encounters and see some precious animals up close. Resort guests are only $5.00 for all day admission. There are a few upcharges such as camel rides or feeding the animals if you are so inclined.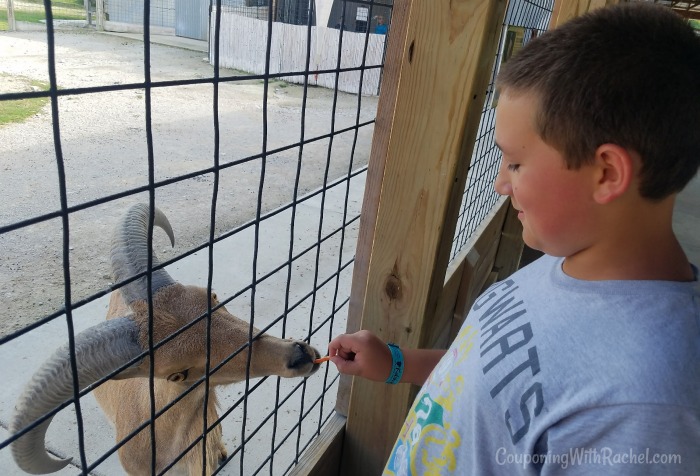 Before heading home for the day we stopped in at the arcade to try our luck. The games at Kalahari Sandusky are always a hit with my boys so we always play a few each time we visit. As we headed in we were excited to see that it was cookie decorating time… FREE cookie decorating time! This event is always held in the afternoon, so be sure to check the daily schedule.
Are you squeezing in a little more summer fun? Be sure to check out Kalahari's new outdoor slides! Keep in mind that this area is only open Memorial Day through Labor Day!