Disclosure: My family was provided with overnight accomodations to help facilitate this review. All opinions are my own.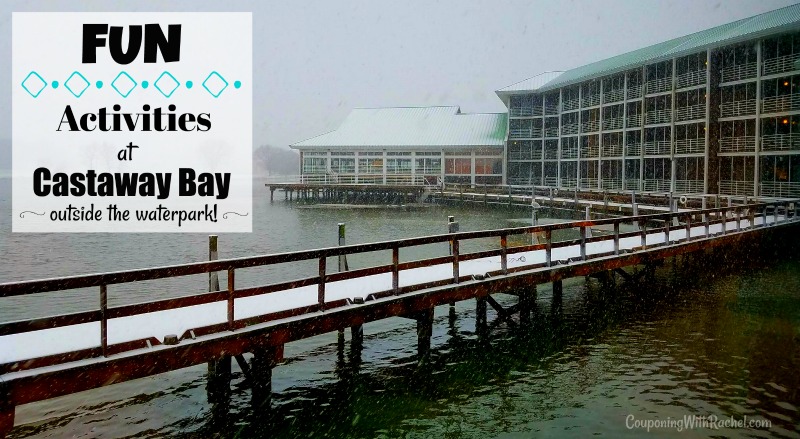 My family loves to visit Castaway Bay throughout the year, but our favorite time to visit is the cold winter months. Did you know that no matter the frigid temperatures outside, it's always 82 degrees inside the waterpark?
Over the Christmas holiday we packed our bags and headed out to Castaway Bay. While driving, our youngest one sheepishly asked how he was going to swim with his broken arm in a cast. If you hadn't heard, at the beginning of December, my family and I were involved in a bad car accident where his arm was broken. The aftermath of the car accident has been a lot to deal with and we thought a overnight stay would be perfect for our family. How in the world we forgot about his broken arm is beyond me! Thankfully, Castaway Bay has so much to do outside the waterpark too!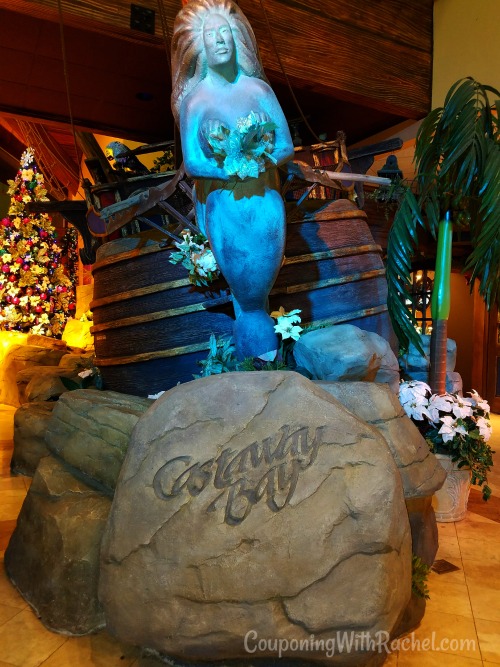 Castaway Bay is located right outside the gates of Cedar Point in Sandusky, Ohio and is an easy drive from Ohio, Michigan and Indiana. This large five-story indoor waterpark has something for everyone in the family; from the toddler area for your little ones to the water roller coaster for those that dare. Castaway Bay's indoor waterpark features a vaulted wood ceiling in a natural setting of palm trees, huts, inland lagoons and plenty of wet and wild water adventure. The indoor/outdoor hot tub is a must-visit along with surfing the waves in the large wave pool. Safety is important at Castaway Bay and there are plenty of lifeguards to help you keep an eye on your kids.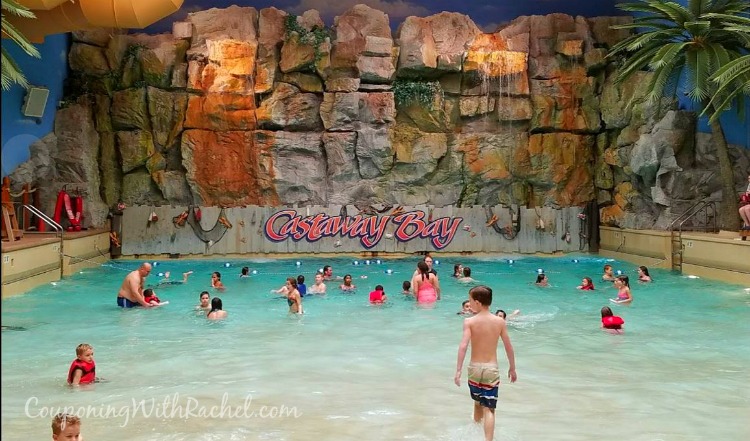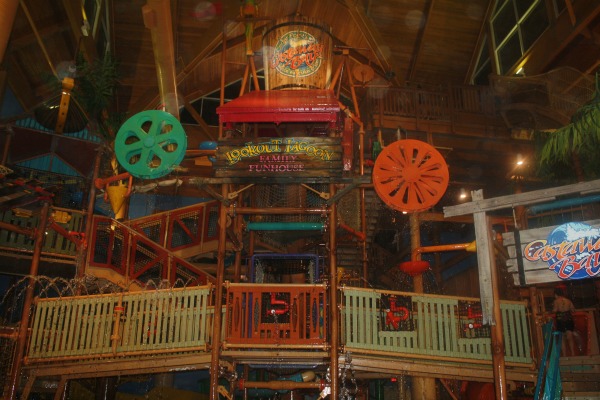 As soon as we checked in we took a look at the Island Times newsletter that is posted at the front desk. This daily newsletter shares the waterpark opening and closing times as well as keeps an up-to-date activity log of all the fun things to do during your stay. This includes meet and greets with Peanut characters, storytimes and more. I always take a picture of this with my phone so I'll have easy access it whenever I need to look at it.
Before exploring the hotel, we settled into our comfy room! Castaway Bay has many room options for both small and large families. We've  stayed in the large two-room Tarpon Suite but the last two years we have stayed in the Starfish Bayview. As a family of five, we had more than enough room and we really liked our balcony with a view. My oldest son loves this room for the unique pull-out chair (a chair with a twin pull-out bed). He's at the age that he wants his own bed and really enjoys that he doesn't have to share a bed with his brothers. Our room included two double beds, a mini fridge and microwave. This year we brought along out Fire Stick to watch movies before bed which hooked right into the in-room TV.
Because we had extra time, we headed to Quaker Steak & Lube for dinner. This restaurant is attached to the hotel and serves award winning ribs & burgers, plus offers chicken wings with 25 of their signature sauces. It offers a large in-door restaurant as well as seasonal patio seating in the summer. Our waitress was great and our food came out quickly.
The waterpark will keep your family busy but Castaway Bay offers so much more than that! One of our favorite things to do is the meet the Peanut characters such as Snoopy and Lucy. As mentioned earlier, the meet and greet times and locations are listed each day. These loveable characters take their time to snap photos and give out hugs along at all of the events throughout the day.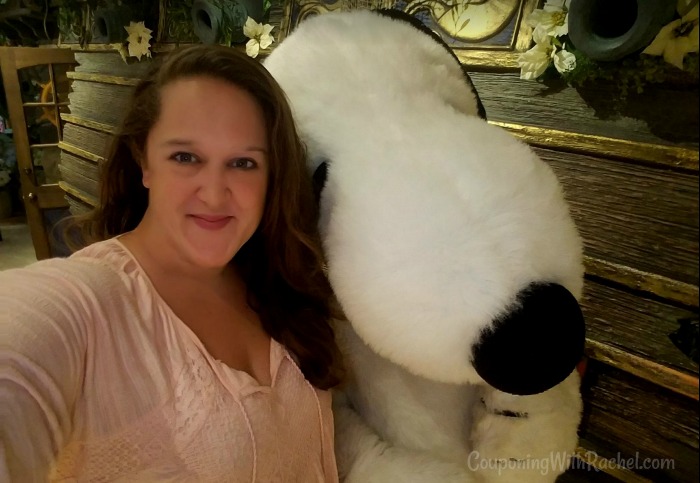 While we were there, Snoopy came out for a tree lighting ceremony. It was too cute and got us in the holiday spirit. We also came down to the lobby later that evening for storytime. Most of the kiddos who were there dressed in their jammies and cuddled on the couches while listening to the story, The Night Before Christmas.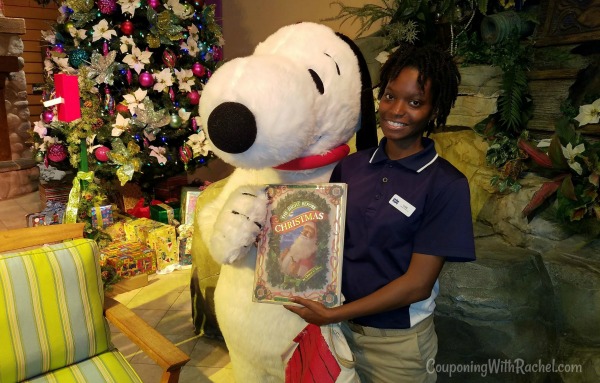 After storytime, we stopped in at Ebb & Eddy's Deli. Located near the front lobby, you'll find sandwiches, snacks, and sweet treats. Be sure to give their giant sized peanut butter Buckeye's a try. Oh my, are they delicious!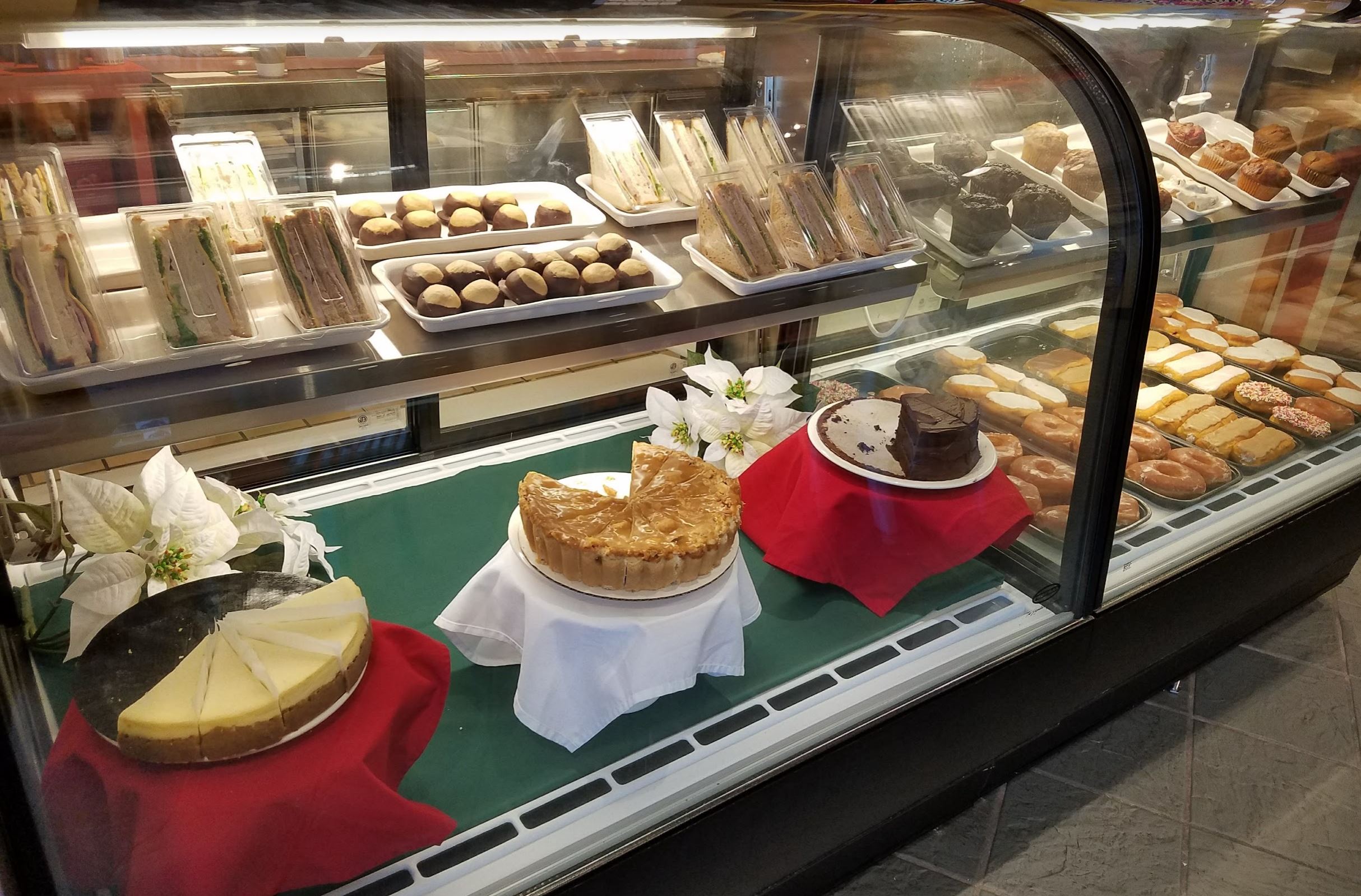 It's here, where we always grab donuts for breakfast the next morning. Did you know that after 6pm, all donuts are BOGO free? SCORE! My boys were looking for a treat in the evening they opted for ice cream. Ebb & Eddy's offers Toft's ice cream in a variety of flavors. This is a family favorite! You can take your treats back to your room or eat-in. This area even boasts a lot of tables and a large screen TV. My youngest really wanted to enjoy his ice cream by the fireplace in the lobby. I think he chose the perfect place!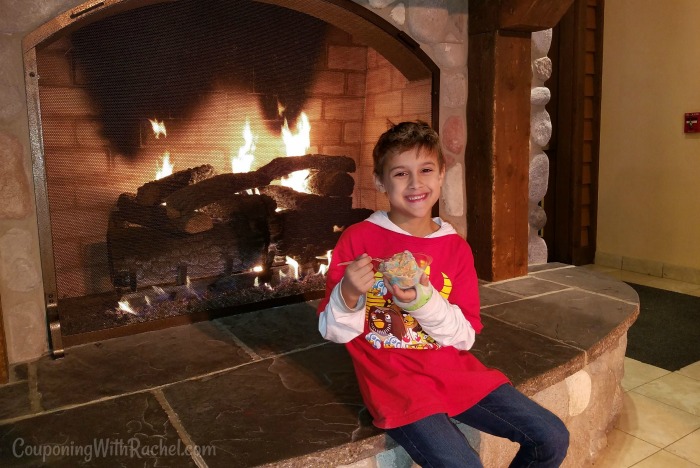 Before heading to bed, we had fun at Castaway Bay's Club Castaway! Located on the 3rd floor, this large room hosts activities throughout the day. The evening we were there, they offered karaoke with the Peanuts characters and a dance party. I've also seen movie nights hosted here.  Best of all, it's FREE!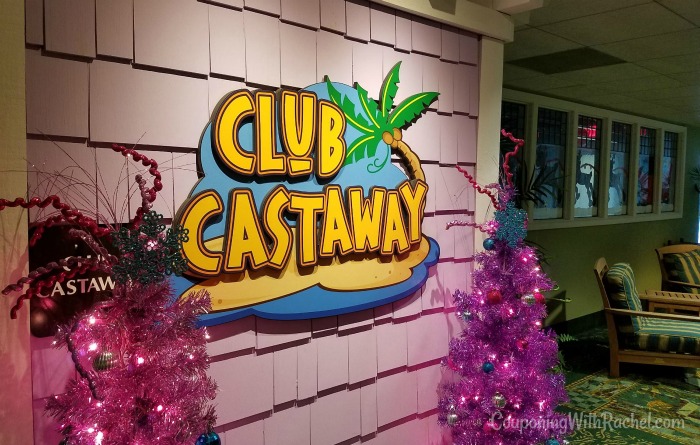 If arts and crafts is your thing, be sure to check out the craft area where kids can color their own t-shirt, beach blanket and more! This year we chose to color a t-shirt and my boys couldn't wait to put them on. With prices as low as $5.00, it's sure to fit into your budget.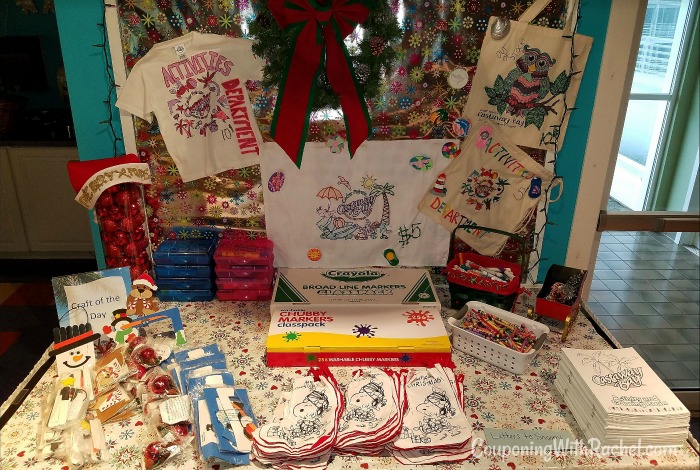 While visiting Club Castaway, you can even snag a free coloring book. You may spot a FREE easy-to-do craft that are sometimes available around the holidays. While we were there, we completed a cute snowman craft.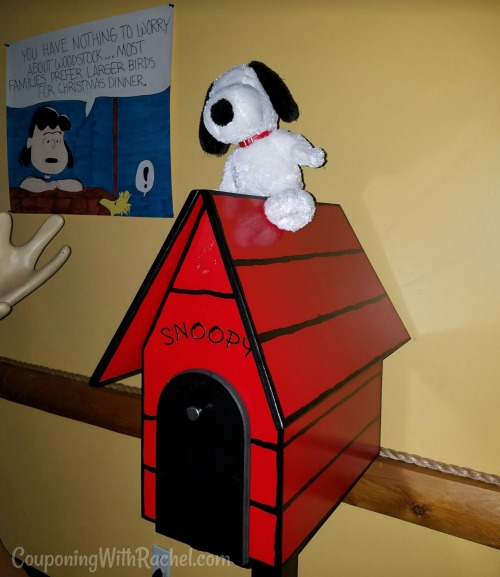 This trip to Castaway Bay, I learn something new! Stop into Club Castaway where kids can write a letter to Snoopy. When they drop it off during the opening hours of the club, Snoopy will write back and put the letter under the door of their room. What a fun thing to wake up to!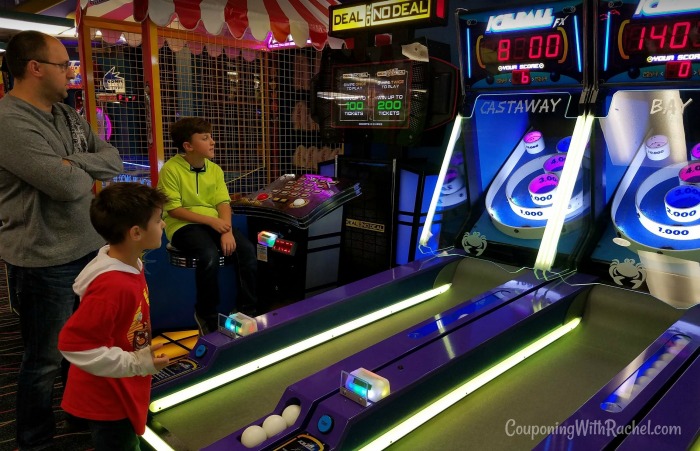 The next morning, our boys were super excited to check out Crabbie's Quarterdeck Arcade. This arcade boasts all the best video games such as skee-ball, basketball, claw machines.  They offer ticket and non-ticket redemption games as well. To make it super easy for families, tickets earned are directly loaded onto the arcade cards and they are reloadable. Best of all, many games award tickets that can be redeemed for awesome prizes. You can pay for single games but we found the package deals a great offer. The package deals let your kids play for hours for one price.
While we weren't able to go into the waterpark this time, my family still had an awesome time at Castaway Bay! Next time you are at Castaway Bay be sure to check out not only the waterpark but all the dry activities that they offer too!
Connect with Castaway Bay on Facebook or Twitter.
GIVEAWAY:
Have you visited Castaway Bay? If not, here is your chance! Enter below to win 4 one-day passes to Castaway Bay! You can enter everyday!
This giveaway will end on January 24th. Good luck!