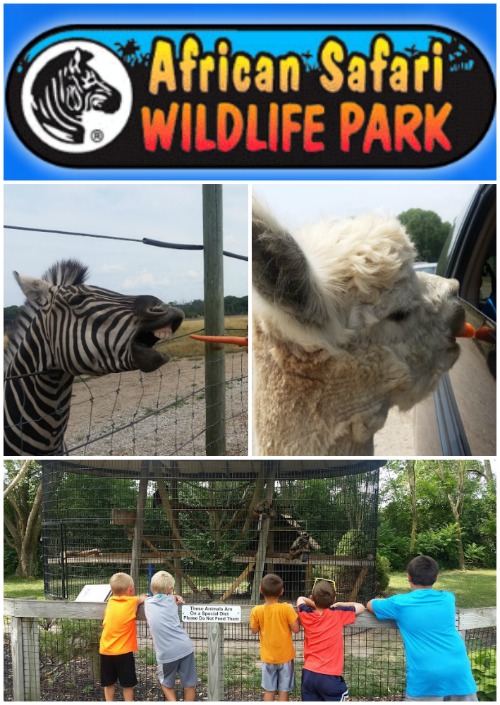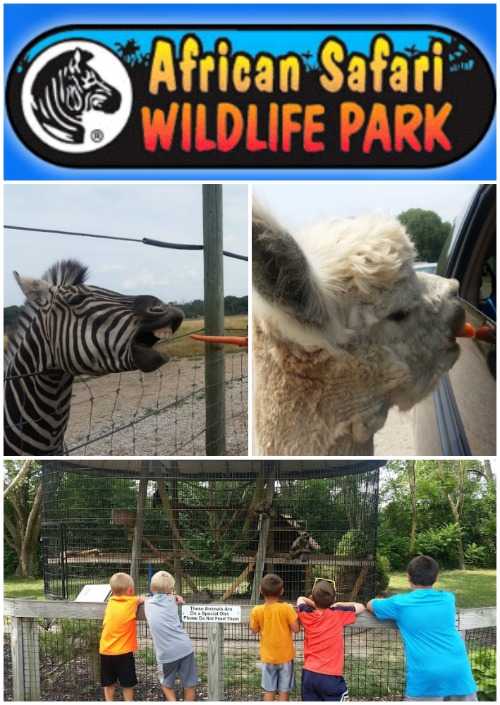 Resharing our adventure from last summer because we are planning another visit!
I've shared the deals for African Safari Wildlife Park in Port Clinton, Ohio so many times, but surprisingly my family had never been before. That is until this summer. Over the years I've heard so many amazing reviews but I just never quite took the leap. I'm so glad we did! If you haven't visited African Safari Wildlife Park yet, here's what you are missing!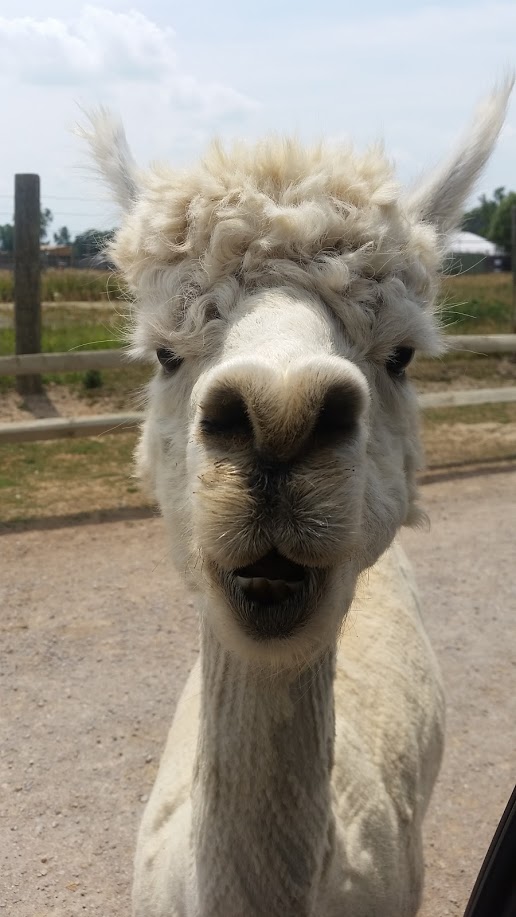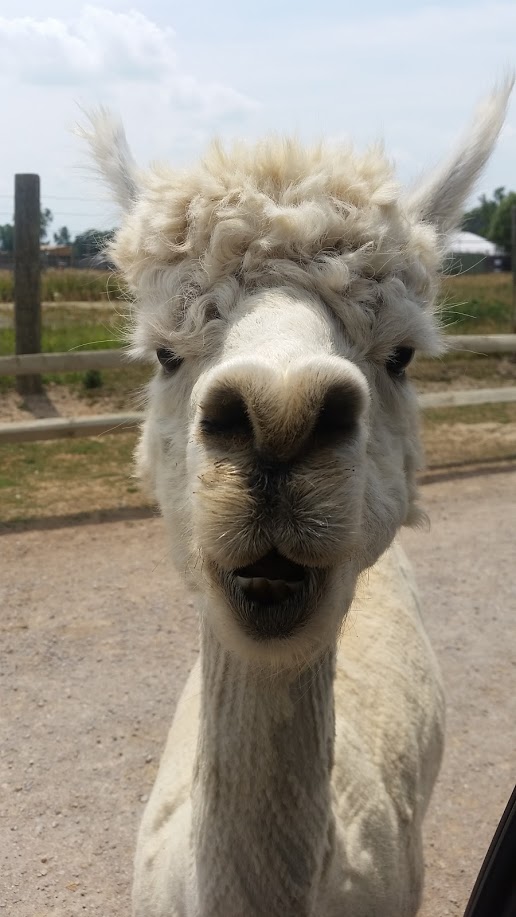 Drive-Thru Safari
The first thing you'll want to do at African Safari Wildlife Park is to drive through their park to meet AND feed the animals. Yes, you'll be able to get up close and personal to deer, bison, alpacas, zebras and giraffe's. Close enough to touch, feed and get selfies with!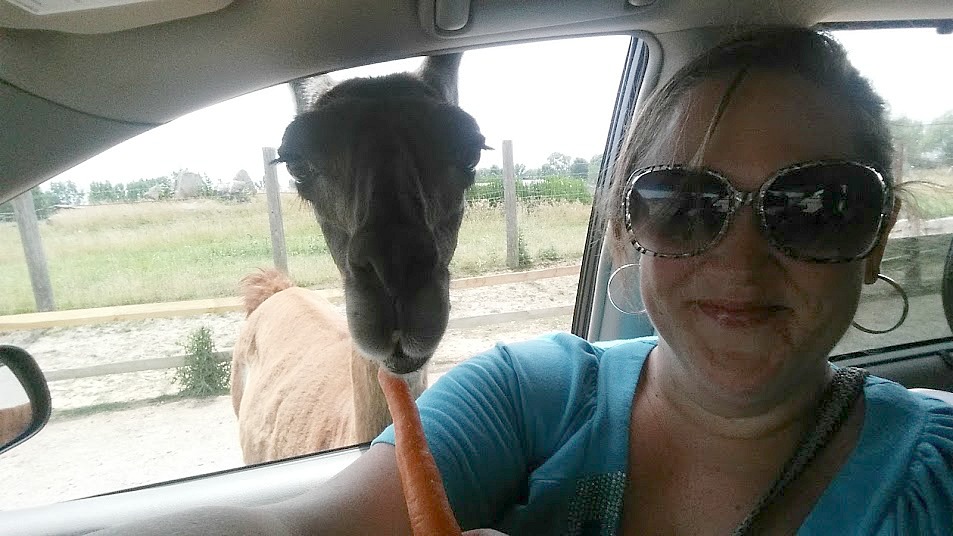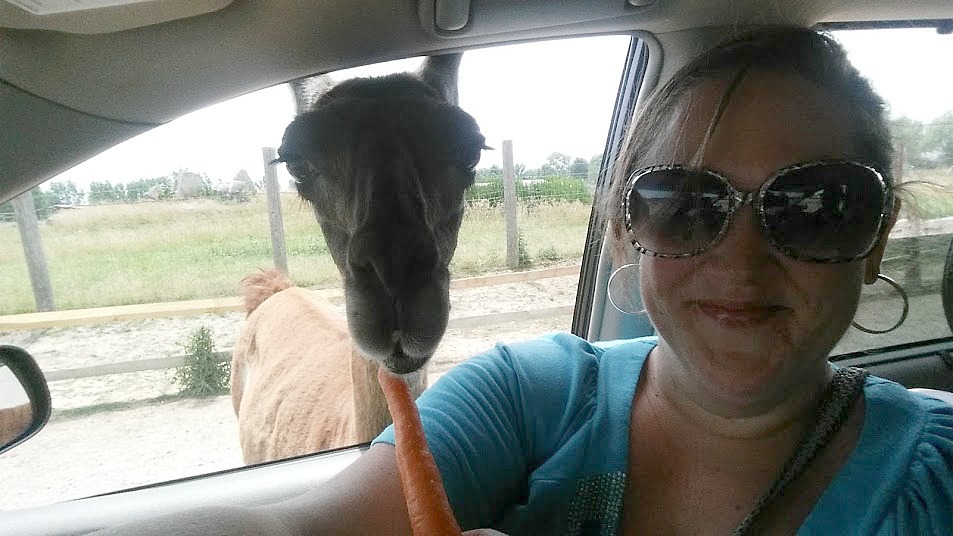 To keep the animals safe, no outside food in allowed but you can buy food when you enter the park. The animals REALLY like the carrots so I'd strongly suggest it! It brings the animals closer for some really great pictures.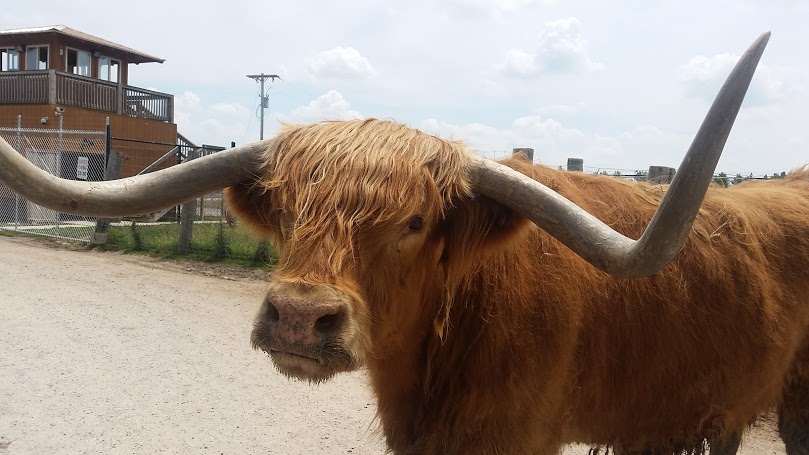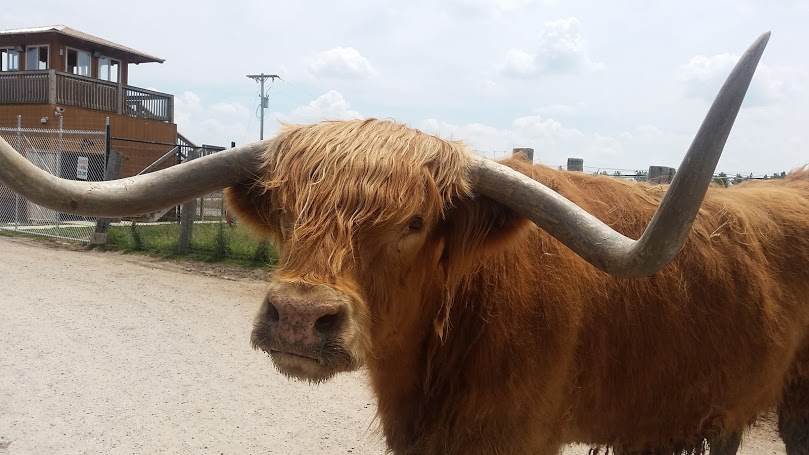 The animals were very docile and while many are HUGE, they are really friendly.  Be sure to bring along a car that you won't mind getting a little slobber on, as some My boys were a little scared with animals poking their heads into the car but really got into it by the end of the drive. In fact, they are already asking to go back!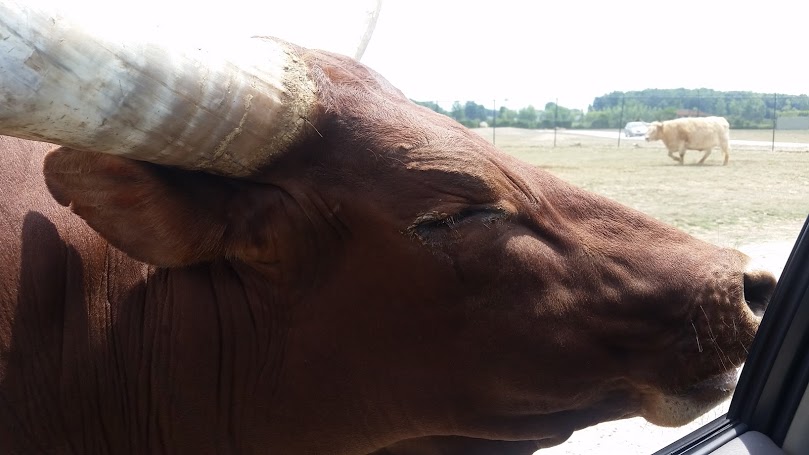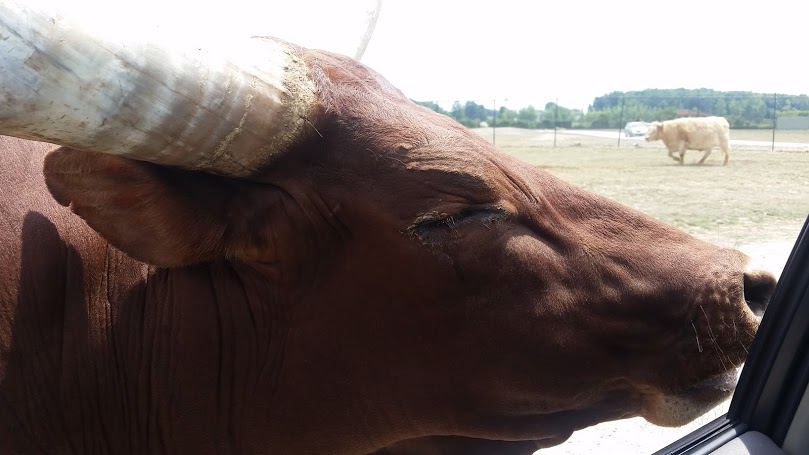 Walk-Thru Safari
While at African Safari Wildlife Park in Sandusky, don't miss the walk-thru safari area. This zoo like setting features animals such as pigs, birds, alligators, camels and more. It's not a huge park so it perfect to walk around and see everything within an hour or so.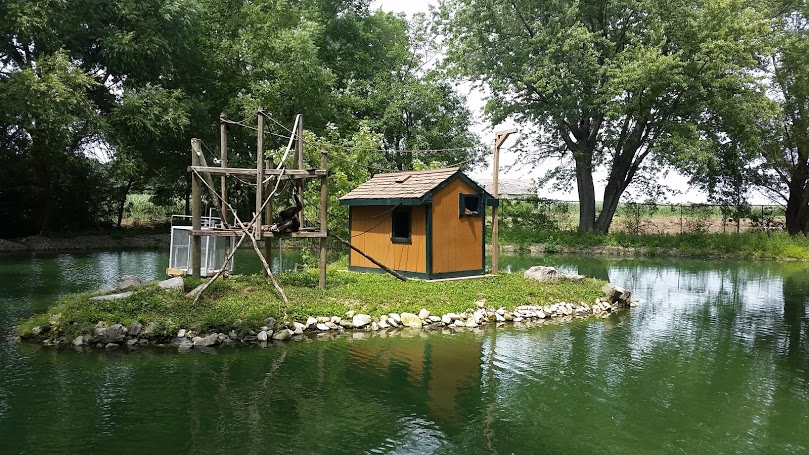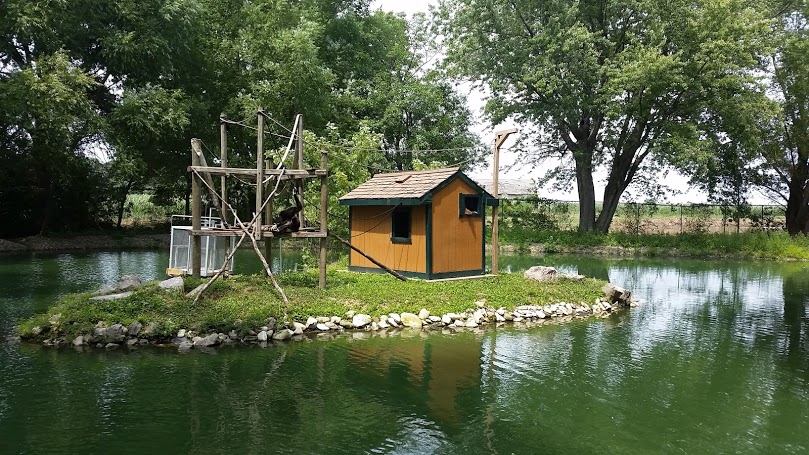 My little guys really liked Rabbit Row where they could stroll around an area with bunnies galore. Some were resting while others where hopping around. They were too cute! The Walk-Thru Safari area also hosts a Kangaroo feeding throughout the day (additional fee). Feeding times are limited and offered through Labor Day.
Save time to watch the pig races at Pork Chop Downs and catch an educational show featuring a variety of animals including a 6-foot long Burmese Python. It was amazing to see one up some close. Both of these shows are only offered in-season so be sure to check out their website online before visiting.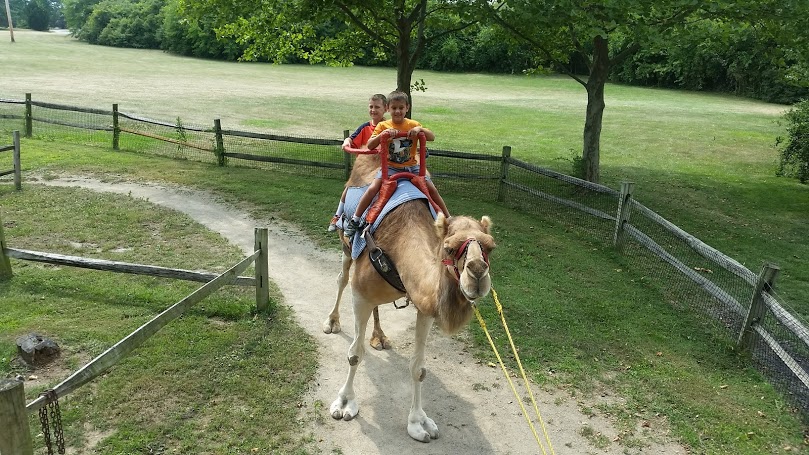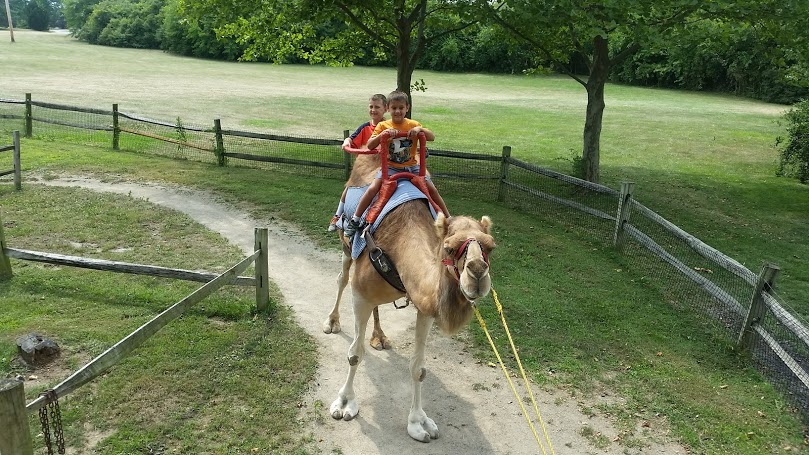 FREE Camel Rides
Are you kids up for an adventure? According to their website, kids up to 36 inches tall and under 100 lbs get their first ride FREE on a humped back camel! My middle son and youngest were the only ones to ride and while both are over 36 inches but well under 100 lbs they were still free. My little guys were super excited and couldn't stop talking about this!
Food and Drink
The day we visited the park it was HOT! Thankfully African Safari Wildlife Park offers ice cream, food and drink for sale in three areas.  You can grab a snack food such as hot dogs or pretzels at the Snack Bar or a more substantial meal at Safari Grill (open during full park hours only). Want a cool treat? Grab an ice cream cone at the Ice Cream Shop.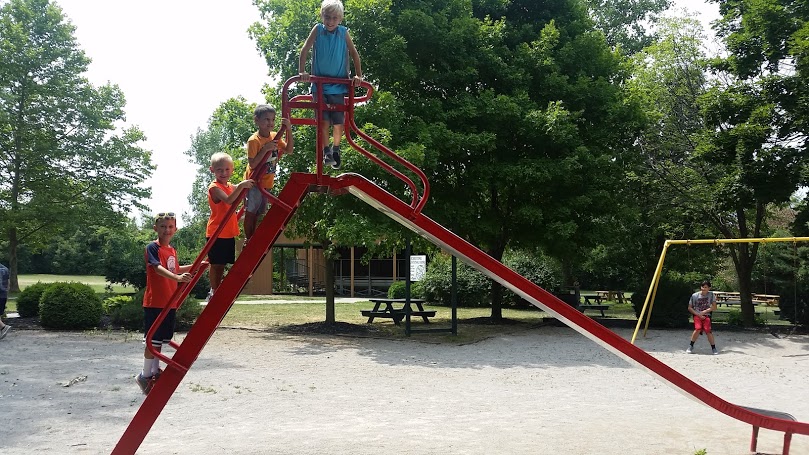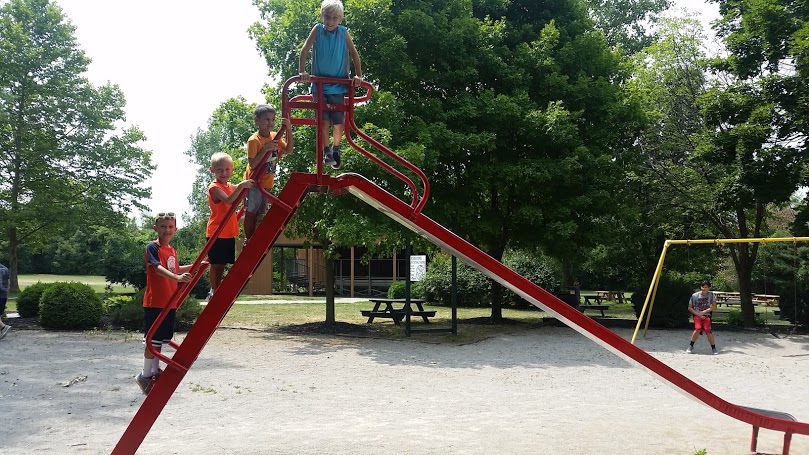 Time to Play!
Before we left, my boys and their friends spotted a park to play in. Even though it was 90 + degrees they played for quite a while. With swings, a slide and a climbing structure, you'll want to stop too. Best of all there is a shaded area all around for parents!
We had a blast at African Safari Wildlife Park and will definitely be back! If you summer is winding down, be sure to take the family this month!