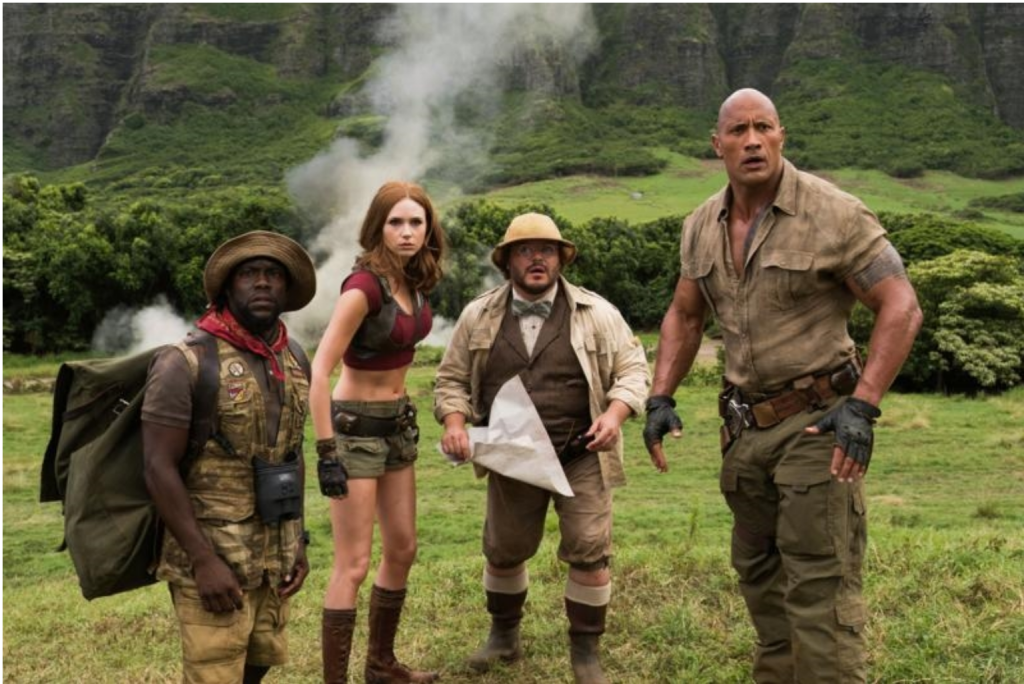 JUMANJI: Welcome To The Jungle hits theaters today, Wednesday, December 20th. but my family and I were able to see an advance screening earlier this week.  So is it a movie for the whole family? Read on to hear what I think!
It's been more than two decades since Robin Williams stared in the movie Jumanji. In fact, it was released before I was married and way before my kiddos were even thought of! Regardless, the first movie is a classic in our home and has been watched countless times. As soon as my boys saw that Jumanji: Welcome To The Jungle was to be released this holiday season, we all knew it would be a must-see.
Jumanji: Welcome to the Jungle has been resurrected with more stars including Dwayne Johnson, Kevin Hart and Jack Black. They truly make the movie with their back and forth banter and hilarious one-liners.
At the beginning of the movie we are introduced to four characters swiped straight from "The Breakfast Club:" brainy Spencer (Alex Wolff), misfit Martha (Morgan Turner), football star Fridge (Ser'Darius Blain) and queen bee Bethany (Madison Iseman). While in detention, they find a video game in old section of the school. They plug it in, choose their avatars and find themselves transported into the jungle of Jumanji.
Skinny Spencer is now Dr. Smolder Bravestone, an action figure with HUGE pecs played by Dwayne Johnson; Martha becomes Ruby Roundhouse, a gorgeous, scantily clad lady played by Karen Gillan; the massive Fridge shrinks into Franklin Finbar (Kevin Hart); and best of all, self-absorbed Bethany becomes Dr. Sheldon Oberon, played by Jack Black.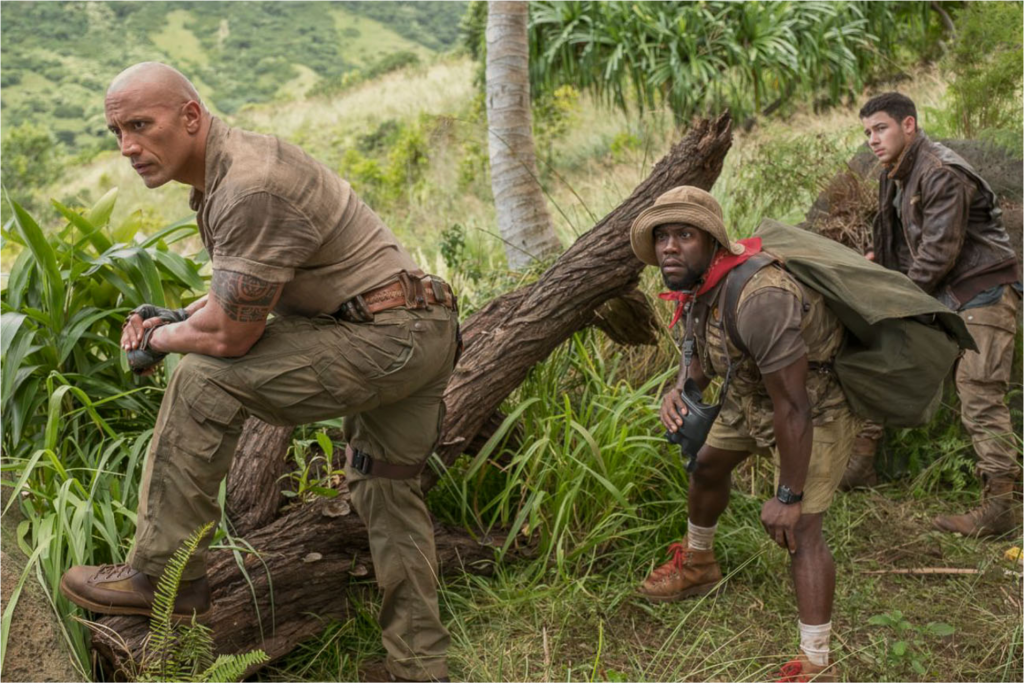 It's a role reversal for everyone and hilarities ensue! They all have to go through the stages of learning to accept their new bodies, talents and shortcomings. These jokes carry throughout the movie and never get old.  The whole audience laughed out loud when Spencer saw his new muscles and when Bethany found out she was trapped inside a middle aged man's body!
Soon enough, they realize the only way out is to complete the game by returning a giant emerald to its rightful position on a mountaintop. Each character has to use their special skills to overcome obstacles while staying away from their weaknesses. On top of all of this they all only have three lives each to succeed.
Is Jumanji: Welcome To The Jungle Safe For Kids?
This movie is rated PG-14 for some swearing and low-key violence. A few of the gags are a little crude, but I found that most went right over my kid's heads (ages 11, 9, and 7). Overall, I found Jumanju a pleasurable family adventure that my whole family enjoyed. I didn't feel like it was too much for my kids and I really LOVED that it was a movie we could all enjoy!
Jumanji: Welcome To The Jungle is now in theaters EVERYWHERE!