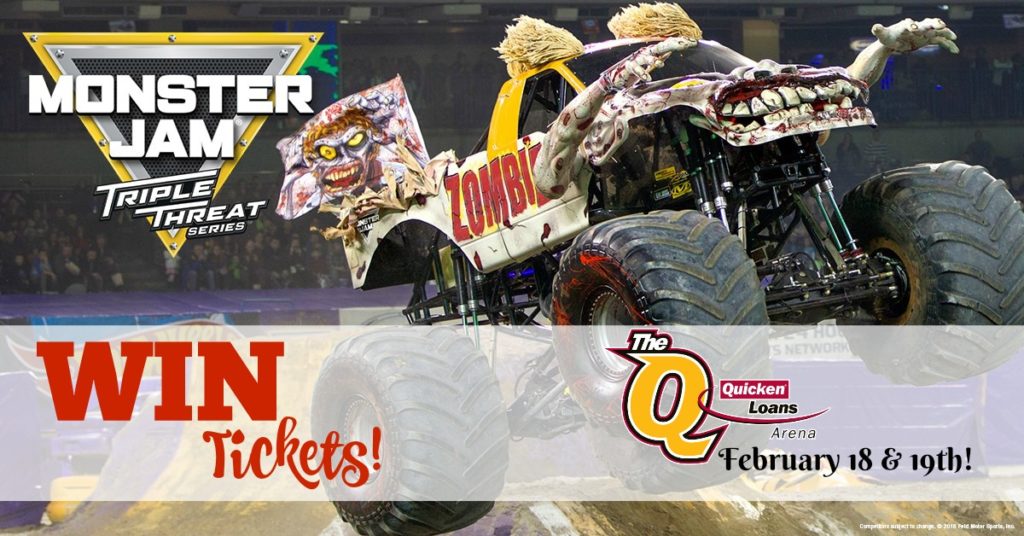 MONSTER JAM TRIPLE THREAT SERIES IN CLEVELAND
FEBRUARY 18-19, 2017 | QUICKEN LOANS ARENA
This giveaway is over, CONGRATS Tiffany Hall!! Please check your email and email me back.
Cleveland, get ready! The Monster Trucks are roaring into Northeast Ohio this month! We attend the show every year and my kiddos love it! It's action packed, loud (just what my boys LOVE), and will have you standing on your feet cheering!
Monster Jam Triple Threat Series™ is a points-based format that showcases the best lineup of Monster Jam vehicles that deliver what fans want to see most…more trucks, more racing, more freestyle, more donuts, more wheelies, more action!
This series tests the versatility of the athletes as they go head-to-head in seven different competitions driving three different vehicles — Monster Jam trucks, Monster Jam Speedsters and Monster Jam ATVs.
These athletes battle for points in challenging racing and freestyle events that push themselves and their machines to the limit. The point leader from the series will receive an automatic bid to the prestigious Monster Jam World Finals® to compete for the title of World Champion.
This year, Zombie is driven by Bari Musawwir! Cleveland-born and raised, Bari will be back to drive in Cleveland after four years! You know who I'll be rooting for!
This year's Monster Jam® Triple Threat Series™ features three types of vehicles – Monster Jam trucks, Monster Jam ATVs and Monster Jam Speedsters. That's three times the excitement!
The Monster Jam Pit Party
This event provides unprecedented access to the Monster Jam trucks and drivers – you can meet the drivers, get their autographs, take photos and see the trucks up close. It's a unique experience in the world of motorsports. Pit Party takes place from 10:30AM-12:00PM before the Saturday and Sunday matinee performances. Keep in mind that you must have the corresponding event ticket in order to obtain pit pass.
Tickets are available now!
Saturday, February 18- 1PM/7PM
Sunday, February 19- 1PM/6:30PM
Monster Jam Ticket Discounts:
$5 off matinee performances with code MJ5 and $10 off evening performances with code MJ10!
Not valid on premium seating. No double discounts. Valid online, by phone and at the box office.
Kids tickets start at just $15.00 with a coupon from your local MetroPCS store.
Ages 2-12. Restrictions, exclusions and additional charges may apply. Must have coupon in order to redeem offer at theQarena.com, 888-894-9424 or the Quicken Loans Arena box office.
GIVEAWAY:
Enter to WIN four tickets to see the 7pm show on February 18th at the Quicken Loans Arena in Cleveland!
Please use the widget above to enter. There are many ways to enter. The winner will be randomly selected on Wednesday, 2/15. Good luck!