Disclosure: A huge thanks to Scene75 Entertainment Center for inviting me to media night. While touring the building, we were able to try out some of the activities for free.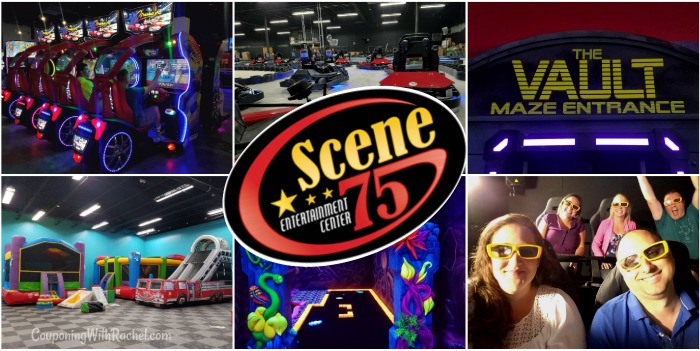 **Want more deals?  Find me on Facebook, Instagram, and Twitter!**
Cleveland readers, get ready! Scene75 Entertainment Center is taking shape in the former Buehler's store in Brunswick, Ohio. Slated for an August 2017 opening, this huge, 80,000 square-feet family entertainment center will feature 12 indoor attractions, over 120 arcade games and a food truck alley. A couple weeks ago, my husband and I got a sneak peek during a media night and I can't wait to introduce it to you!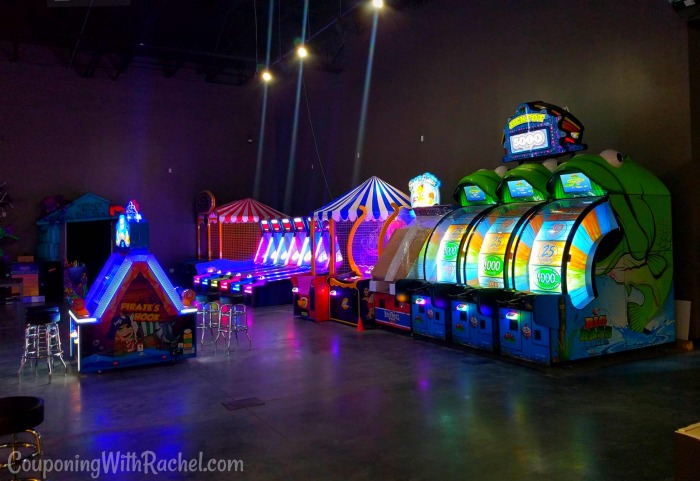 Walking in the front door of the facility, you can feel the excitement! While everything wasn't complete when I visited, you could tell that this is going to be a popular place for family fun.  When open this summer, Scene75 Entertainment Center will be open five days a week Wednesdaythrough Sunday. Admission will be free, and guests can pay for attractions as they go. There is a little bit for everyone from bumper cars to electric go-karts to a two-story laser tag to a motion theater. There is so much to do and see, you'll want to visit multiple times.

My boys simply LOVE putt-putt golf, so I was pumped to see that Scene75 offers two different courses. These 9-hole, glow-in-the-dark, courses are themed and painted to take you an exciting visual journey as you putt around the course with your friends or family. You can choose the sea course and their immortal jungle course. Both are highly entertaining. Best of all they offer 3-D art effects whichmakes it feel like the art is popping off the walls. Each player is even given a free pair of 3-d glasses so that you can fully immerse yourself in the beauty of the courses.
Looking for a little thrill ride?
Scene75 Entertainment Center
has you covered with their electric powered go-karts. These amazing go-karts not only can zoom withspeed but there is hardly any sound and no fumes! Scene75 Cleveland's go-kart will be skill appropriate and fun for all ages from kid to adult! In order to operate the go-kart all drivers must be 10 years or older AND at least 54″ tall to drive. Families with younger kids (at least 36″) will enjoy the two seat go karts, allowing everyone to enjoy the thrill of a race!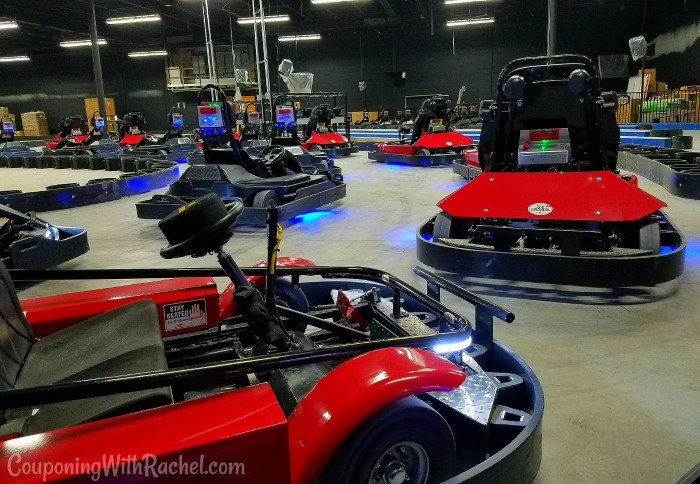 Challenge your family members to some of the newest and best arcade games on the market. Don't worry some of your favorites are there too! Try your luck at Skee-ball or test your motorcycling racing skills on MotoGP.  Your kids will love all the Claw games and you're whole family will love the air hockey tables.  There are just a ton of games to choose from!
Best of all, there is no worry carrying around  those paper tickets, because Scene75 uses electronic tickets. When you win tickets at the arcade game, they are automatically added onto your Scene75 card. The card system is more convenient, saves your time, and eliminates all of those paper tickets reducing waste. Before you leave, be sure to check out the Scene75 redemption counter.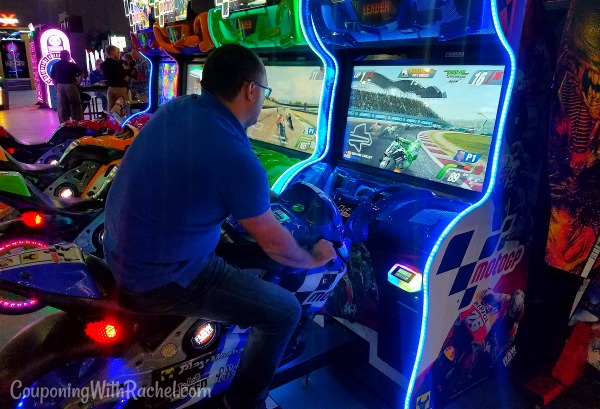 If your kiddos need to burn off some energy, take them the Scene75 Cleveland's bounce area. This bounce zone features 7 large infatables incuding an obstacle course, infatable slide and bounce houses. This area is stictly for children 12 and under which is great if you have youngers ones.  The bounce zone also offers a toddler softplay area for the youngest children that are under 36 inches tall.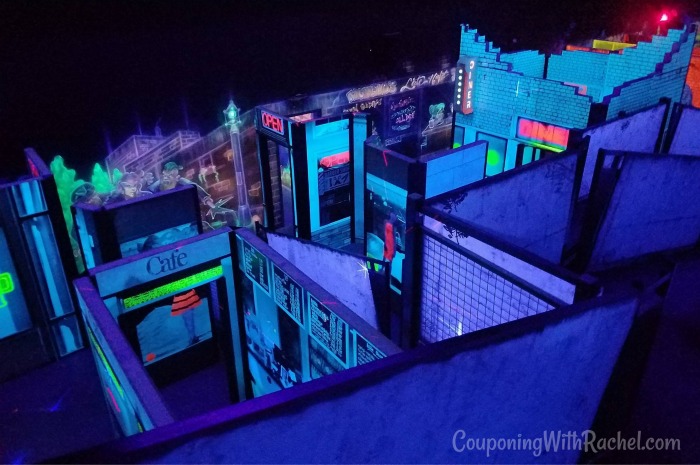 Scene 75 Cleveland will offers a huge laser tag arena for those who date. My husband and I walked around and were amazed by how much detail was added throughout. This multi-level arena features a series of buildings and rooms designed for players to strategically weave in and out of. On top of this there are interactive features throughout the arena to provide power-ups and bonus points, making the game play even more engaging! I haven't played laser tag in years and can't wait to try this out!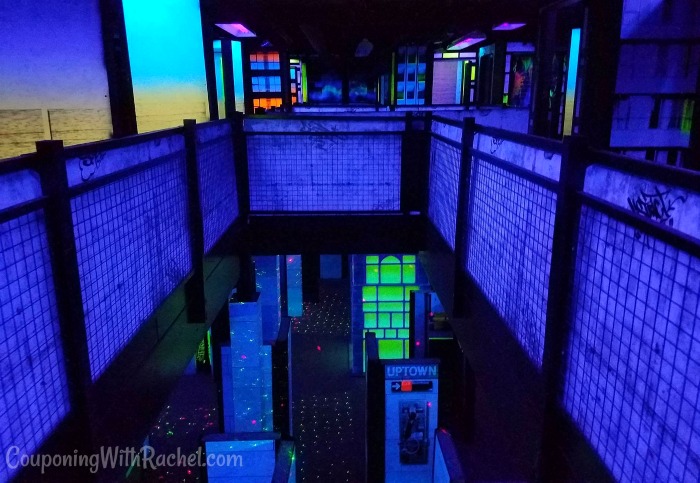 Even with all of this, Scene75 Cleveland has even more. Enter the Vault Laser Maze and put your reflexes and agility to the test while making your way through a maze of laser beams all while trying to get the high score. If you'd rather, you can challenge your friend to a game of mini-bowling or head to the Spin Zone and aim for your friend on the bumper cars.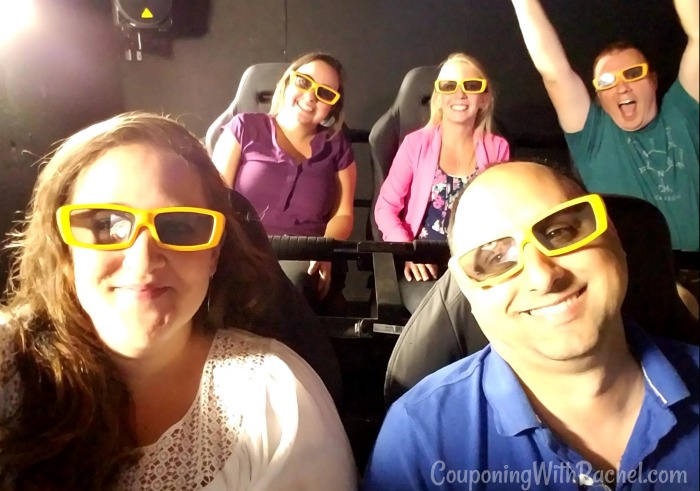 A family favorite is sure to be the Scene75 Cleveland 4D Theater. Featuring a 15-foot screen, this ride seats eight people in linked-motion seats with high quality sound/audio and 4-D effects including snow blizzards, wind storms, and bubble effects. There are 12 title options with a variety of themes to choose from but keep in mind that all guests must be 48″ or taller. We chose The Great Wall of China and I'd definitely recommend it.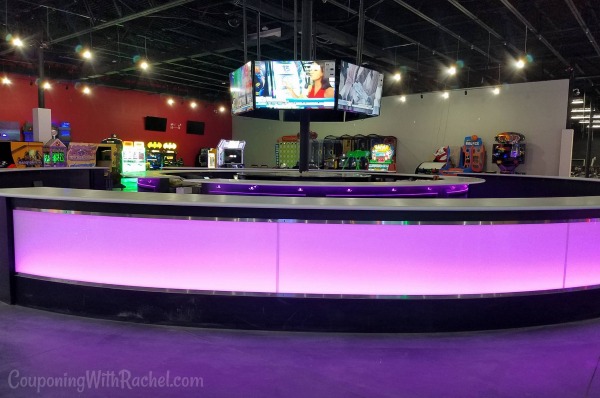 Smack dab in the middle of the attractions and some 120 arcade games is a large circular bar for parents. This is the perfect place to grab a drink while still being able to keep an eye on the kids. As a mom of three boys, this is huge! This area even includes large screen TV's which will likely show popular sporting events.
Want to grab a bite to eat? Scene75 Cleveland will feature a unique food truck alley with Cleveland-area mobile restaurateurs. This allows guests to be able to stroll up and have lunch or grab something to eat while enjoying the games and attractions.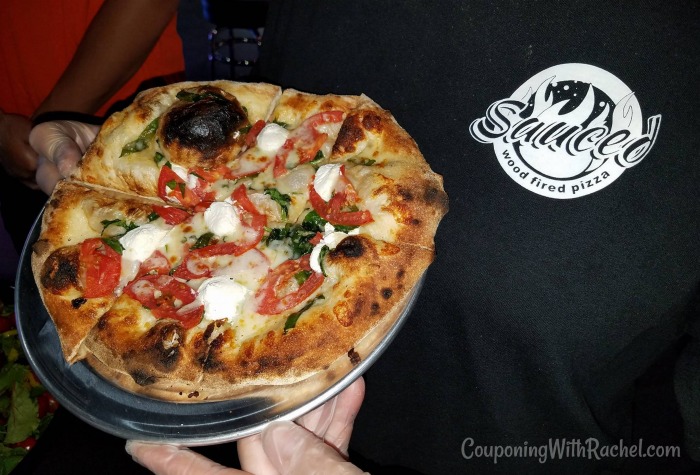 The alley, which has its own outside entrance in addition to being connected with the attraction and games area, will be open seven days a week. It will include Rocky River's River Dog Cafe, Fairview Park's Sauced Wood Fired Pizzas, Berea's Boca Loca Burrito Factory and Lakewood's the Proper Pig Smokehouse. I was able to sample a few of these food choices and they were all delicious! You've got to love gourmet food and a family entertainment center!
Slated for an August 2017 opening, be sure to keep an eye on the Scene75 Cleveland Facebook page for up-to-date information, deals and giveaways!