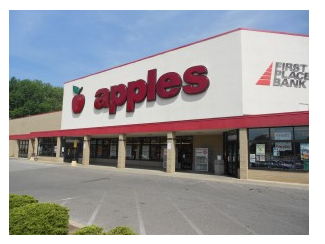 **Want more deals?  Find me on Facebook, Instagram, and Twitter!**
Apples, Mor For Less Foods (not all items available) and Village Market Match ups.
Here are the Apple's Market, Mor for Less Foods and Village Market best deals starting Monday, March 28 – April 10th  (2 weeks!)
Before you shop, here are a few things to know about Apples and Village Market.
Every Sunday, get a FREE Sunday paper with a $10 purchase.
NO store cards are needed.
Apples doubles coupons up to $.99 every Monday and Tuesday!
Check out Apple's Market coupon policy.
Apples Market and Village Market run the same weekly ad.
For those of you in the Lorain County area, make sure to sign up for text messages from Apples Market! If you haven't already done so, use the text codes below to sign up!
Text APPLES1 TO 36000 (Elyria) 
Text APPLES2 TO 36000 (Lorain) 
Text APPLES3 TO 36000 (Sheffield Center) 
Text APPLES4 TO 36000 (Sheffield Lake)
Here are some of the best deals you can score through Sunday, April 25th:
Produce:
Meat:
Chicken leg quarters..sold In 10 lb. Bag $5.90
Sugardale hot dogs $0.99 lb.
Boneless Chicken Breast $1.99 lb.
Boneless sirloin Pork Chops $1.99 lb.
Our Family Bratwurst $2.99 lb.
85% lean Fresh ground Chuck $2.99  lb.
Gerber's 92% lean ground Chicken $2.99
Boneless Bottom round steak $3.99 lb.
Sugardale Bacon $3.99 lb.
Deli:
Cleveland Bologna $2.49 lb.
Eckrich Honey Ham 4.99 lb.
Eckrich Hard Salami $4.99 lb.
Butterball Honey Roasted Turkey Breast $5.99 lb.
Charlie's Pride Roast Beef $5.99 lb.
8 Piece Fried Chicken $6.99 (8 JoJo Potatoes FREE)
Beverages:

22.6-30.5 oz. Assorted Varieties Folger's Coffee $6.99
32 oz., Assorted Varieties Coffee-Mate Creamer $3.59
Gallon 2%, 1% or Skim dairymen's milk 2/$5
Chocolate Milk Half Gallon or Iced Tea Gallon $1.99
32 oz. Assorted Varieties Powerade Sports drink $0.69
Gallon Assorted Varieties tradewinds tea $1.99
6 Pack/Half Liter Btls. 7•UP Products $1.99
2 Liter Btl. CoCa-Cola Products $0.99 (limit 4)
6 Pack/24 oz. Btls. or 8 Pack/12 oz. Btls. Pepsi Products 3/$10
12 Pack/12 oz. Cans All Varieties Pepsi Products 3/$11
16 oz. Assorted Varieties Snapple $0.88
Grocery:
Assorted Varieties Pillsbury Grands! Jr. or Cinnamon Rolls 5 ct. or Crescent Rolls 3 ct. 3/$3
$1/3 Pillsbury Crescent Dinner Rolls or Cinnamon Rolls, exp. 4/30/16 (SS 02/07/16)
$0.50/1 wyb ONE CAN any Pillsbury™ Crescent Dinner Rolls OR Grands!™ Crescent rolls
=as low as FREE!
6 oz. Assorted Varieties Yoplait Yogurt $0.55
$0.50/5 printable
=$0.35 each wyb 5 doubled Monday or Tuesday!
5.6-12 oz. Assorted Varieties Ortega Taco Shells 2/$3 15.88 oz.Assorted Varieties Ortega Taco Kits 2/$5
$0.50/2 Ortega Products, exp. 6/30/16 (SS 04/24/16)
=$2 each wyb 2 doubled Monday or Tuesday!
8.2-12 oz. Assorted Varieties Old El Paso Taco Shells or Tortillas 4/$5
$.75/1 when you buy any Old El Paso® Taco OR Tostada shells
$1/3 Old El Paso Products, exp. 6/11/16 (SS 04/17/16) [Excludes refrigerated and product products]
=As low as Free!


8.8-19.5 oz. Assorted Varieties Old El Paso Dinner Kits 2/$4
$1/3 Old El Paso™ products (excludes Old El Paso™ refrigerated and produce products)
=$1.67 each wyb3!
Eggs $0.88 dozen
16 oz., Assorted Varieties Daisy Cottage Cheese $1.88
16 oz. Quarters Blue Bonnet Margarine $0.87
4-6 Pack Assorted Varieties Dannon Activia, Light N Fit or Danimals 2/$4
Assorted Varieties Yoplait Go-Gurt 8 ct. or Trix 4 ct. $1.99
10.2-12 oz. Assorted Varieties Kraft American Cheese Singles $2.99
7-8 oz., Assorted Varieties Crystal Farms Deli Style Cheese Slices 2/$5
11.5-16.5 oz. Assorted Varieties Pillsbury Cookie Dough or Melts $2.99
22.6-30.5 oz.Assorted Varies Crystal Farms shredded or Chunk Cheese 8 oz. or American singles 12 oz.$1.99
20 oz. Nickkles split top wheat $1.29 (limit 2)
20 oz. Golden Harvest White Bread $0.99
56 oz.Assorted Varieties Velvet ice Cream $3.49 lb.
16-24 oz.Assorted Varieties Ragu Pasta sauce $0.99
12 Inch Assorted Varieties Red Baron Pizza $2.99
18 oz.Assorted Varieties k.C. masterPiece BBQ sauce $0.99
Household:
100 oz.Assorted Varieties Era laundry detergent $5.99
$0.75/1 printable 50 oz or larger
=$4.49 if doubled Monday or Tuesday!
12 Pack Double Roll Angel soft Bath tissue $4.99
$1/1 printable
=$3.99!
8 Pack Bounty Basic Paper towels $4.99
$.50/1 printable
=$3.99 if doubled Monday or Tuesday!
Don't miss a deal that I post and get a daily list of the items posted on Couponing With Rachel, by subscribing via email HERE!