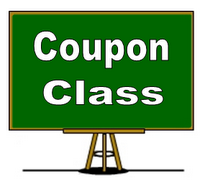 **Want more deals?  Find me on Facebook, Instagram, and Twitter!***
Join my private Facebook group for couponers where we share deals, post pictures and chat about coupons, of course!
Here is a list of upcoming Coupon Classes here in northeast Ohio.  Classes held at libraries are usually sponsored by the library and then opened to the public for free.
Couponing 101
This is a great coupon class for beginners.  In this FUN-FILLED class, we cover topics such as where to get coupons, how to organized them, what is coupon stacking and where it's allowed, what is a catalina, and how to show at Target, Walmart and Giant Eagle.
Sept. 27th – Elyria Public Library  (320 Washington Avenue) 1:00 – 3:00 pm – FREE
Sept. 30th – Ritter Library 6:30 – 8:15 pm (

Vermilion) Call 440-967-3798 to register. – FREE

Oct. 1st – Avon Lake Library 6:30 – 8:30 pm – Call 440-933-8128 ext. 248 or 249 to register. – FREE
Oct. 11th – Boardman Library 10:00 – 12:00 pm – Call (330) 744-8636 to register. – FREE
Nov. 1st – Buckeye Library (6625 Wolff Road, Medina) 1:00 – 3:00 pm – FREE (no registration needed)
Nov. 15th – Hudson Elms Nursing Facility (563 W. Streetsboro Rd Hudson) 11am -1:00pm – Call Trisha activity director (330)650-0436 to register – $10
Jan. 11th – Grafton Library (983 Main Street, Grafton) 2:00 – 4:00 pm – FREE – Register by calling (440) 926-3317 – WAITING LIST

Jan. 17th – Huron Public Library (333 Williams St, Huron, Ohio) 10 am-12 – FREE Register ONLINE or by calling 419-433-5009
March 7th – Mayfield Library (500 SOM Center Road / Mayfield Village, Ohio) – FREE – Register online
Shopping at the Stores
In this class we cover more in depth ways to save while we cover how to shop at all the stores including Walgreens, CVS, Rite Aid, Staples, and more.  I also cover money saving apps such as SavingStar, Ibotta, and CheckOut 51 among other topics.
October 18th – Boardman Library 10:00 – 12:00 pm – Call (330) 744-8636 to register. – FREE
November 22nd – Elyria Library 1:00 – 3:00 pm (registration begins November 1st 10:00 am)
 ** this class will book FAST!!
December 4th – Ritter Library 6:30 – 8:15 pm (

Vermilion) Register 440-967-3798

  – FREE

Avon Lake Library – January 20th 6:30 – 8:30 pm – Call to register 440-933-8128  – FREE