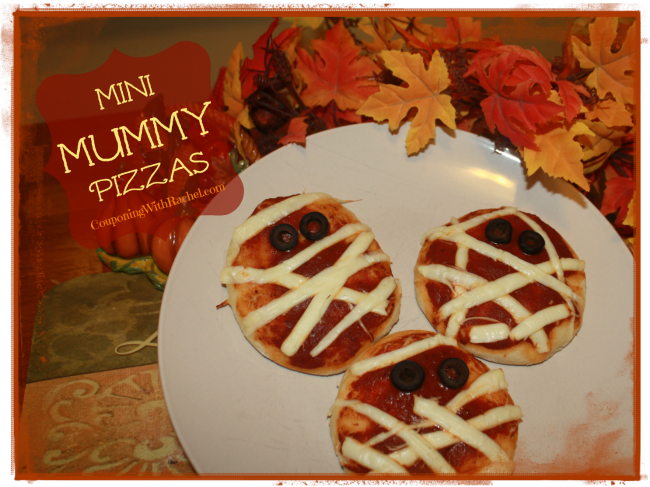 **Find me on Facebook, Instagram, and Twitter!**
In addition to the Yummy Mummy Hot Dogs, you and your kiddos may also want to try out these Mini Mummy Pizzas!  These are easy to make and a perfect Halloween food for kids.  Grab your ingredients, round up the kids and get ready for some spooktacular fun!
**Pin this my hovering over the picture above**
Mini Mummy Pizzas
Fun Halloween Food for Kids
What you'll need:
Rhodes™ Dinner Rolls, thawed to room temperature
     **you can also use English Muffins but my children prefer the taste of the rolls
pizza sauce
string cheese
sliced olives
cooking spray
Instructions
Spray counter with non-stick cooking spray and flatten each roll into a circle.
Place on a sprayed baking sheet.
Top each one with pizza sauce and poke each one several times with a fork to prevent bubbles.
Place two olives towards the top on each for the eyes
Tear string cheese into thin strips and crisscross the layers to resemble a mummy. Break off little pieces that hang over the edge.
Bake at 350°F 10-12 minutes, until cheese has completely melted.
Source: Rhodes