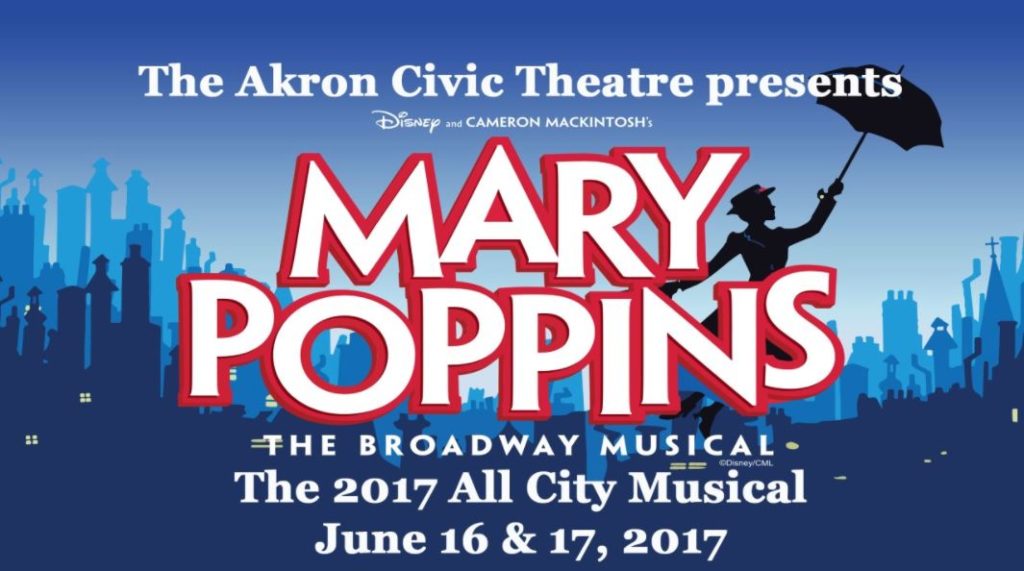 Everyone's favorite nanny is coming to town. It's Mary Poppins, of course! Be sure to grab your tickets soon for the best seats! With tickets starting as low as $10, it would make a perfect night out for the family.
The Akron Civic Theatre presents the 6th Annual 2017 Akron All-City Musical: Mary Poppins. This classic musical, nominated for seven Tony Awards, will be brought to life by students from 19 local High Schools.  The show, which is presented with support of the
Civic's Women's Guild, will run for three performances on June 16 and 17, 2017. The cast, crew and orchestra for the production will feature students from 19 schools all over Summit County and beyond.
"Our All -City shows continues to focus on the students and the experience they take with them and bring to our community. Their singing, dancing, playing in the orchestra pit, and working backstage all contribute to the success of this amazing production", said Howard Parr, executive director of the theater. "To have Mary Poppins fly, in our magical sky, will be a
spectacular moment. These kids push themselves to deliver an entertaining performance of this classic Disney tale. This year we have students beyond Summit County that have come to participate and learn in this ever growing experience."
Mary Poppins – One of the most popular Disney movies of all time is capturing hearts in a whole new way: as a practically perfect musical! Based on the books by P.L. Travers and the classic Walt Disney film, Disney and Cameron Mackintosh's Mary Poppins delighted Broadway
audiences for over 2,500 performances and received nominations for nine Olivier and seven Tony Awards, including Best Musical.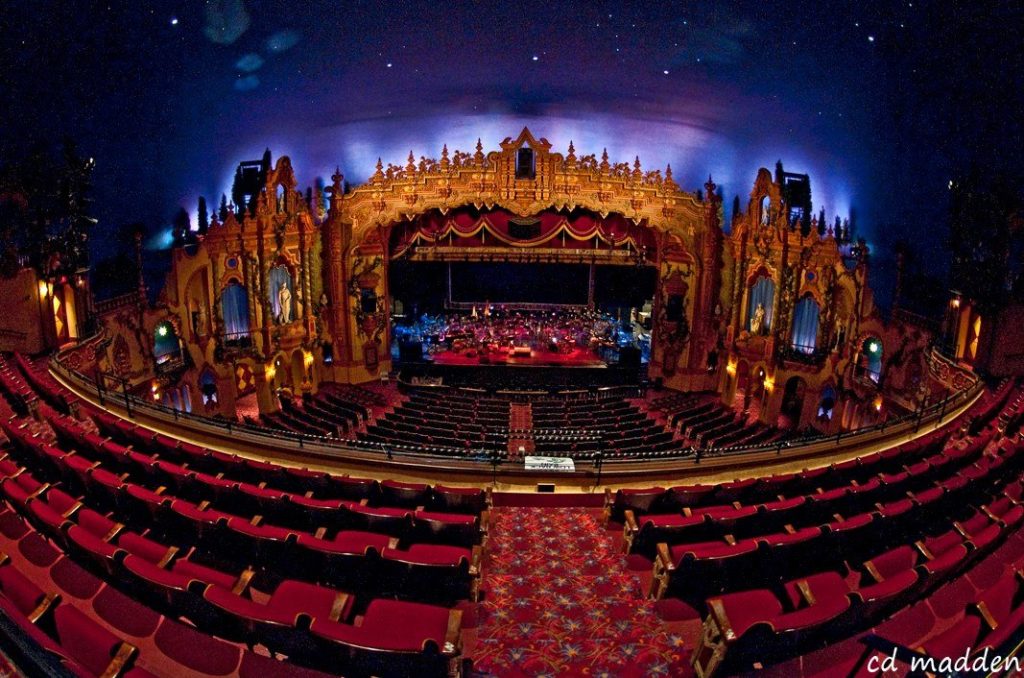 MARY POPPINS PERFORMANCES:
Friday, June 16, 2017 at 7:30 P. M.
Saturday, June 17 at 2:30 P.M
Saturday, June 17 at 7:30 P.M
TICKET PRICES:
Ticket prices are $25, $20 and $10.
Tickets are available online, at the Akron Civic Theatre Box Office, by calling (330) 253-2488, or TicketMaster (1-800-745-3000).
About the Akron Civic Theatre
The Akron Civic Theater was built in 1929 by Marcus Loew and designed by famed theater architect, John Eberson.
The interior structure was fashioned after a Moorish castle featuring Mediterranean decor, including medieval
carvings, authentic European antiques and Italian alabaster sculptures. In June 2001, the Akron Civic Theatre
underwent the most comprehensive restoration and expansion project in its history, whereby the theater was brought
up to modern performance and patron standards. The theater now attracts nearly 110,000 people annually for
nationally touring concerts, comedians, and family shows, as well as a wide variety of events featuring local and
regional artists. For more information visit www.akroncivic.com
GIVEAWAY:
One reader will WIN a family four pack of tickets for the Saturday, June 17th 2:30 PM performance. To enter, please fill out the widget below.
This giveaway will end on May 25th. You can enter every day. The winner will be emailed and tickets will be at the will call window.