My family was hosted at the newly renovated Hotel Breakers so I could share with my fabulous readers all the amazing renovations! As always, all opinions are my own.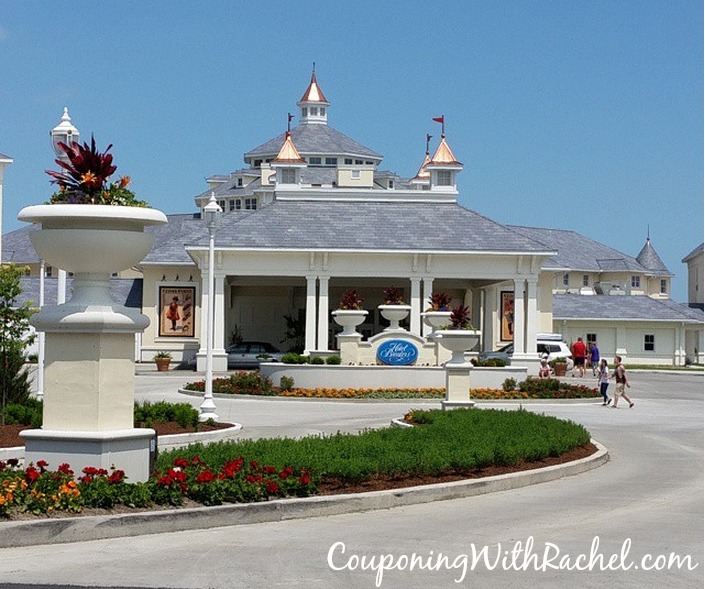 **Want more deals?  Find me on Facebook, Instagram, and Twitter!***
Note: My family visited Cedar Point's Hotel Breakers in the summer of 2015.
My family simply loves Cedar Point! Having lived within 30 minutes of it's gates for almost my whole life I've been able to visit 100's of times. Even though we live so close we always stay overnight on Cedar Point property, at least once or twice a year. Now that Cedar Point has completely renovated the historic Hotel Breakers, you'll definitely want to stay too!
Updated Grand Entrance and Lobby
Hotel Breakers started with a complete update to their front entrance.  This area is now one level and matches the stately hotel beautifully.  The Hotel Breakers lobby also got a major update and now features new furniture and carpet, carved carousel horses and a gorgeous two story check-in. I personally love that they kept the kiddie area complete with pint sized chairs and a TV with cartoons. This makes checking-in a breeze for those of you with little ones.
Don't miss the five-story rotunda that features a full-service Starbucks and a refreshing Surf Lounge bar with a patio. This area offers comfortable seating which makes it the perfect area to chat with friends or read a book.  If you are hungry, there are popular, full service restaurants such as TGI Friday's, Perkins and TOMO Hibachi Grill.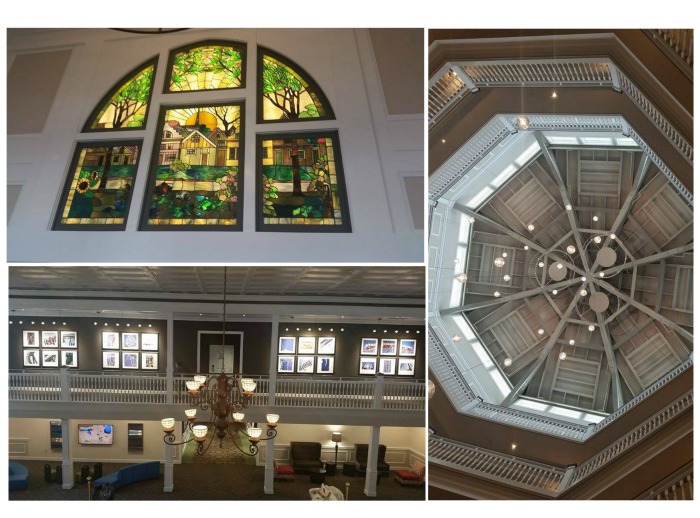 The New Hotel Breakers Rooms:
The renovations at Hotel Breakers are absolutely amazing! Let's start with the newly designed rooms. Most of the hotel was taken down to its studs and many were reconfigured.  Hotel Breakers made approximately one-third of the rooms suites which feature all-new furniture, bathrooms, carpeting and linens.
Our room was bright and cheery and I especially loved the Ferris wheel headboards. It was like bringing a little of the park, right into our hotel. The beds at Hotel Breakers were incredibly comfortable and and the pillow were large and fluffy. My family of 4 all slept well.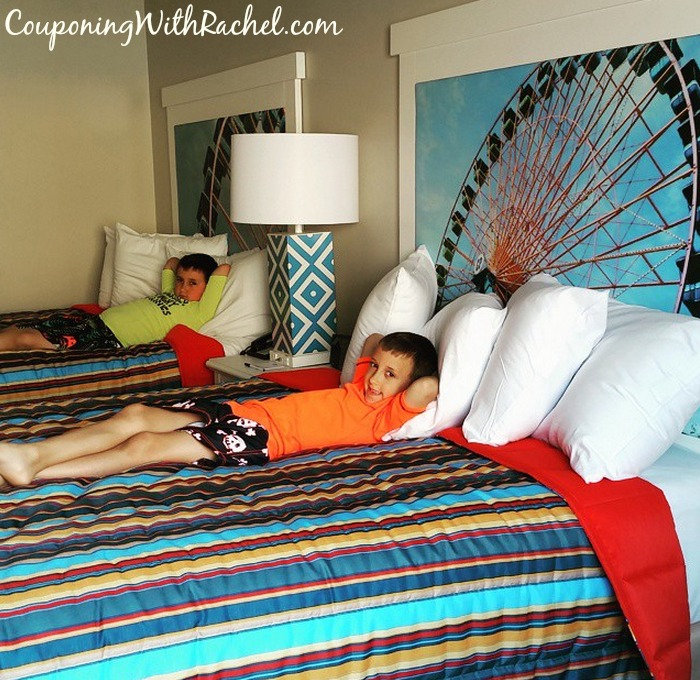 The rooms all have colorful furniture and linens, with beadboard dressers and bright-red chairs made out of recycled Coca-Cola bottles. The bathrooms are a nice size with premium toiletries from Bath and Body Works which smell great! I think the extra hanging bar inside of the shower in our room was genius! It was the perfect place to hang our wet bathing suits to dry.
There are many different types of rooms that are sure to fit families of all different sizes.  These include king and queen rooms, suites, and even adjoining suites.  For those looking for true luxury, there is a concierge-level with it's own lounge and other amenities. Regardless of which room your pick, each guest room features an LCD TV, iHome docking stations, free Wi-Fi, dorm-sized refrigerator, microwave plus new bedding, décor and furniture.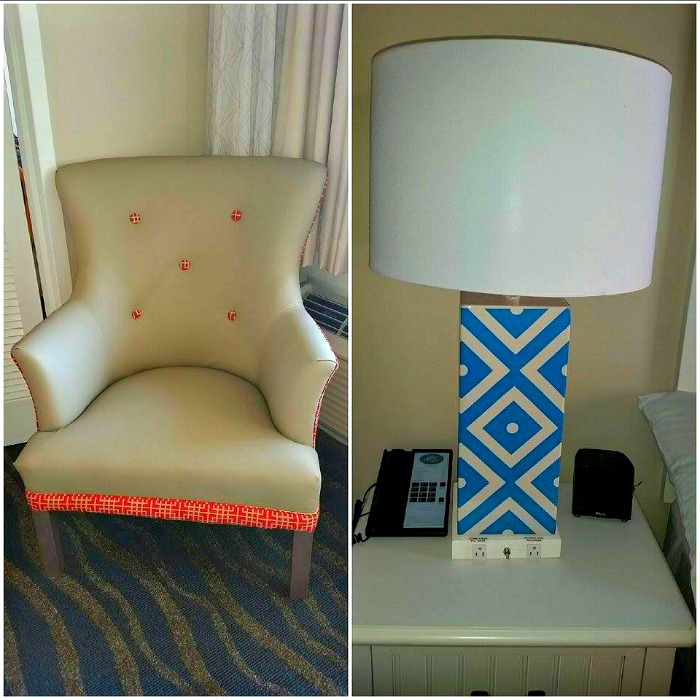 Did you know? When you stay at a Cedar Point property you get
The best deals on Cedar Point admission packages
Complimentary parking with full in/out privileges
ONE HOUR of Early Entry to Cedar Point
Shuttle service throughout the Cedar Point peninsula
Fun at Hotel Breakers:
Hotel Breakers is much more than just a room to sleep in. The Hotel Breakers renovation added a new outdoor pool deck that includes a water play area for kids with zero-depth entry, a hot tub plus new deck chairs and umbrellas. Oh can I just mention, the pool towels? They are large, fluffy and smell so good! Seriously, what detergent are they using? Even my boys noticed!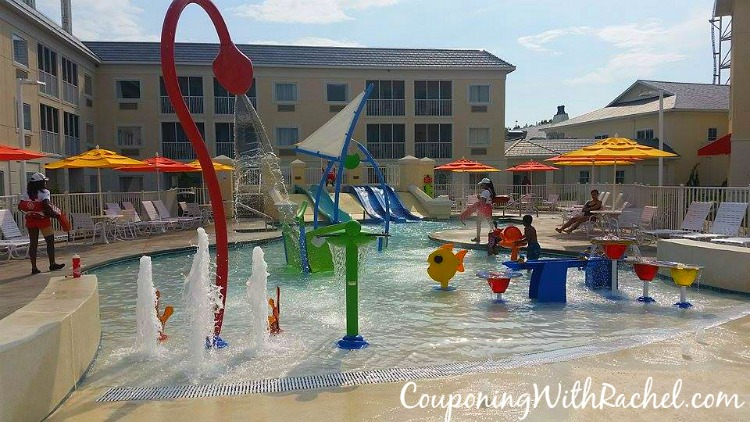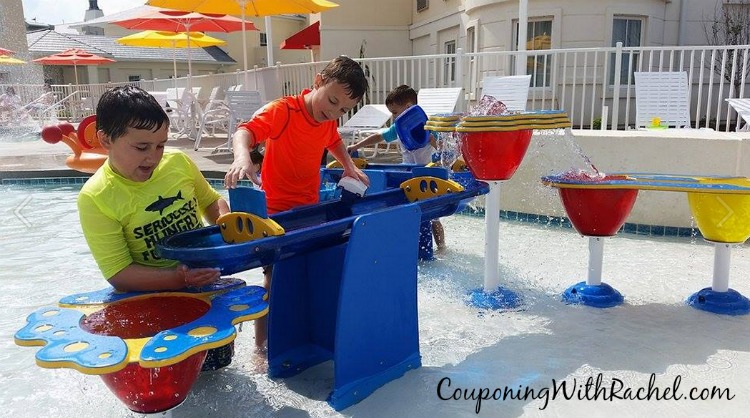 My boys had a blast in the kiddie area and spent a few hours before wanting to try something new. With the waterslides, geysers, waterfalls and swimming area, I can see why. While I kept a good eye on them while they were in this area, I was happy to see that there were also several lifeguards doing a great job patrolling the area on all sides.
If you'd like a little relaxation away from the kiddie area, Hotel Breakers has you covered! They offer a large (and I mean LARGE) outdoor hot tub along with their outdoor pool. Oh and did I mention that all the pools at Hotel Breakers are heated? This makes swimming in any type of Ohio weather much more comfortable. Best of all, while we were at the pool, there was a DJ pumping out some tunes which were fun and family friendly.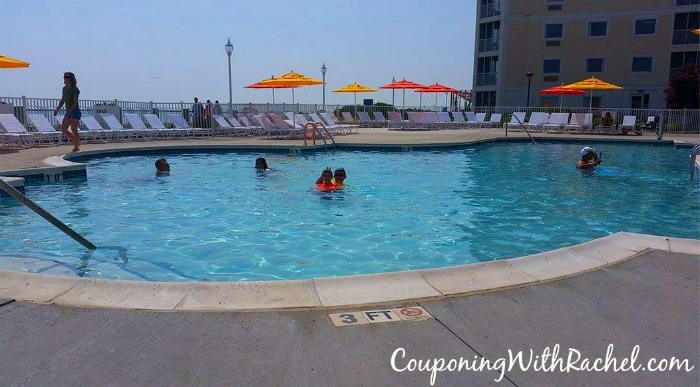 When it's time to get out of the water, Hotel Breakers offers many other things to do too. You can head down to their exclusive beach that's full of comfy beach chairs with indiviual umbrellas. We planned ahead and brought our own sand toys which kept my active boys busy for quite a while. It was nice to sit back relax with a book and just watch them play!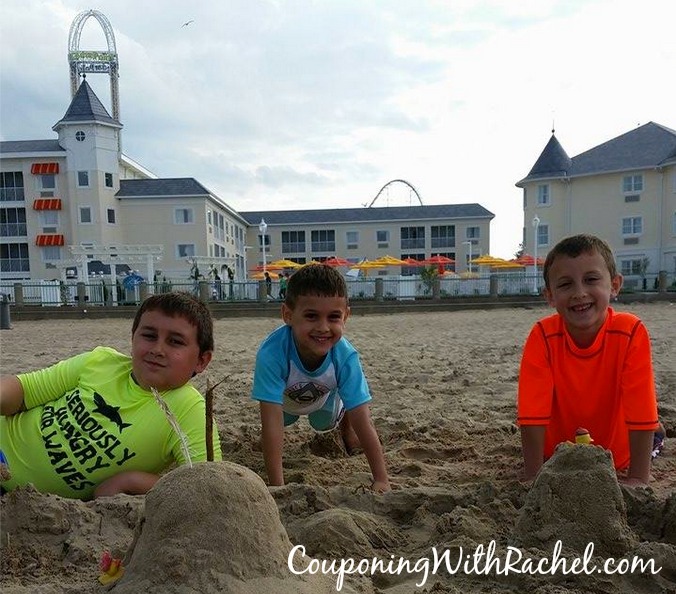 The beach is also a great place to play a game of volleyball with friends or even listen to a live band! While we were on the beach, we were able to listen to the highly entertaining, Toes in the Sand Band who will be playing throughout the summer. They played both new and older songs that kept our feet tapping as we sang along.  Of course, I had to get a selfie with the lead singer!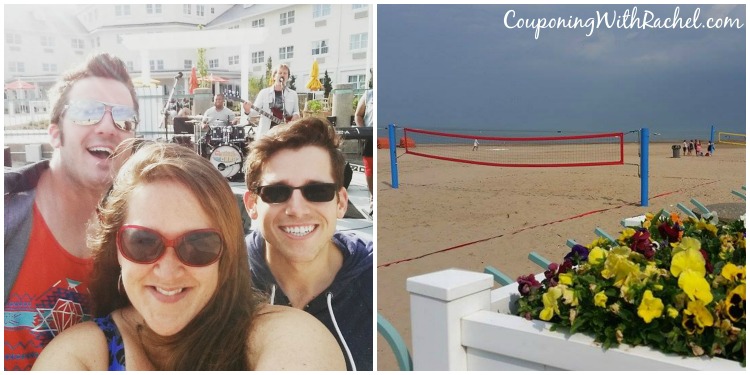 Once the sun sets, Hotel Breakers has a great new spot to sit, relax and chat with family and friends at the two new outdoor fire pits. These are not only large but they are also have ample seating all the way around that will comfortably sit even the largest group.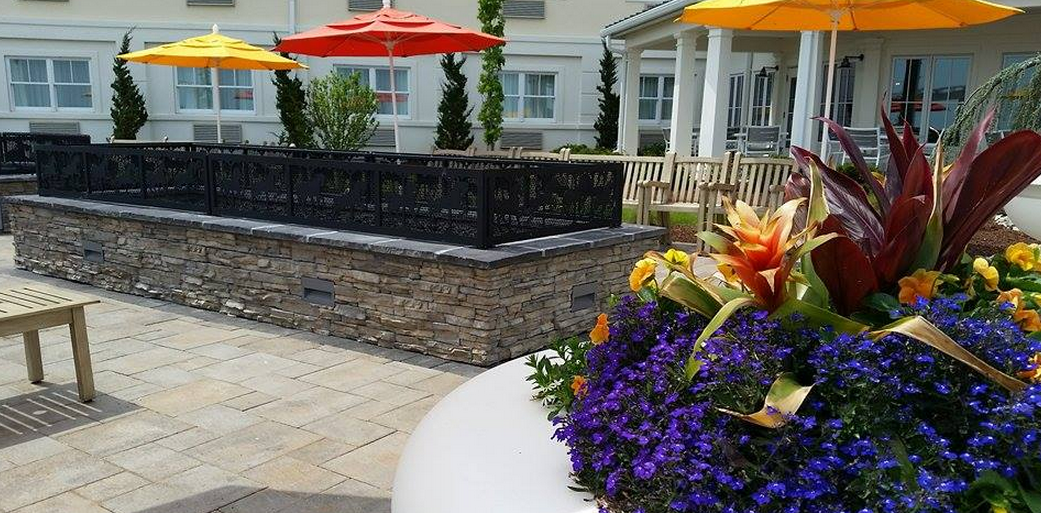 Our family had a blast at Hotel Breakers and while we live nearby, we are already planning our next visit. Hotel Breakers is the perfect place to stay next time you visit Cedar Point and I highly recommend it.  The renovations will simply amaze you!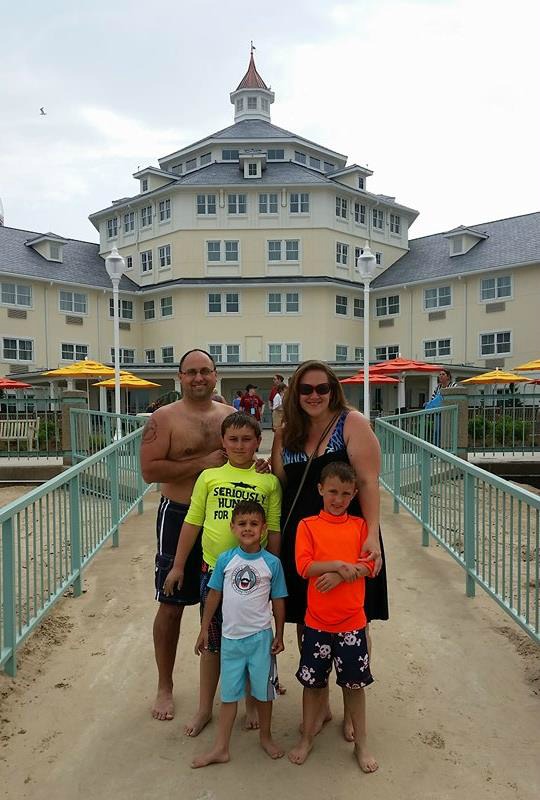 Plan your stay at Hotel Breakers:
Address: 1 Cedar Point Drive Sandusky, Ohio
Phone: 419-627-2106
Find more information online