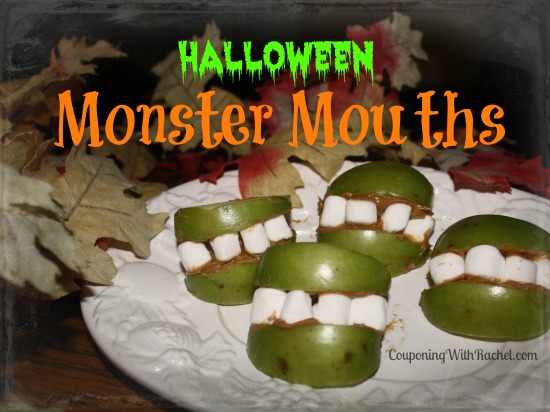 **Pin in by hovering over the picture above!**
Here's another recipe my boys love to make during the Halloween season….Monster Mouths!  Scary, huh?  The best thing about this recipe is that you probably have most of the ingredients already on hand.  Here's how to make this simple little snack.
Check out these other Halloween foods for kids:

** Yummy Mummy Hotogs
** Mini Mummy Pizzas
What you'll need:
Apples
Peanut Butter
Lemon juice
Teeth: These can be many things.  While I used mini marshmallows,  you can also use peeled almonds, jelly beans, yogurt covered raisins and much more.
Directions:
Slice the apples to make them look like lips
Put sliced apples in a bowl of lemon water for about 10-15 minutes so they don't brown (we didn't do this since we ate them right away)
Spread peanut butter on the tops of each apple slice
Stick the "teeth" into the peanut butter of one apple and add another apple on top