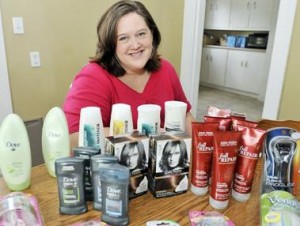 Hi!  I'm Rachel and I want to help you save money!  I'm not an extreme couponer by any means but I do love to grab a good deal.  If you are new to couponing here are a few tips.
Grab your coupons!
If you want to start couponing, you're going to need coupons!  While there are many places to get coupons, the best place to get them is in your Sunday paper.  Every Sunday (except during major holidays), your local paper will have tons of coupons that will save you money.  I suggest that people start by getting two to three copies every week.  Want to save money?  Ask your non-couponing family and friends to save coupon inserts for you.  It's important to note that if you are buying a paper, to make sure that there are coupons inside before leaving the store.
Get Organized!
There is no right or wrong way to organize your coupons, you just have to pick the best way that will fit your lifestyle.  Over the years I've used several different methods but currently I use the Full Insert Method.  This method allows me to keep all my coupons intact until I use them.  Since I list the date of each insert you'll need in my Coupon Matchups, they are easy to locate.  Need to find a coupon?  Simply look it up in my coupon database.  Check out my video below where I explain how I organize my coupons.
While I keep my inserts in a box you may want to be even more organized by keeping yours in an expandable file folder or in a hanging file folder box.  Do whatever works for you!

Check out these other Coupon Tips articles:
*  Local store's coupon policies!