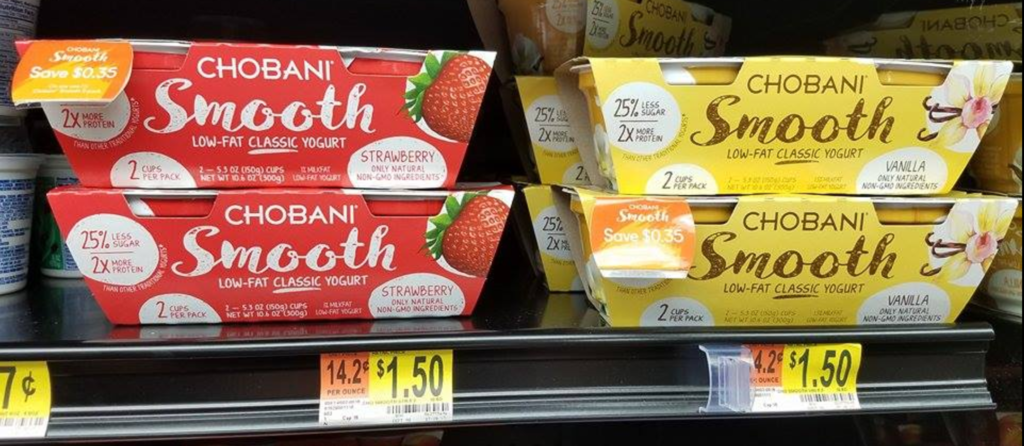 I stopped into Walmart today and noticed that the Chobani rebate was back on my Ibotta account.  While I redeemed this last week and shared it in my Easy Ibotta deals at Walmart post, this offer came back today and now was $3.00 back when I buy two. Since these are regularly priced at $1.50 each, I picked up TWO FOR FREE!
Remember, Ibotta offers will not come off at the register but instead is deposited into your Ibotta account.
New to Ibotta? Read more about Ibotta HERE. This month ONLY, new Ibotta users will get a $10 BONUS for redeeming their 1st offer within 10 days! That is an amazing offer! You can also refer your friends and get $5.00 for each friend who signs up AND redeems an offer (my referral links are in this post).
Buy (2) Chobani Smooth (2 pk) – $1.50 (reg. price)
Pay: $3.00
+ earn $3.00 from Ibotta when you buy 2
= 2 for FREE
Shopping at Walmart? Check out these Easy Ibotta Deals at Walmart!
Remember some ibotta offers CAN very per person. Please check your app before buying!
A little confused about this deal? Check out this quick video that I did in Walmart last week, when my
Ibotta Offer
was $1.50 for 1.