Thank you to Miller Ferry who invited me and my family to explore Put-In-Bay. I received ferry tickets and a golf cart rental. Thanks for  allowing me to create fun content like this for my blog, Couponing With Rachel!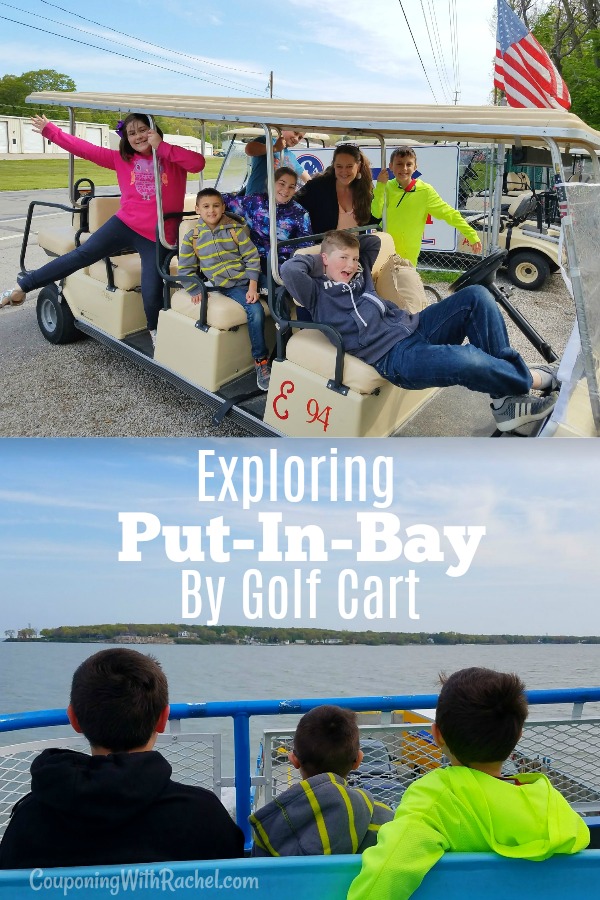 Are you ready for an adventure? A trip to Put-In-Bay is the perfect place this summer! My family and I visited Put-In-Bay a few years back and have been itching to get back ever since. Recently, my sister and I brought our kids along and spent the day exploring the island by golf cart! Check out all that we were able to see in just a few hours.
There aren't many cars on the island of Put-In-Bay and there aren't too many parking spots so the preferred method of transport is by golf cart. Of course, if you want to bring along your car, Miller Ferry is for you! In fact, it's the only ferry that will take across your car, truck or camper! Best of all, Miller Ferry is perfect for those on a budget as they offer the lowest fares to Put-in-Bay, five FREE parking lots & the most frequent trips.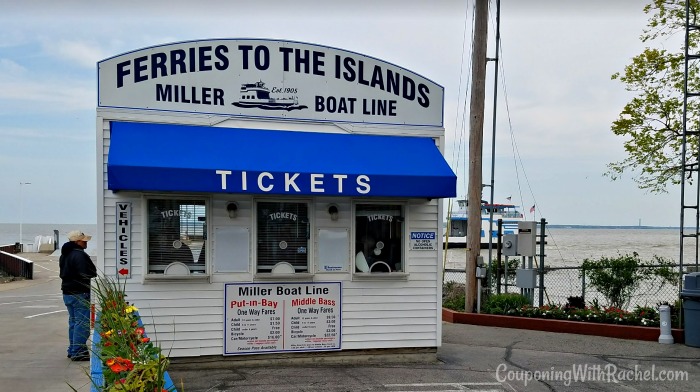 To start our day, we boarded the Miller Ferry. While there were already cars onboard, it was easy to navigate to the passenger area upstairs. The ferry has a convenient inside area for passengers to sit, but our crew was way too excited to stay inside. We really enjoyed the ride over taking pictures, enjoying the views, and planning for the rest of our day.
The ride over to Put-In-Bay was easy sailing and only took about 20 minutes. In fact, I'd say that our group was a little sad it ended so quickly! Getting off the ferry was quick and it was just a short walk up the hill to grab our golf cart for the day at E's Put-In-Bay Golf Carts!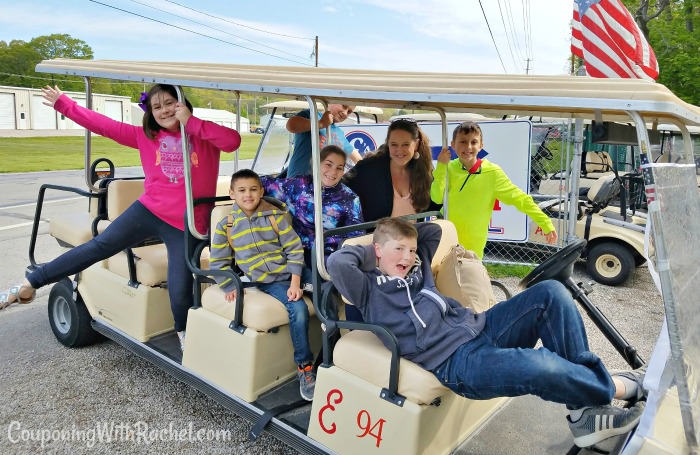 E's Put-In-Bay Golf Carts offer 2, 4, 6 and 8 person carts and have a limited number of child seats for children who are under 40 pounds (no infant seats available). Keep in mind that you must be at least 18 years old with a valid drivers license in order to rent a cart. Best of all, if reserve online, you can use a $5.00 coupon! Got to love that!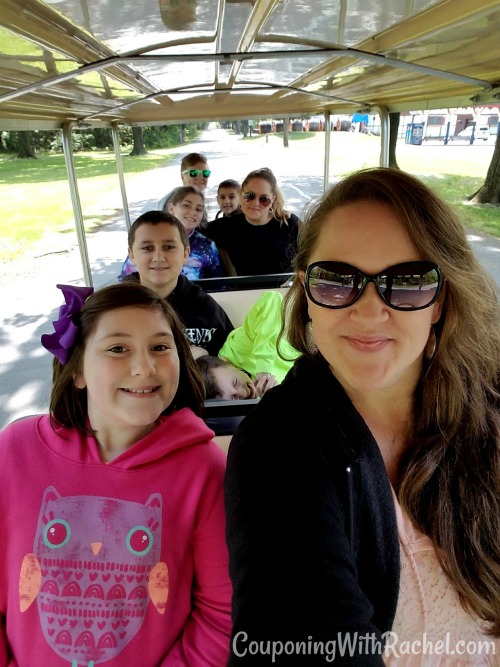 Since we hadn't driven around Put-In-Bay before by ourselves, E's gave us a map of the island before we left. While South Bass Island, is only approximately 3.5 miles long and 1.5 miles wide, this map made it so much easier to get around. We circled the must-see spots and mapped out our day. We let the kiddos pick our first spot, which they all agreed would be the park!
Located right in the middle of beautiful downtown Put in Bay, is DeRivera Park. It also boasts a several large playground areas which even our biggests kids enjoyed. Even if you don't have kids, grab lunch to go from one of the island's fantastic restaurants and eat at one of the picnic tables. This tree covered area is the perfect place to relax and enjoy the view of Lake Erie or people-watch on Delaware Avenue. A public bathhouse is available for use.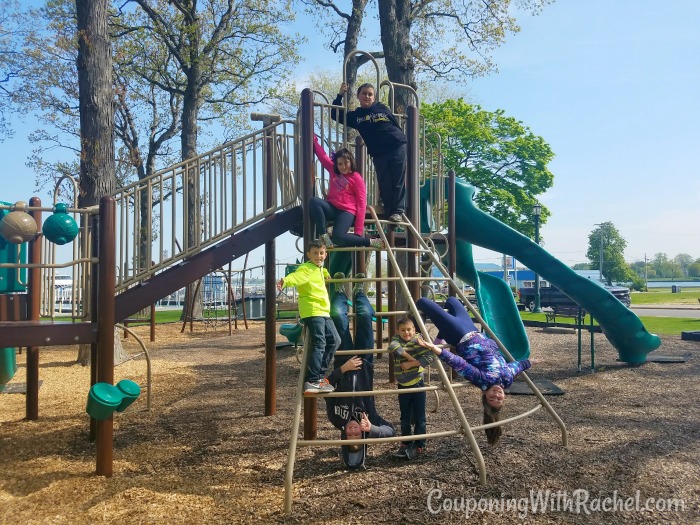 After awhile of play, we headed to our next stop, Heineman's Winery. This winery was founded in 1888 by a German immigrant, named Gustav Heineman. When Volstead Act creating the prohibition of alcohol was passed in 1919 most of the wineries on the island failed and the vineyards fell into disrepair. Thankfully Heineman's was able to survive under Gustav's son, Norman, when he started selling unfermented grape juice and providing taxi cab service to and tours of the Winery's caves.
On top of making delicious wine and grape juice, Heineman's Winery is also the site of Crystal Cave. This cave, which is the world's largest geode was discovered by workers in 1897 while digging a well for the winery 40 feet above. While the cave is small, it's a must-see while in Put-In-Bay. I heard ooh's and ahh's while we were down there. I've never seen anything like it before. Even our kids were impressed!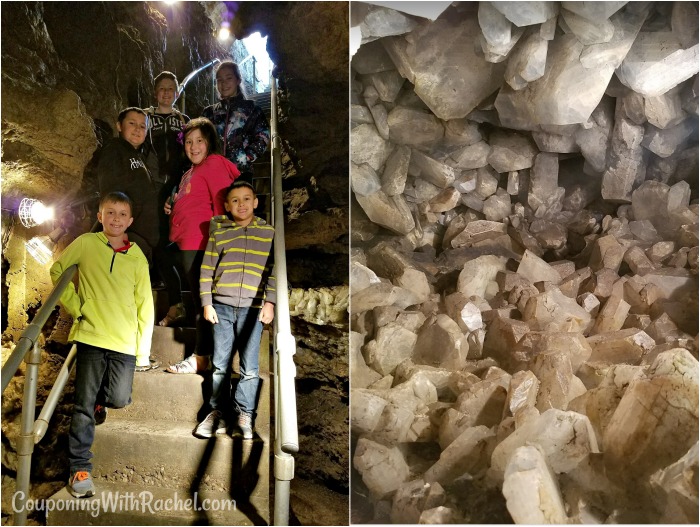 Our tour also included a behind the scenes look on how wine is continuing to be made today. Best of all, this tour also includes a sample of your choice of either Heineman's grape juice or one of their wines. From red to blush wine, there is sure to be one that you will love. If you buy that day, they will even deliver your wine to the ferry for you! Talk about great service! Tours of the cave and Heineman Winery are offered for $8 for adults and $4 for children ages 6 to 11.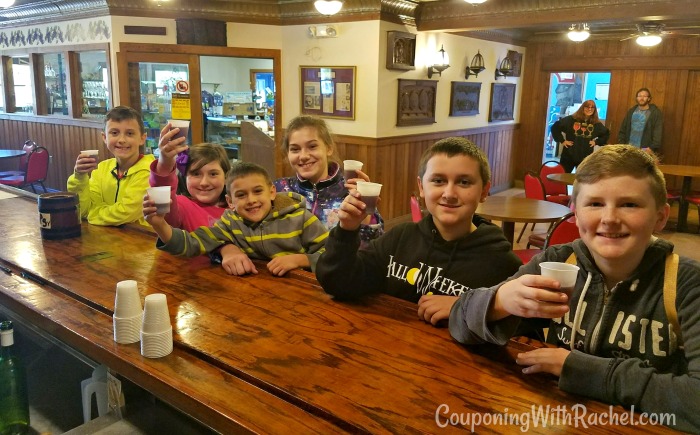 After a bite to eat in town at Frosty's, we poked around some shops downtown, walked along the piers and checked out the area. It was so convenient to have our golf cart and be able to get in and out where we wanted. Of course, we took lots of pictures too! The weather was warming up and the sun was shinning bright. We were having such a fun afternoon!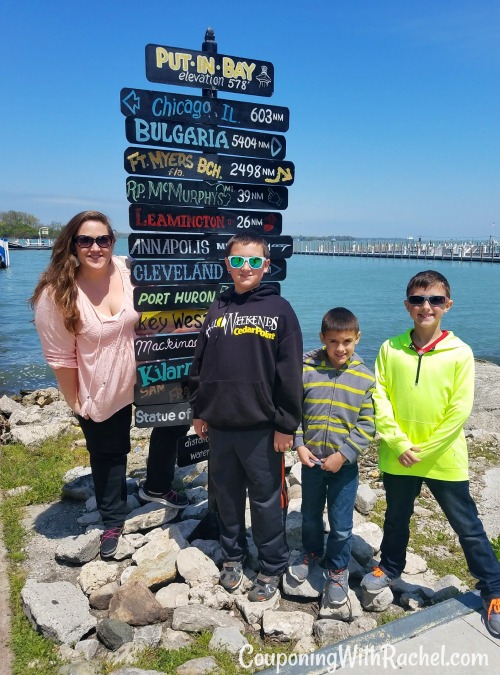 While we were all having so much fun exploring town, our kids asked to play putt-putt golf at Perry's Cave Family Fun Center. We played last time we were in Put-In-Bay, and knew it would be a great way to end out our day. The War of 18 Holes Miniature Golf lets you have fun while also learning historical facts about the War of 1812 and Commodore Oliver Hazard Perry's role in the victory of the Battle of Lake Erie. This beautiful course is under a canopy of shade trees and perfect for all ages. In addition to golfing, our kids loved exploring the covered bridge and waterfall cave.
Perry's Cave Family Fun Center has many other activities which are perfect for families including a rock wall, giant maze, antique care museum, butterfly house and underground cave. You can easily spend a few hours here is you have little ones, so be sure to add it to your list of things to see.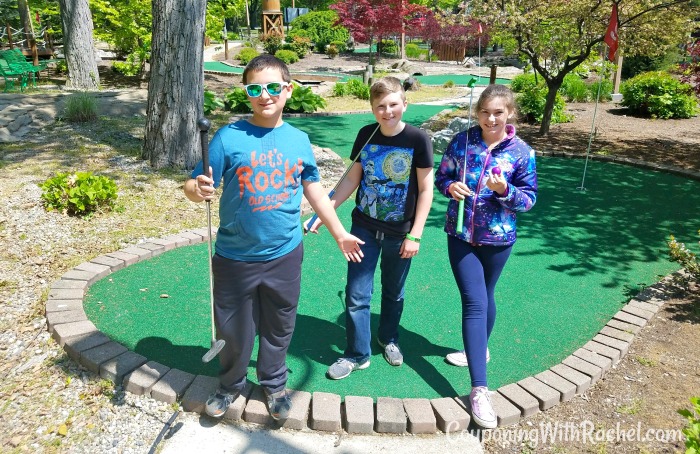 Once it was time to go home, it was just a quick hop to get back on the Miller Ferry. With their summer schedule offering a ferry every 30 minutes we only waited a short period of time. As my kiddos ran to the ferry, it just warmed my heart to know how many memories were made. In fact, on our ferry trip back, my sister and I planned our next excursion to the island.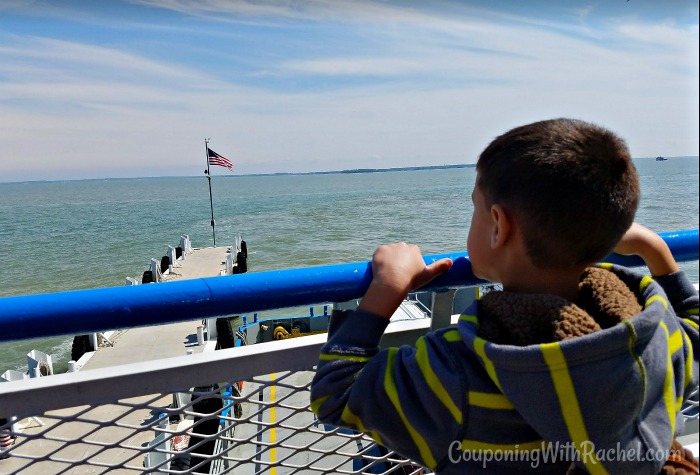 Put-In-Bay is the perfect place for a family day trip or even to stay for a few days. With lodging of all types including hotels, bed & breakfasts, cabins and even camping, it's sure to fit just about everyone's budget. Need additional savings? Merry's Ferry has you covered! Check out their website for fabulous Put-In-Bay coupons!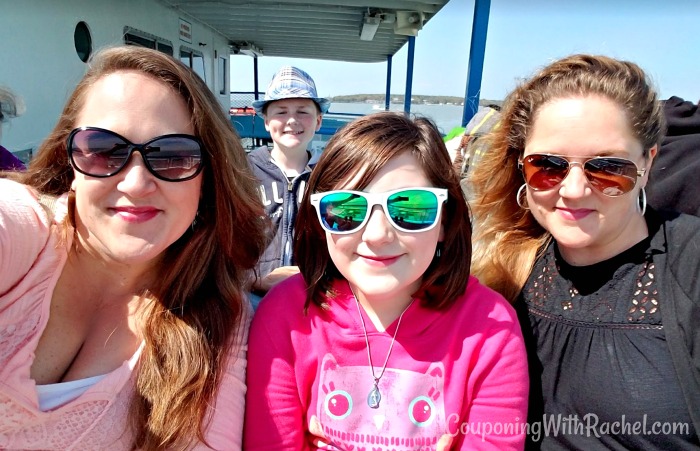 Summer is here but it will go fast. Be sure to plan a visit to Put-In-Bay today!