Disclosure: I received two round trip ferry tickets on the Jet Express. All opinions are my own.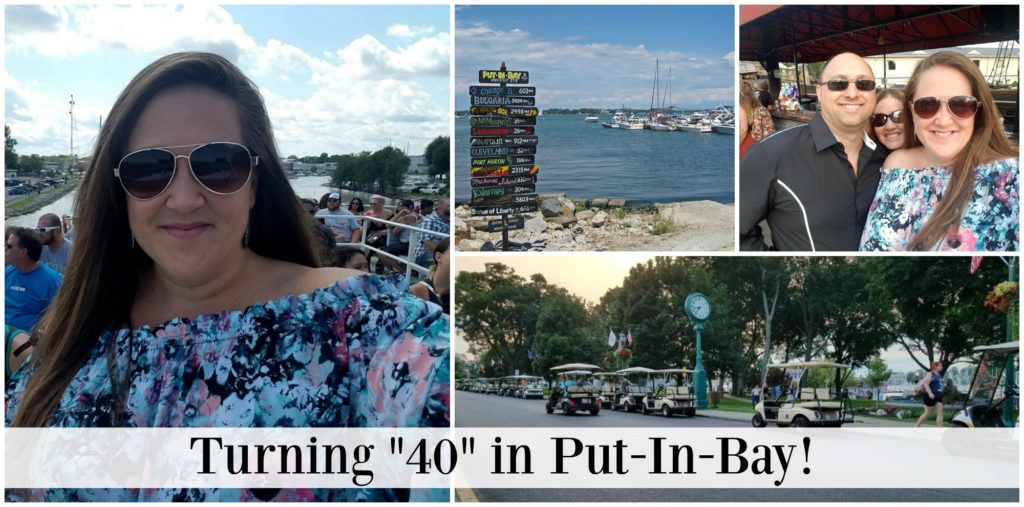 This year I celebrated a milestone. I turned "40"! While I usually do dinner with family or a night out with my husband, this year I wanted to celebrate on a bit of a larger scale. My sisters and I had talked about a girl's trip to the beach and my husband and I toyed with the idea of flying somewhere exotic. When it came down to it, time restraints just didn't allow us to fly anywhere so headed to Ohio's own tropical island, Put-In-Bay!
In the weeks before my birthday, I called friends and family and asked them to join me for a fun-filled day on the island.  We checked the ferry schedules and knew that the Jet Express would be perfect. The Jet Express offers the fastest ferry service to the islands from both Port Clinton and Sandusky. It drops passengers off right in the heart of Put-In-Bay and is the only ferry to offer late night weekend service from Put-In-Bay (12:15 am or later). Since we weren't staying overnight on the island, we definitely needed a late night ferry.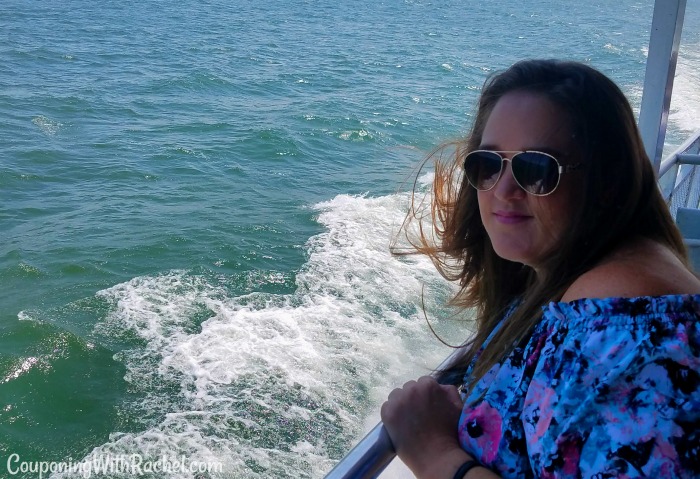 On August 5th, most of our group headed out to Port Clinton to grab an afternoon ferry while some took it from Sandusky. To save on time, we ordered our Jet Express ferry tickets online a few days before. This is a great idea to do on busy weekends since ordering online not only keeps you from waiting in line but also keeps your wanted ferry time slot from being sold out.
Before we boarded the Jet Express a few in our party, headed over to JetBar. This full service drink station is located right on the water at the Port Clinton location. The JetBar offers up special concoctions with direct access from the bar to the ferry, great views of the lake, and offers plenty of seating.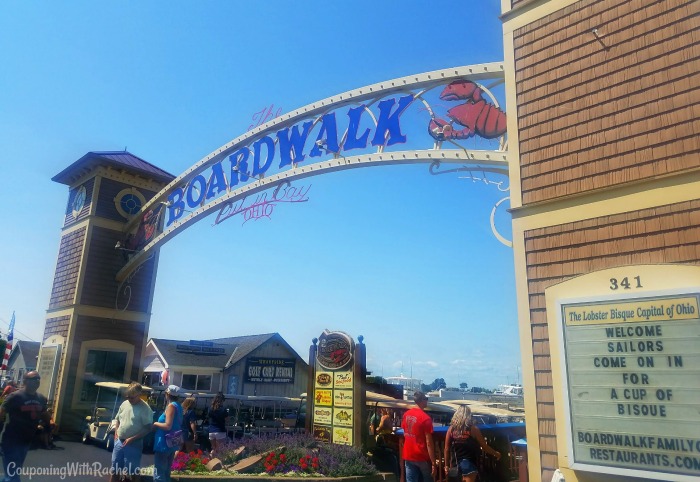 We got to Put-In-Bay around 2:00 pm with plans for a fun-filled, kid free day! With some of our friends having arrived on the island earlier and with some arriving a little after us, we decided on grabbing a quick lunch right on the water. There are a ton of delicious restaurants on the island but we choose The Boardwalk with it's casual concession-style dining, overlooking the Bay.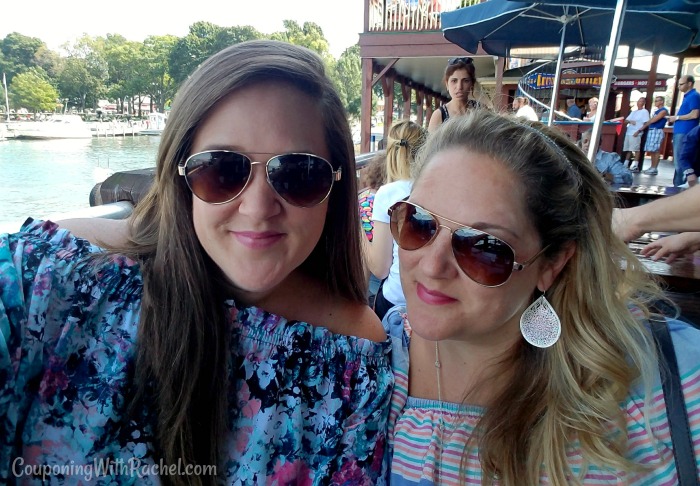 At The Boardwalk you can choose either the Main Deck downstairs with three different food concessions or the elegant table side service upstairs at the Upper Deck. With our group we chose the quicker option downstairs. With choose-your-own seating picnic tables, we were able to grab a table or two that fit us all. Since everyone could pick their favorite food stands, we all got our food quickly and then were able to enjoy the sweeping views of the lake.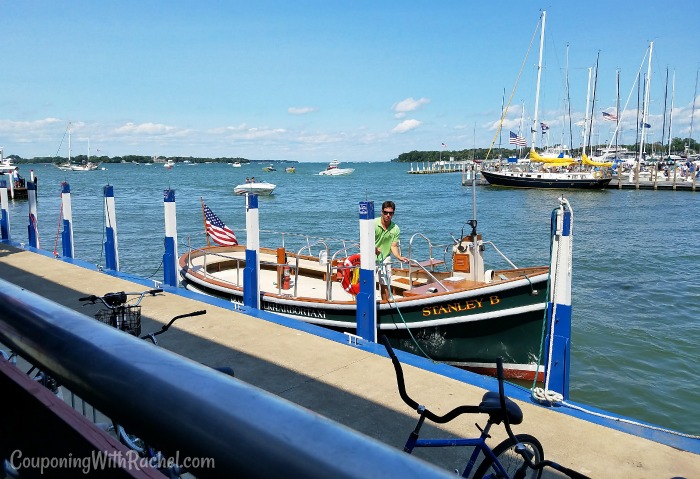 After lunch, our crew walked around Put-In-Bay and enjoyed the island a bit. While I had heard that Put-In-Bay was known as a party scene on weekends, I was pleasantly surprised that while it was crowded, there wasn't as much as a crazy party atmosphere as I had thought there would be. No worries, if you want that, I'm SURE you can find it but also know that on the weekends, Put-In-Bay can also be relaxing during the day also!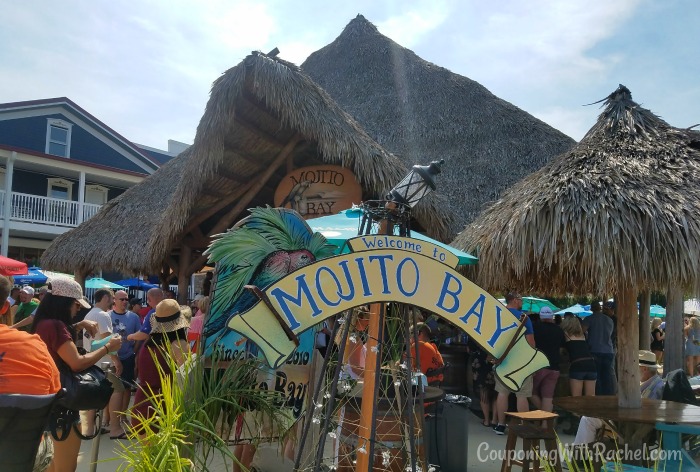 Our first stop after grabbing some food was to Mojito Bay. This unique bar is located on Catawba Avenue in the heart of downtown Put-in-Bay and there isn't another like it on the island. With swings in the bar area, sand instead of a floor and a live band every weekend it's a fun place to hang out with friends. In fact there's even a giant Jenga and cornhole set that a few of us played on.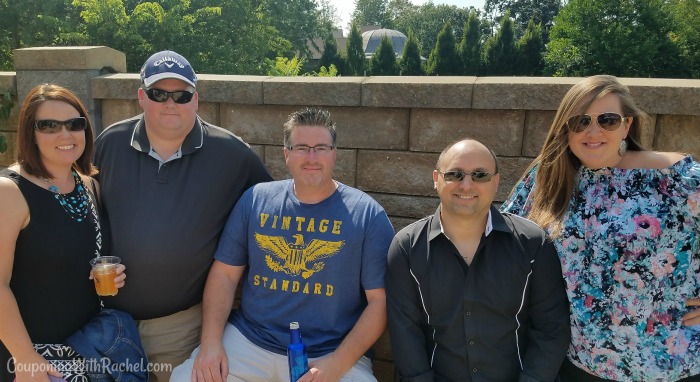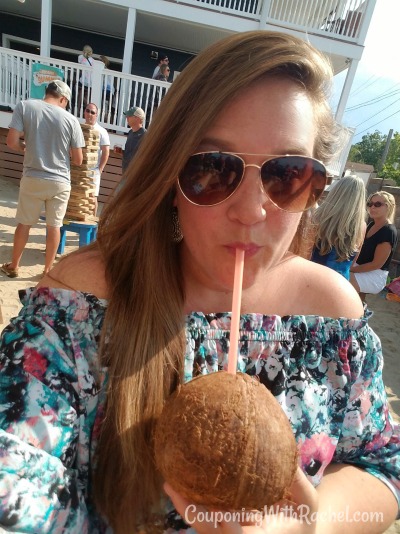 While Mojito Bay specializes the Mojito drink, they also offer up a ton of other options, even non-alcoholic ones. Yes, the age of customers is a bit closer to the college age than my "celebrating 40" crew but I'd like to think we blended right in. If you are enjoying a sunny day in Put-In-Bay with friends, Mojito bay is a must stop!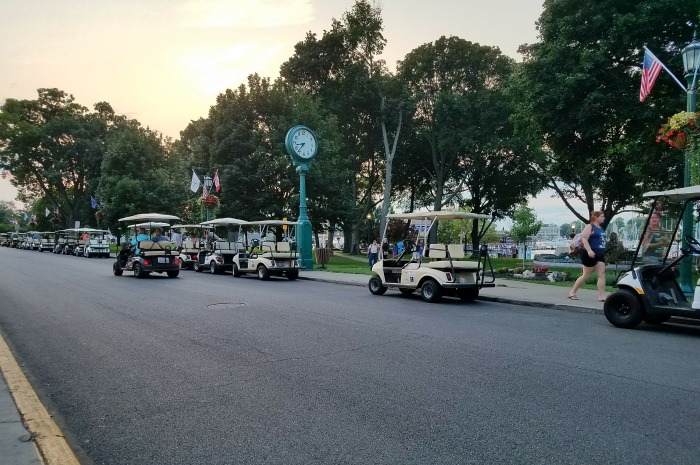 My group split up after this to cover a little more ground. Some were hungry as they had just arrived, while others wanted to do a little shopping. I wanted to see more of the island that I usually don't get to see with our kiddos with us so my husband and I along with a couple of our friends walked up and down a few streets. We really weren't sure where we were heading but it was great to just walk around and talk. Best of all, I found that everyone we met was extremely friendly. We stopped and chatted more than a few times with people along the streets or who were staying in the rented houses close to the downtown area.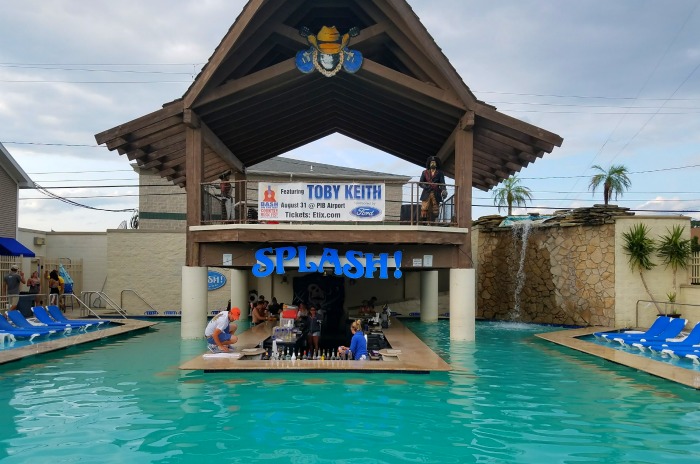 We found ourselves at the the world's largest swim up bar, Splash located at the Islander Inn.  While it was closing when we got there, I've heard it can be a party scene on warmer days so you may want to add it to your list to visit (closes after Labor Day).  As the employees were cleaning up the deck, we up up to the nifty pirate ship bar, Flaming Skull, located on the same property. We easily spent over an hour here, chatting with each other, taking silly pictures and meeting new friends! It wasn't crowded at all, and I really enjoyed the friendly atmosphere. On top of this the bartenders were awesome!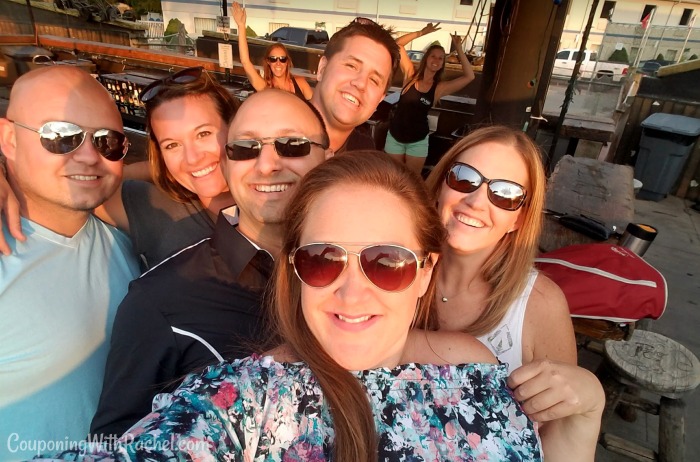 As the sun was going down, we met up with the rest of our party goers back on the main strip, at The Round House. Before even walking in the door, I knew this place was hoppin'! The live band had taken the stage and you could hear them from the street outside, which only encouraged us to come inside.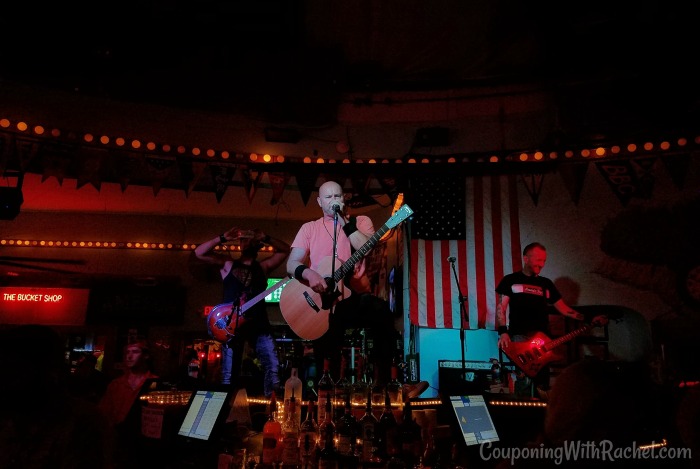 The Round House Bar, which first opened for business in 1873, had wall to wall people but we were still able to find table top seats for our group. The live band turned out hit after hit and even took requests when we were there. Best of all, they gave me a shout-out for my birthday! The Round House bar was so fun and made me feel like I was celebrating a birthday much less than 40!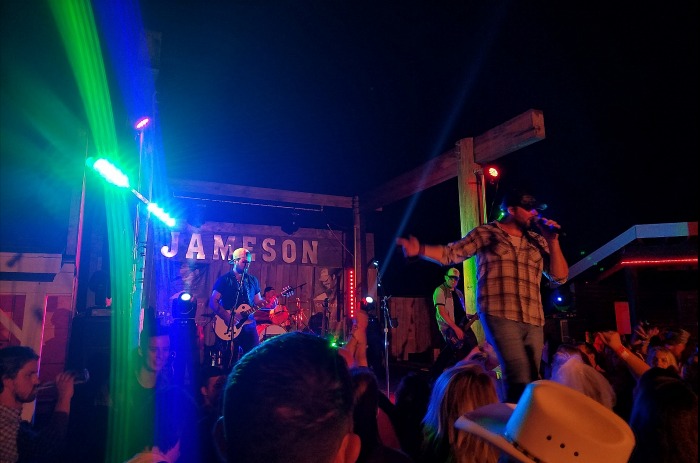 We ended out night at T & J's Smokehouse, Put-In-Bay's only country bar! With delicious food, a live outside band and even a bull a mechanical bull it was the perfect place to end my birthday party! There was more than enough seating outside, even though it was pretty crowded. I loved that the band played outside, since the weather was absolutely gorgeous!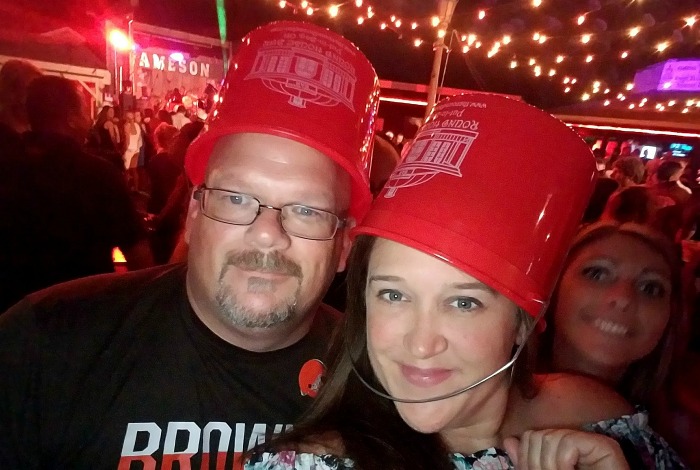 We headed out to catch the Jet's Express's last ferry at 12:15am. Since we were already in the downtown area, it was a short walk to the pier and a quick ride back to Port Clinton.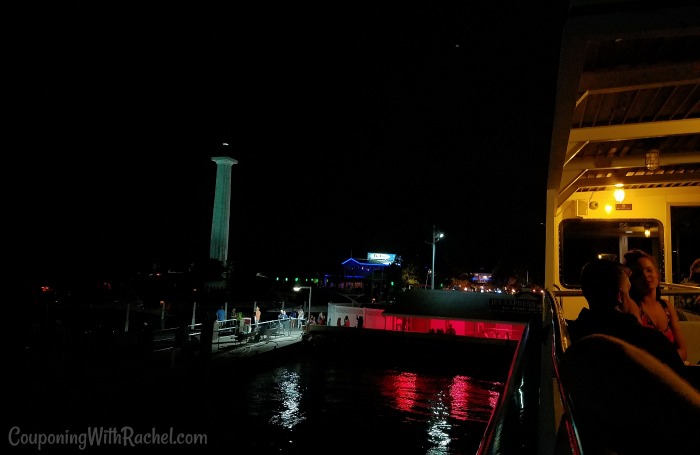 Put-In-Bay provided a PERFECT place for me to celebrate my 40th birthday! I had a great time with friends, sampled delicious food, and "partied like a 40 year old". What I love most about Put-In-Bay is how versatile it can be! It's a great place to explore with the family or to enjoy with friends! Planning a day away? You'll want to head to Put-In-Bay!

Looking for a more low-key family trip? Check out my recent trip to Put-In-Bay, where we explored by golf cart!