As a Cedar Point blogger, I am given tickets to attend this event in order to share with you our experiences. A huge thanks to Cedar Point for teaming up so that I can bring you great content like this.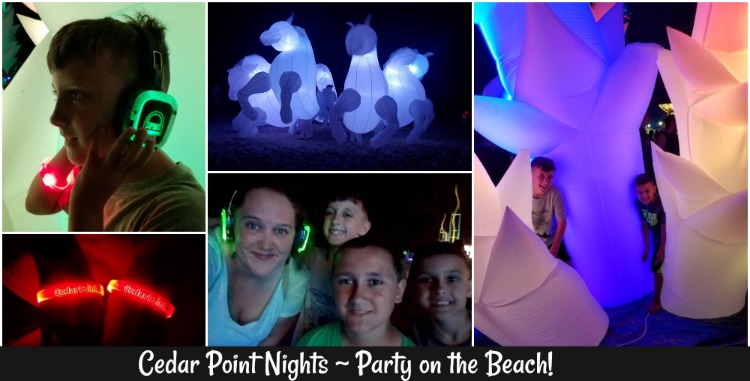 Cedar Point is well known for their zooming coasters and fun family rides but do you know what they are really good at doing? Throwing a PARTY!
Cedar Point Nights is back and running through August 13, 2017. During this event, Cedar Point extends their hours for even more summer fun! Cedar Point Nights offers a beach party, where you can relax on the beach, enjoy live music and even snag dinner! For you night owls, you can stay up late and dance the night away at the Beach Glow Party. Hands down,  Cedar Point Nights  is one of my family's absolute favorite events of the year. Best of all, it's all included in your park admission!
Beach Blast: 
The Beach Blast kicks off each night at 6pm. Featuring live music, beach games and firepits, it's a great place to spend time with family or relax with a loved one with your toes in the sand. If you're hungry, you can order up some scrumptious food including hamburgers and hot dogs, right off the grill. This party runs through 9pm each night so you have more than enough time to enjoy! Our family loved watching the live entertainment and listening to songs performed by some amazing singers.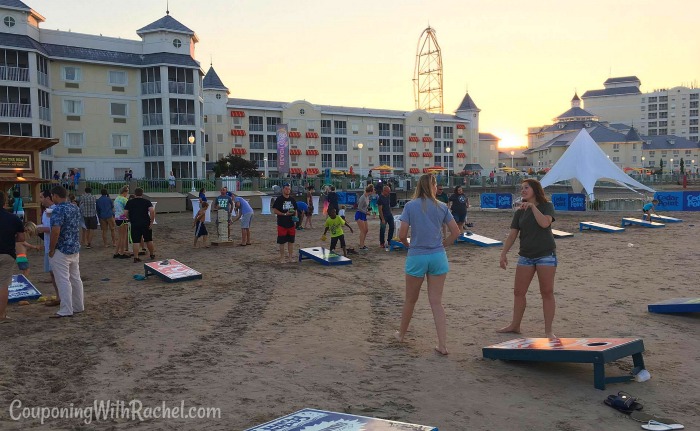 While I sat with my toes in the sand watching the sunset, my hubby and boys played cornhole and munched on some treats. Soon after we arrived, Cedar Point employees lit the firepits which was perfect for those who were a little chilly. Soon after the cornhole game ended we all played  a few games of jumbo JENGA! There are a few sets on the beach which are about five feet tall and perfect for friends and family. I loved that all of these games were free to play!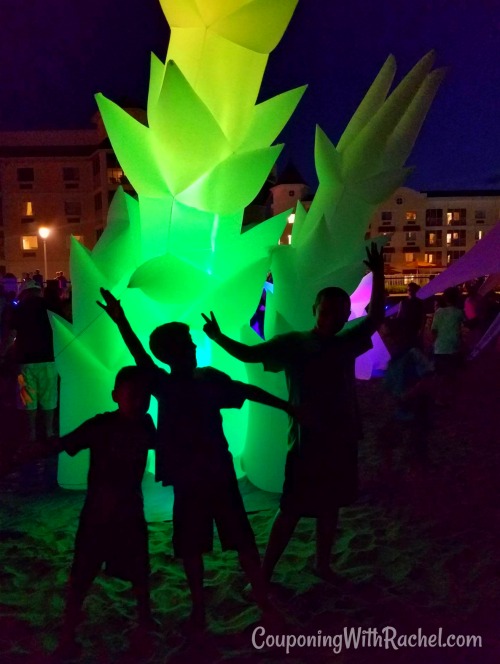 Beach Glow Party:
Want to kick it up a notch? Then you'll want to stay late for the Cedar Point's Beach Glow Party! Each night, from 9pm to close, you can enjoy music with DJ Hurricane, plus a live band every Saturday. My boys enjoyed dancing to well known dance songs and playing among the massive glow inflatables. It truly was a fabulous party on the beach!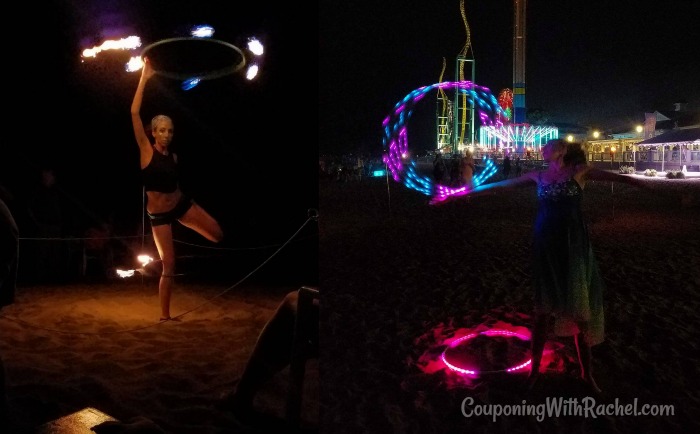 Looking for some entertainment? Cedar Point has you covered. From fire throwers, hula hoop dancers and glow-in-the-dark beach games, your whole family will have a blast! When you head to the Beach Glow Party, be on the lookout for glow giveaways such as glow necklaces or light up Cedar Point bracelets. They were both FREE!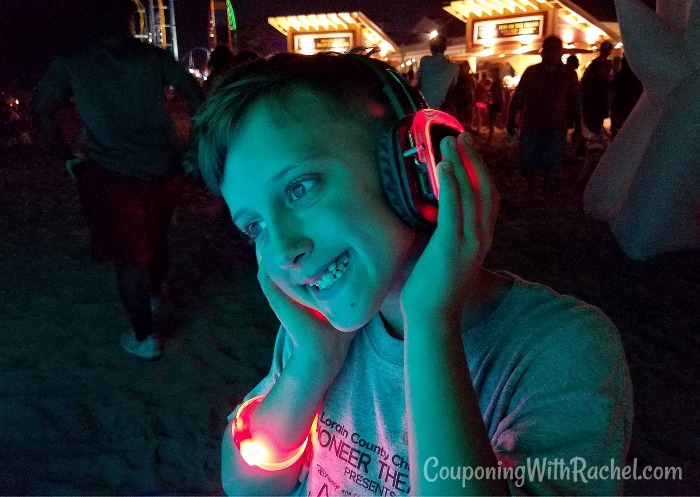 During Cedar Point Night's Beach Glow Party, you can head to one of the huts to rent a silent disco headset. This headpiece allow you to choose your own music and volume. It has about 4 stations to choose from and allows you to control the volume. These were a hit with my family! These are free of charge but you will need to leave a photo ID or season pass.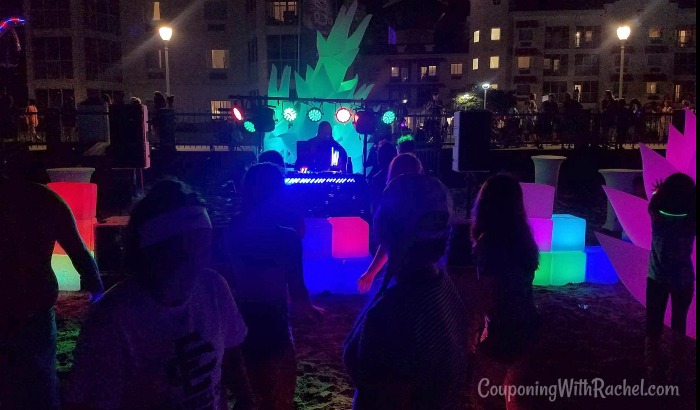 Ready to dance? Follow the crowd and enjoy music from DJ Hurricane! He kept the party going with group dance songs and favorites from the past few decades. They were all hit songs so you are sure to know a few. Before you leave the beach, be ready for a 5 minute fireworks show to close out the night. It makes your Cedar Point night end with a bang!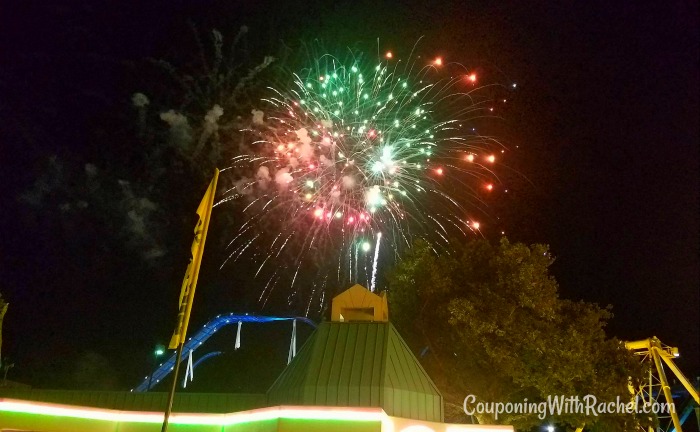 Cedar Point Nights Clambake
Throughout the duration of Cedar Point Nights, the park hosts a special clambake at the Lakeside Pavilion on Thursday and Friday evenings from 7:30 to 9:00 pm.
For $25 per person, guests receive one clambake bag which includes clams, shrimp, corn on the cob, potatoes and sausage. In addition, you also get access to an all-you-can-eat buffet of hamburgers, hot dogs, potato salad, cookies, and Coca-Cola beverages. A second clambake bag is $9 and for guests who only want the all-you-can-eat buffet, it is $16.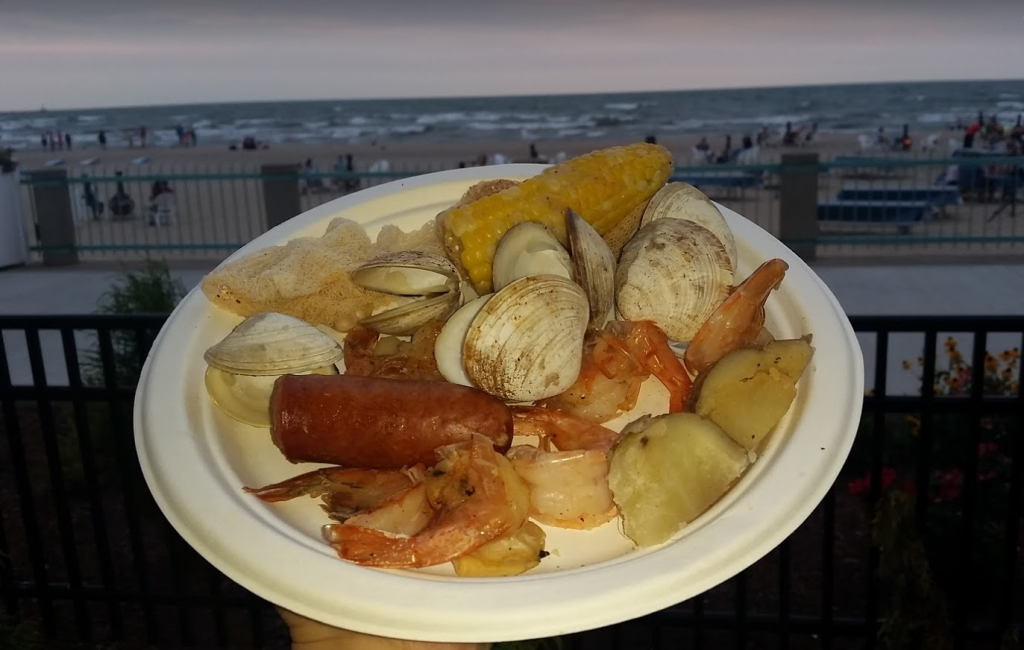 Remember, for those that do not visit during the clambake or do not want to purchase the buffet, there is food served out on the beach during the Cedar Point Beach Blast.
Summer is going fast so be sure to stop down to the Cedar Point beach, and party the night away!