Cedar Point Cabins at Lighthouse Point
"PIN IT" 
Each year, my family gets Cedar Point Platinum season passes and with the amount of times that we visit, I think it's quite a good investment.  While we live pretty close to Cedar Point, we often like to create a weekend trip by staying at one of their properties such as
Hotel Breakers
or
Castaway Bay
. Since we had never visited before, last fall, we chose the 
Cedar Point cabins at Lighthouse Point
. We had driven by these cute cabins so many times while visiting Cedar Point, but I had no idea all that they offered!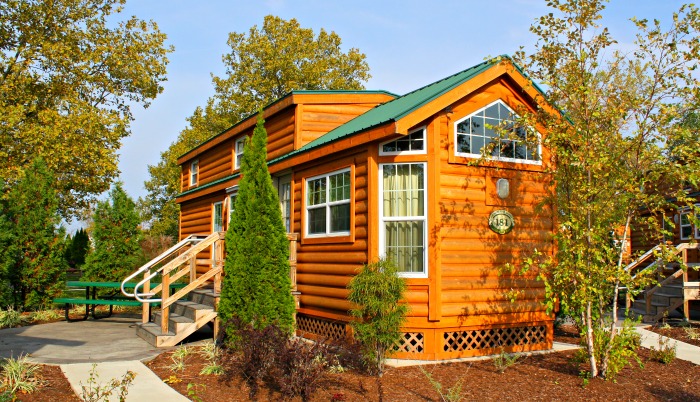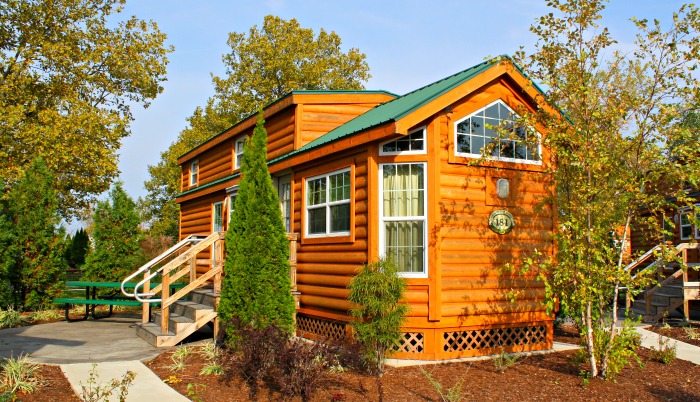 Lighthouse Point at Cedar Point is situated behind the famous Cedar Point park, along the west bank of the Cedar Point Peninsula. While tent camping is not available, this cozy waterfront campground boasts an RV campground with full hook-up sites, 64 cottages and 92 cabins. Their large deluxe cabins can even accommodate up to 10 guests which are perfect for larger families or even for a small group of friends.
The Grounds:
Lighthouse Point is conveniently located right outside of Cedar Point and within walking distance of the Cedar Point and Soak City gates. If you leave something behind at home, simply stop in at the large and newly updated camp store. They offer snacks, drinks, toiletries and even ice cream. We stopped up there several times in our short weekend to poke around and grab a few souveniers.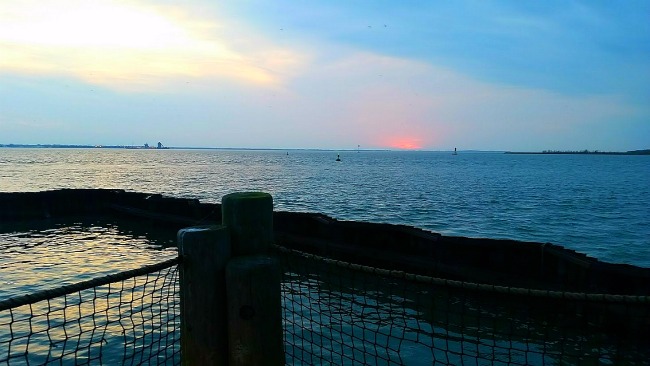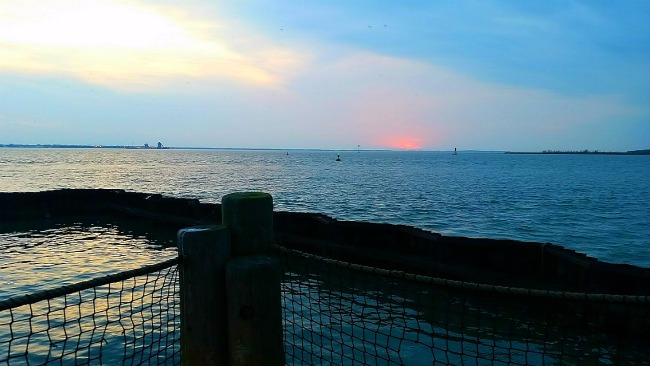 While taking a stroll along the grounds, be on the lookout for the historic 1882 Cedar Point Lighthouse and read about it's history on the signs located outside. If you're looking for a little playtime, challenge a family member to a game of shuffle board. Want something a bit more quiet? Talk a walk on the pier. We were able to watch the sun set on the gorgeous Lake Erie while boats bounced in the distance.
In the RV and lakeside cottages area, there is a large outdoor pool area (open seasonally). This area includes a whirlpool spa and clean and updated changing rooms, bathrooms and showers. While it wasn't open while we were there, this looks like a fun place to cool off and relax with family. In fact, we've already talked about coming back next summer with our pop-up camper.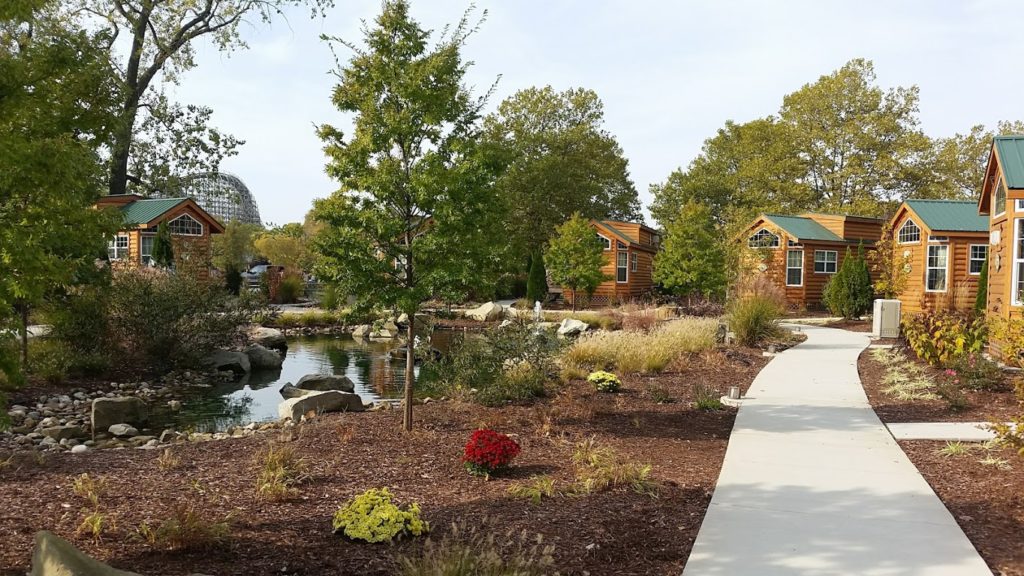 Outside the Cedar Point cabins of Lighthouse Point are beautifully manicured walkways, ponds and fountains. You can really tell the attention to detail that Cedar Point added to this area. My kids and I really enjoyed walking around the grounds and I felt safe with them playing outside near our cabin. This area is so pretty that you really do forget that you are at an amusement park as it feels like you are in a cabin in the woods!
Cedar Point Deluxe Cabins

In addition to their RV park, Cedar Point's Lighthouse Point offers lakeside cottages, standard cabins and deluxe cabins. While we toured the others options, we stayed in the two story deluxe cabins. Cedar Point's 52 deluxe cabins, sleep up to 10 people which was perfect for my family of five with a lot of room to spare.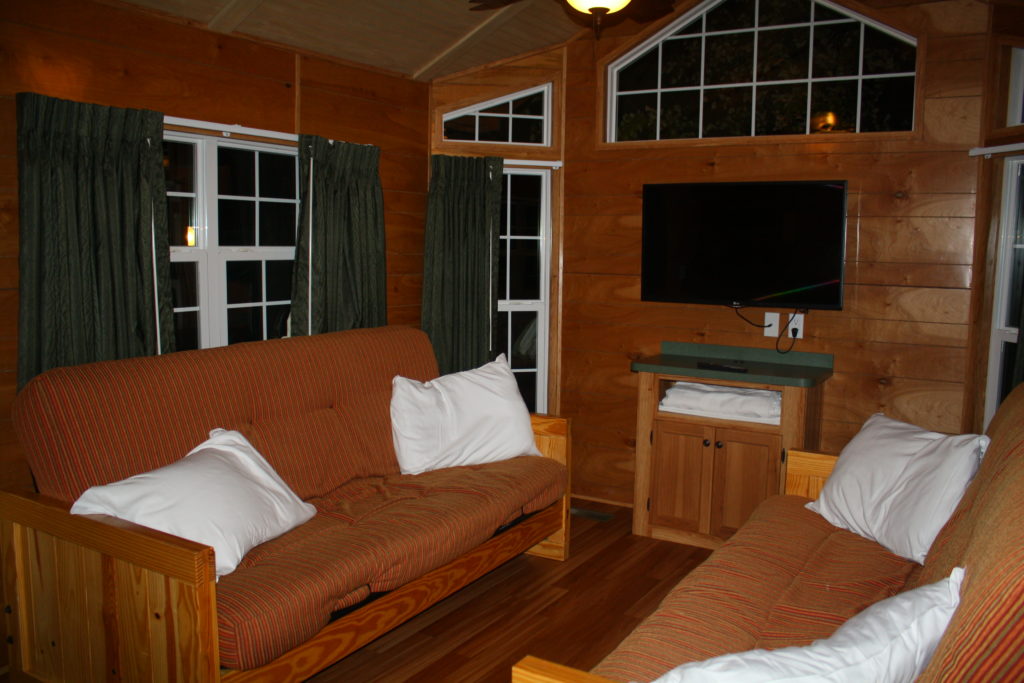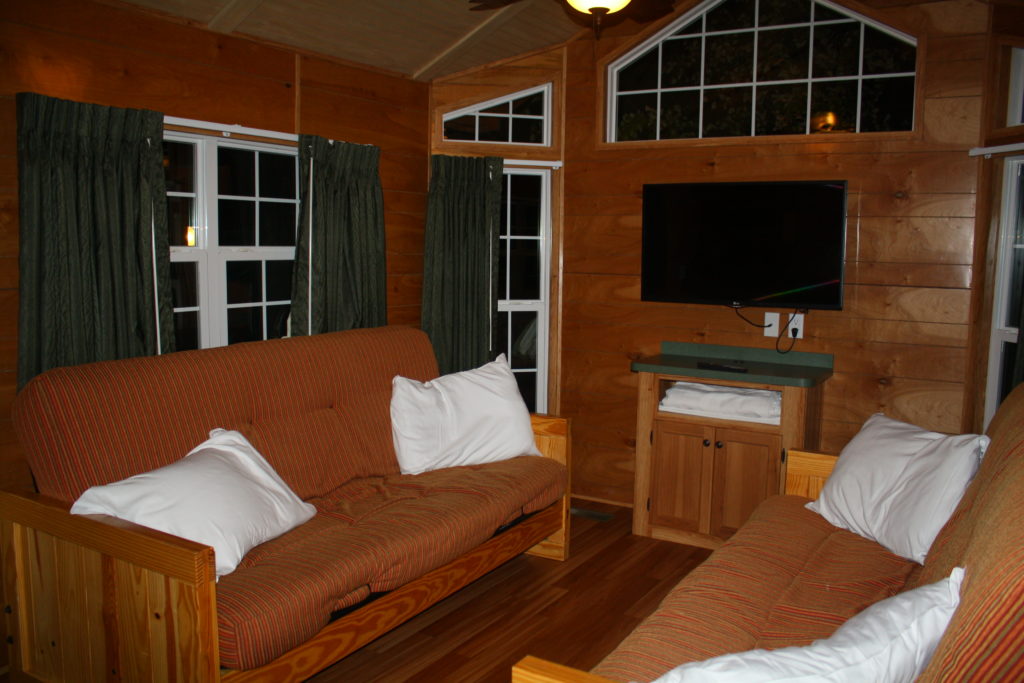 Right when you walk in the door of the cabin, the living room welcomes you. This area features a 42″ flat screen TV and two large futons that serve as couches and beds, if needed.  These futons aren't the flimsy 1980's version, but instead thick and super comfy! I personally think they'd be comfortable even for adults to sleep on. The living room boasts large windows which bring in a lot of light during the day which makes the cabin feel spacious.
The kitchenette is right next to the living room area and features a sink, dorm-sized refrigerator, microwave and coffee maker. While dishes and utensils are not provided, we just brought some paper plates and plastic wear and it worked out fine. With the drawers and small shelves above the sink, we had more than enough space for the food and other items that we brought along from home.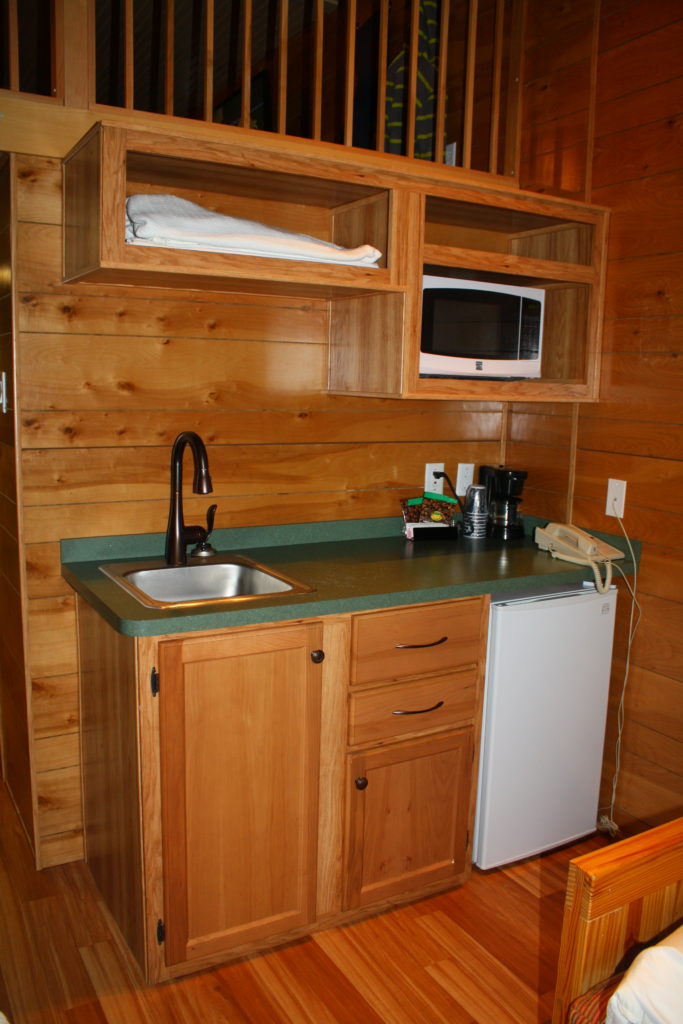 The downstairs offers a lower level bedroom with a queen size bed and TV. I really liked the details inside the room such as the bedside tables, lamps, and suitcase shelf. Since we were camping, I wasn't expecting a comfortable bed, but I was genuinely surprised that it was just as comfortable that you'll find in any high scale hotel room. The extra pillows and high thread count sheets were icing on the cake. Yep, Cedar Point cabins are fully furnished with all linens, so you can leave all that extra stuff at home!
The deluxe cabins at Cedar Point's Lighthouse Point, provides two full-size bathrooms with tub, shower and sink. It also is stocked with fluffy towels and toiletries. For a family of five, it was nice to have two showers and to never have to wait for the bathroom. That was a big plus!



My kiddos were really excited to have their own separate bedroom upstairs and to tell you the truth, so were my husband I.  The loft area is just a few steps upstairs with two separate areas on both sides of the steps. It offers two additional queen beds, TVs and coat racks, which made it the perfect place for my boys to play with their toys, watch tv and read books. While the ceilings are very low (an adult can't stand), this area gave us all our own space which allowed us to enjoy our mini vacation so much more.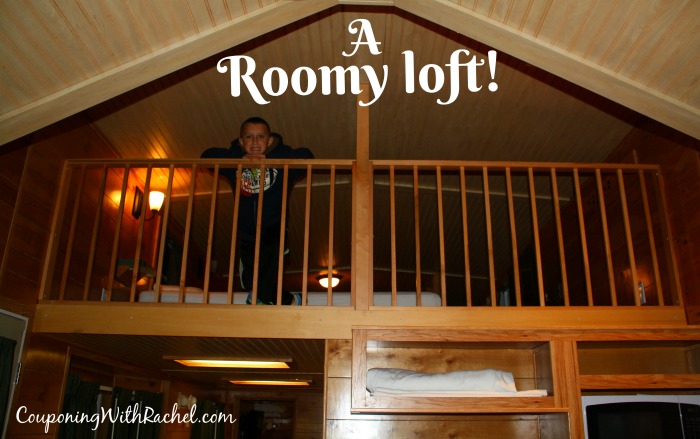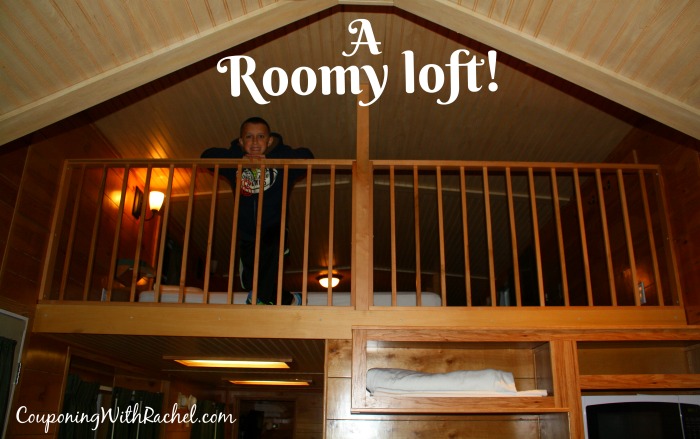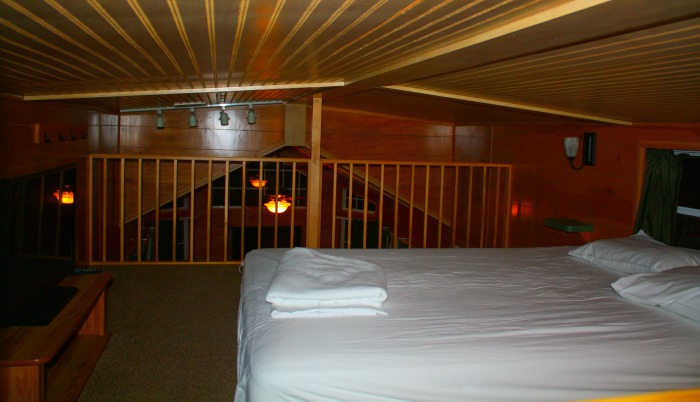 No matter when you stay during the season, you'll be comfy inside as all the units include adjustable heating and air conditioning. They are also fully furnished with all linens, so you can keep all of those extras at home. Best of all, complimentary wireless internet and cable is also available.
You can save a bundle on food when you bring your own from home. We carefully planned out our meals and snacks so we were able to eat most of the time right in our cabin.  Each deluxe cabin has a patio with picnic table and charcoal grill. Keep in mind that no utensils are included so be sure to bring a spatula or large fork for turning your food on the grill.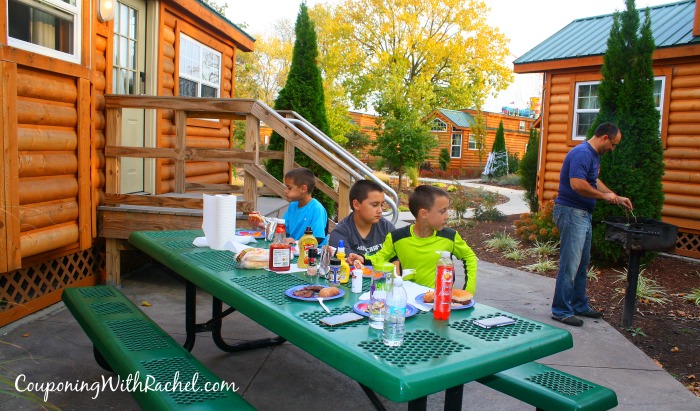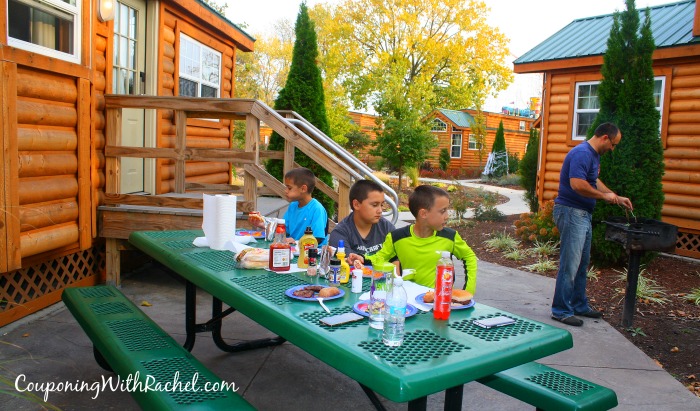 Don't forget, staying at the Cedar Point's Lighthouse Point has it's perks! When staying overnight, you'll score a deal on Cedar Point tickets. In fact, you won't find a better price. You can purchase these along with your tickets or at the front desk when you check in. On top of this, overnight guests can enter the park one hour before the general public. This means you can experience some of the park's most popular attractions before the lines get too long. This is a HUGE plus in my book!
We had a great time at
Lighthouse Point at Cedar Point
and will definitely be back. In fact, we are already planning a visit for the early spring with my friend! With these large cabins there will be more than enough room for both of us and our kiddos. You can't beat being just steps away from the BEST amusement park on the planet!


Follow Cedar Point on Social Media:
On facebook
On Twitter
On Instagram
On YouTube