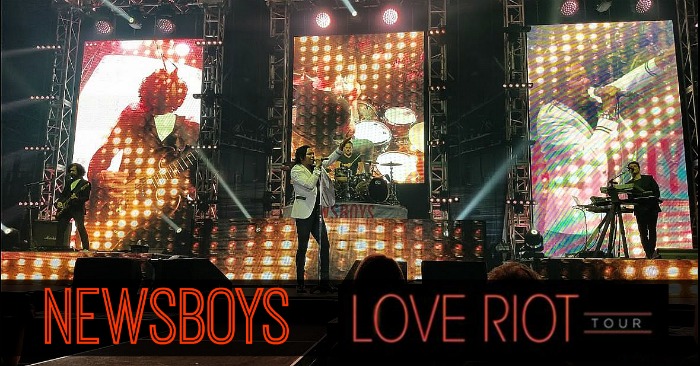 The popular, Grammy nominated and platinum-selling band Newsboys are currently touring nationwide with their Love Riot Tour. Last week they were at the Canton Civic Center in Canton, Ohio and my son and his cousin begged to go. I'm so glad we did!  In addition to the amazing songs, tt was simply wonderful to praise and worship with so many people under one roof. This concert was moving and soul searching!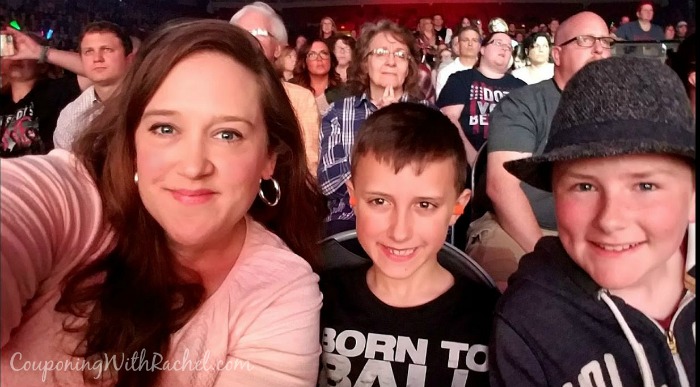 The Newsboys Love Riot Tour which runs through early May, features an all-new theatrical experience called, God's Not Dead LIVE! Rivals. This unique opening of the show boasts original songs and brings an ensemble cast of singers, actors and dancers together to answer the question "Can God really make a difference?". We all really liked this opening! It was such a different way to open the show and introduced us to new songs.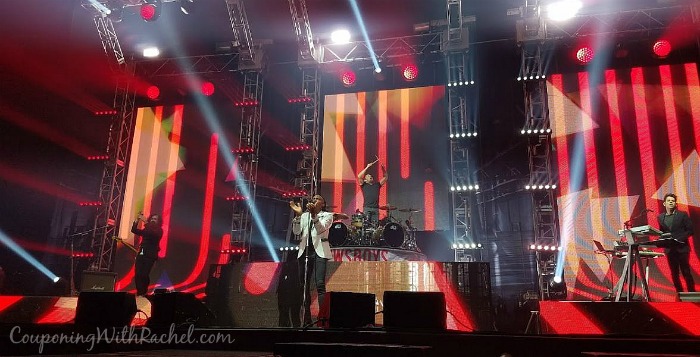 When the Newsboys took the stage after a short intermission, my guys could hardly contain their excitment! In fact, the whole arena broke out in cheers. It was electrifying!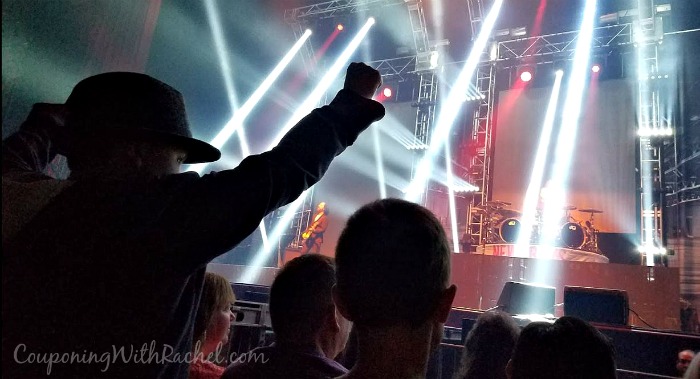 The Newsboys opened up with their song
Born Again
which was complete with an amazing lazer light show. It was a great opening song! Their next few songs included
How You Change The World
,
Crazy
and
Your Love Never Fails
. As I watched my boys with their hands raised high, praising and singing, there were tears in my eyes. It was simply moving.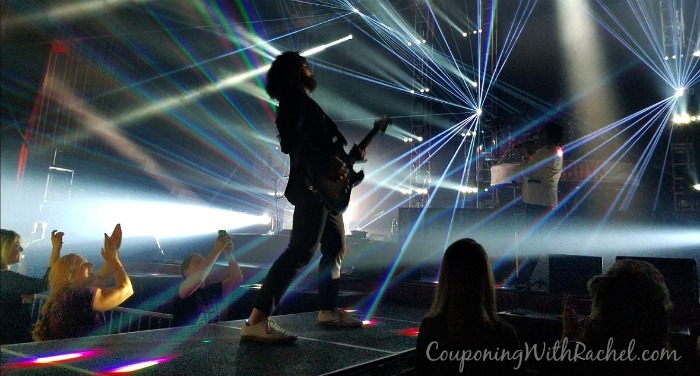 Throughout most of the concert we were on on our feet swinging, swaying and singing.  The Newsboys know how to keep a keep a concert jammin'! I loved that they included songs like The King Is Coming and Love Riot and to sing along with the whole arena to We Believe was heart stirring.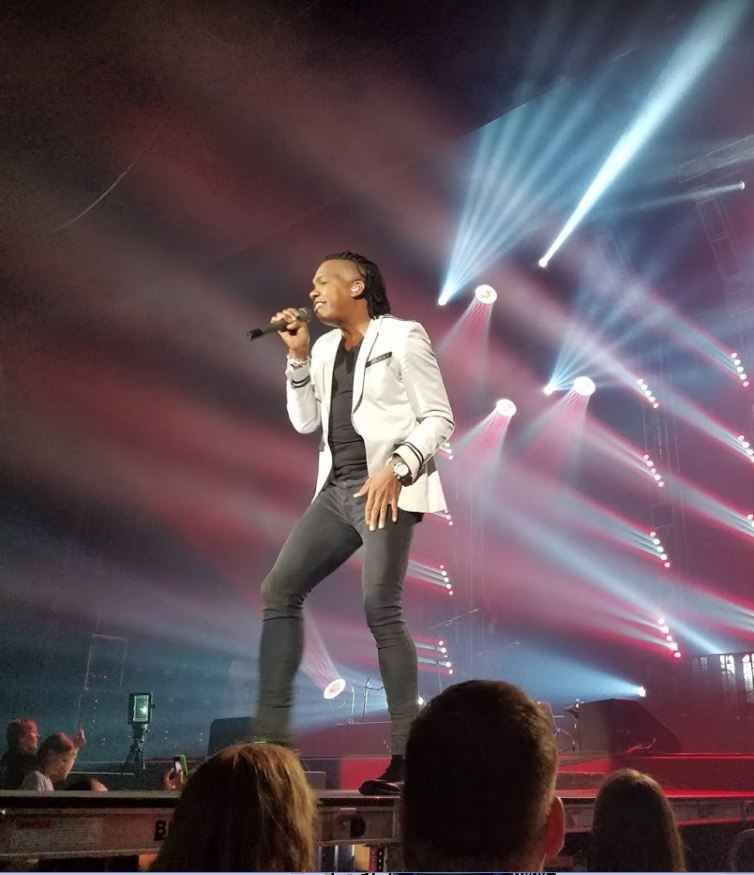 Towards the end of the concert when the Newsboys sang the classic Jesus Freak, the crowd erupted with cheers! The song brought me back to my high schools days of D.C. Talk, which the now lead singer on the Newsboys, Michael Tait, was in. This song was paired with quite a show from drummer, Duncan Phillips and the crowd went wild! His drum stand tilted and spun all while he was still drumming along to the song!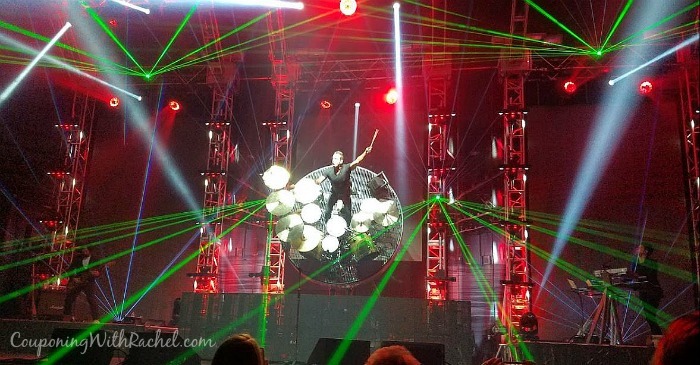 The concert ended on the Newboys popular song God Is Not Dead. This song was featured in a movie a few years ago with the same name. Everyone was on their feet cheering and singing.  It was an awesome song to end the show with!
If you want to catch the Newsboys Love Riot Tour in your town there is still a chance to see the show!  There are shows through the beginning of May and their next stops will be in Pensacola, Florida, Richmond Virginia, Greenville, South Carolina and Huntsville, Alabama, just to name a few. Depending on the show, there are general admission, reserved seating and even the ultimate VIP experience at some show.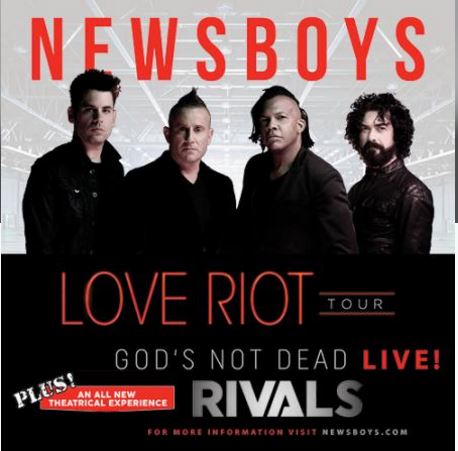 The Newsboys Love Riot Tour is a great show to bring the family to or even a youth group! Best of all there are ticket prices to fit everyones budget, including group prices. Keep in mind that some shows on the tour have sold out so, don't delay!