Disclosure: I was offered a discounted rate in exchange for sharing my experiences. Regardless, all opinions are my own.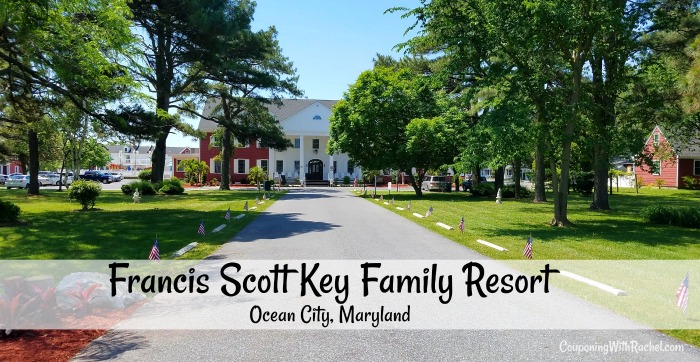 Right at the end of the school year, my sister and I packed our kiddos in the car and took off on an adventure to Ocean City, Maryland. My sister and I haven't been to Ocean City since I was eighteen so we were really looking for some family time! Since our trip involved our children this time around, we knew that we were looking for a fun family place to stay. Are you wondering where to stay in Ocean City, Maryland? Here's why Francis Scott Key Family Resort is the perfect place!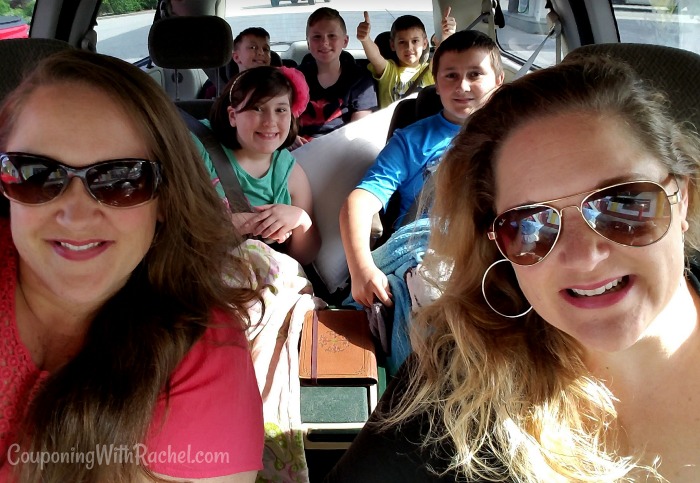 The number one reason that we chose the beach town of Ocean City, Maryland is because it is only a short 8 hour drive from Cleveland, Ohio. This makes it a great place to visit for a week-long trip or even a short weekend trip. Ocean City is a resort town that features miles of beach along a wooden boardwalk which is lined with restaurants, shops and hotels. The southern end of the boardwalk even offers small theme-park attractions. While this town offers many "touristy" things to do, it also boasts gorgeous beaches and the popular Assateague Island nearby with wild ponies that roam the beaches.
The Francis Scott Key Family Resort is located on Route 50 and just one mile from the beach and boardwalk, across from the Tanger Outlets. What I fell in love with is that this family friendly resort offers a ton of extra amenities on-site while also being a convenient distance from beach activities. In fact, they even offer a FREE shuttle right to the beach, so it's only minutes away! There is plenty of free parking is available on site, so you'll always have a place to park.
Francis Scott Key Rooms:
Whether you are a small or large family the Francis Scott Key Family Resort has you covered. They offer rooms small enough for two or large enough to accommodate up to six total guests. In fact their newest cabins will hold even more. My sister and I chose two rooms right next to each other in the New York building. They both had full kitchens and two double beds. I chose the slightly larger room which also came with a pull out couch.  All guest rooms have coffee makers, hair dryers, DVD players and in room safes.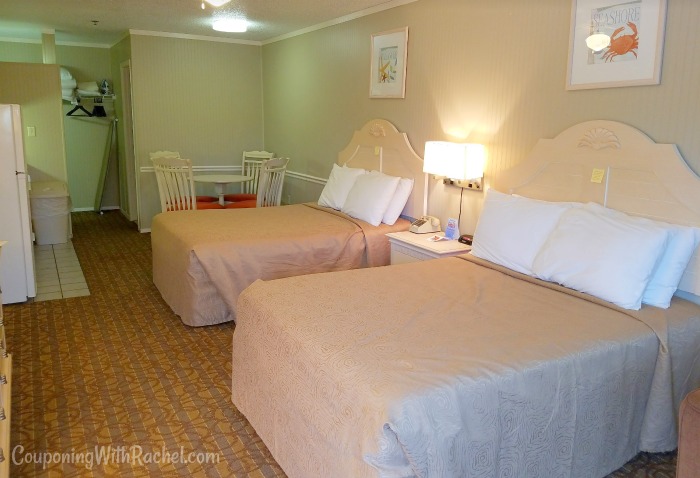 We chose these rooms to save money as we brought groceries with us to cook in our rooms. While we had brought some paper plates, I found it super convenient that plates, pans and flatware were already in our room when we arrived. On top of these, there was also some cooking utensils, dish liquid and coffee for the coffee maker. To make dinners a breeze, we brought along our Crock-Pot and easy breakfast, lunch and dinner meals. There is a grocer store right around the corner from the resort so you could do all of your shopping right before you check-in.
One of the best things about our rooms were the SUPER comfortable beds! When traveling, I always struggle to fall asleep the first night but not at the Francis Scott Key Resort. The beds were so comfortable, I didn't want to get up and moving the next morning. No worries… it was vacation after all.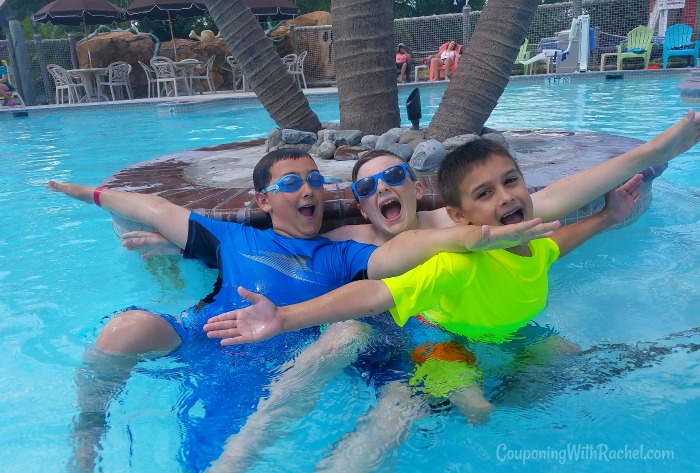 Francis Scott Key Resort Amenities:
While the close location to the beach drew me to the Francis Scott Key Resort, it's the amenities that sealed the deal! This family style resort truly has it all. The Francis Scott Key offers a ton of fun things to do such as multiple pool areas, a playground, a sand volleyball and basketball court, fitness room, arcade, picnic pavilion, DVD and board game rental, washer and dryers and so much more. This amazing resort truly wants you to get the most out of your vacation!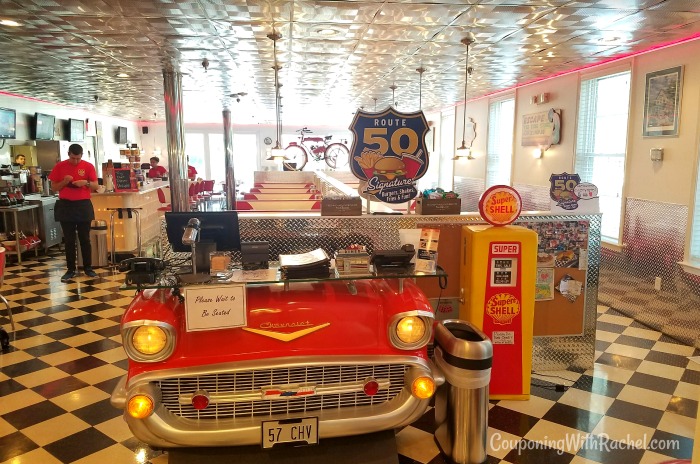 The Francis Scott Key Resort also offers three restaurants and two bars so you won't have to go far to get your fill. The Shipwreck Cove Bar offers tasty drinks while the Surf Shack Pool Bar also offers snacks such as pizza, wings and ice cream. The Chicken and Ribs Shack fires up their smokers daily and serves delicious chicken and ribs platters along with other tasty treats, while their 50's style sit-down restaurant, Route 50 Diner serves both breakfast and lunch. Best of all you'll snag FREE donuts while you wait for your meal!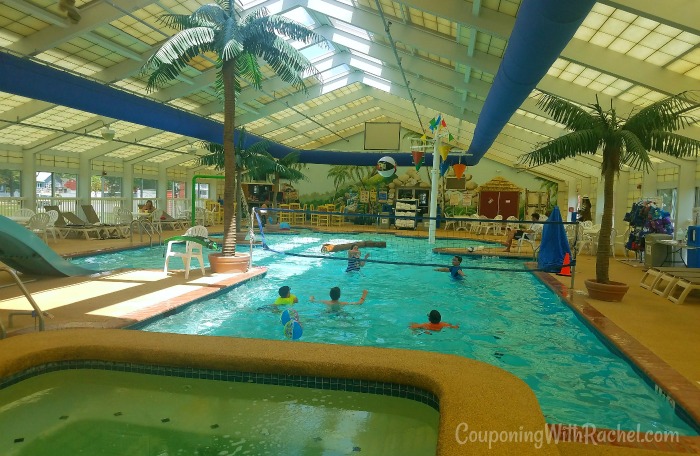 Caribbean Key Indoor Pool
Since we had beautiful weather during our vacation, we didn't use the indoor pool as often as the outdoor ones. It was the perfect pool to swim in though after a day of too much sun at the beach. This pool area offers up a volleyball net, spouting whale in the toddler area, dumping buckets, a climb-on log and water slide. This area is decorated with palm trees and island murals and offers a retractable roof that allows the sun to shine in as the warm air breezes through! My middle son who wears jeans on a 90 degree day loved that this pool is also heated. One thing to note in this area is that the hot tub is off limits for children. My boys were disappointed with this so you may want to give your kids a heads up.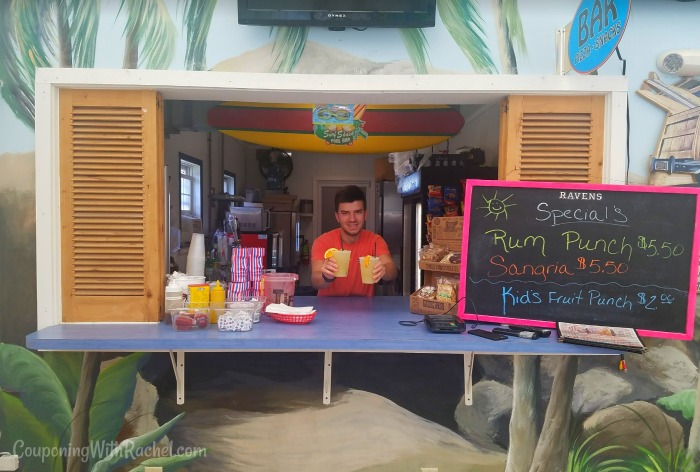 If you are hungry or thirsty you can head over to the Surf Shack Pool Bar, located right next to the indoor pool. It offers snacks such as pizza, wings and ice cream  with drinks for both kids and adults. I thought the snacks were great and the drink prices a good value.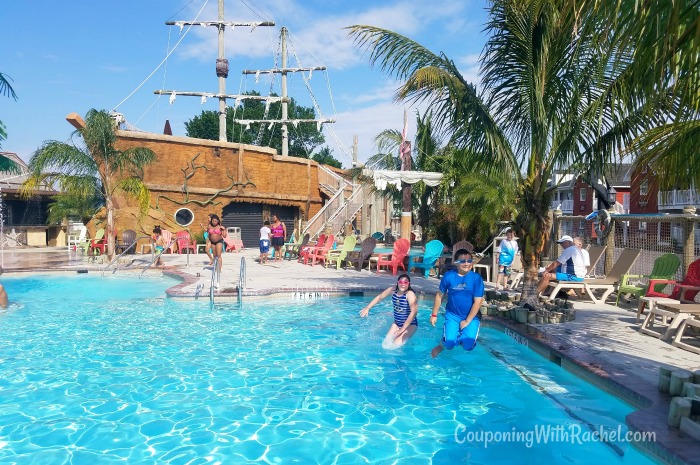 Shipwreck Cove
We spent the most time at the newly expanded outdoor pool area called Shipwreck Cove. It is open Memorial Day weekend through mid September and offers up a lot. You can relax around the Caribbean themed pool or enjoy a beverage at the pool bar. The dinghy themed hot tub (adults only) is a great place to relax and unwind and the second floor of the pirate ship has seating and lounge chairs for up to 75. My sister and I had so much fun splashing around in the pool with our kids while also lounging around on the sides chatting and catching up.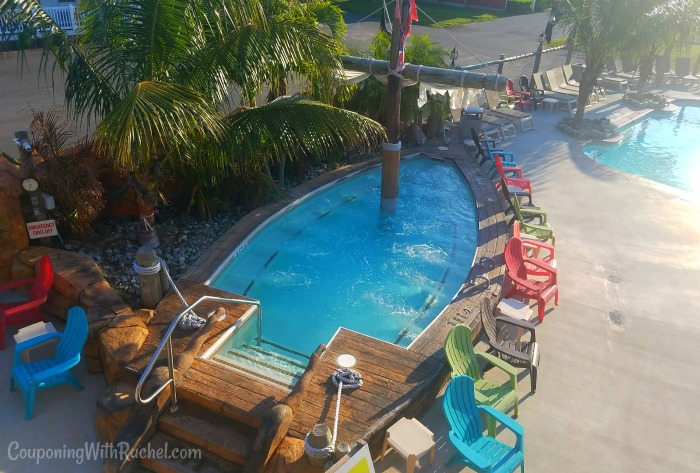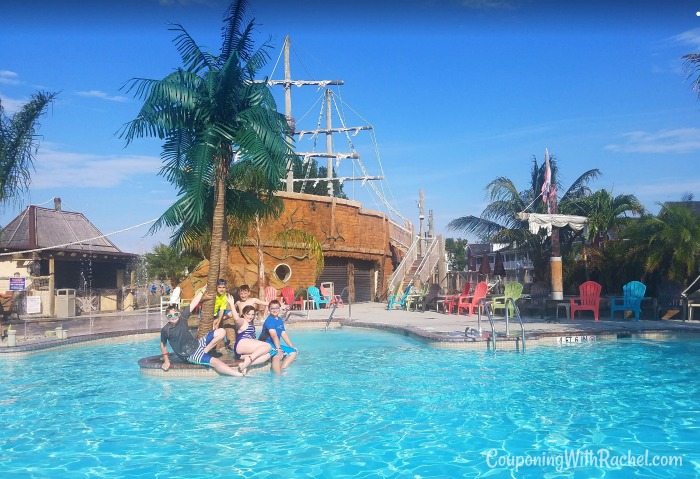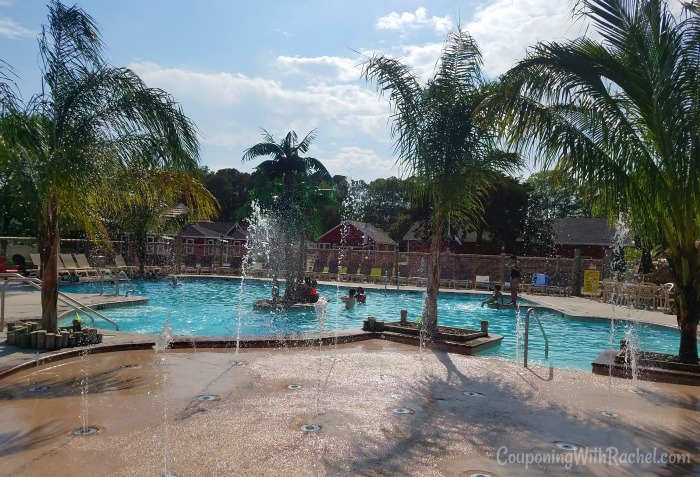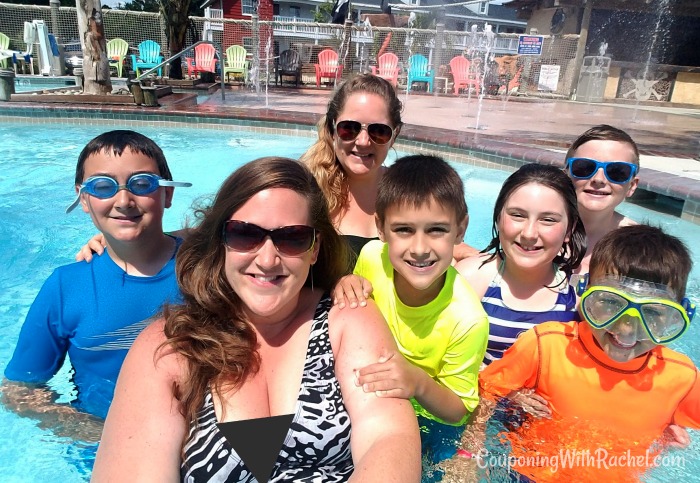 Pirate Ship Sprayground
Got little ones? The pirate ship is a designated kids zone. The ship's slides are ideal for children 4 feet and under though the dumping buckets and water features are fun for all ages. The splashground is a seasonal amenity from mid-June though Labor Day. The Pirate Ship Spray Ground opens weekends weather permitting Memorial Day Weekend 2017 until full time on June 9, 2017. We didn't visit this area other than to take picture but it looks like a lot of FUN for those of you with younger kiddos!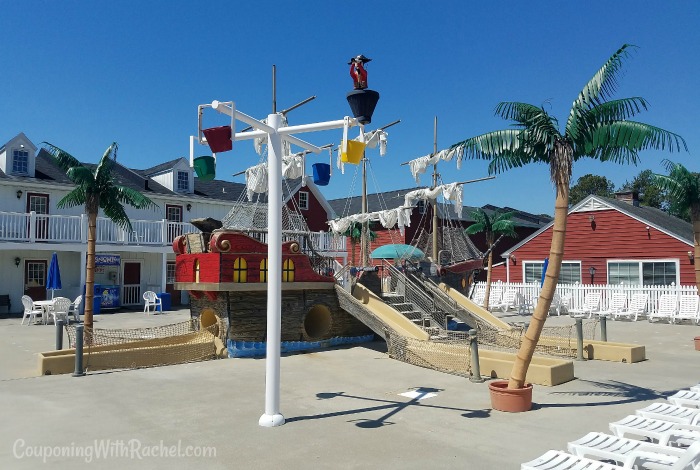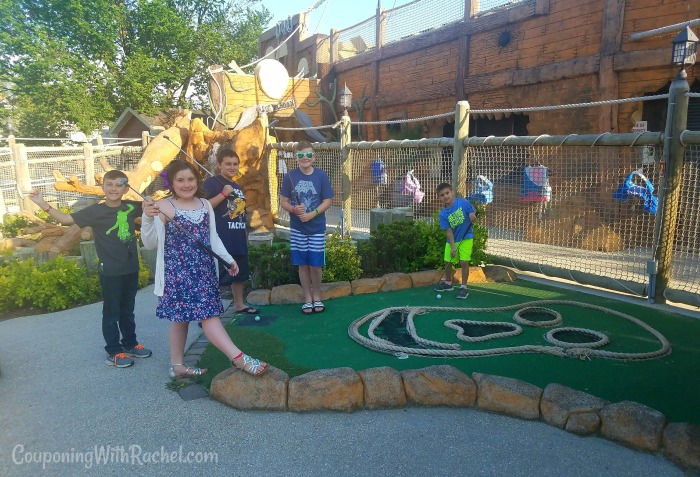 Peg Leg Putt Putt
If you're children love to play putt putt as much as ours do, you'll save a bundle at Francis Scott Key Resort! Challenge the family to a round of mini golf on thier FREE 9 hole miniature golf course. It features beautifully landscaped holes, a bridge over a stream, waterfall, octopus, cannon, skull cave, treasure chest and more. It's a great course for family and kids of all ages and is conveniently located next to the Shipwreck Cove pool.
Francis Scott Key Family Resort Amenities:
While I've listed quite a few things that this family resort can offer there is so much more!

Shuttle to the beach – no looking for a place to park at the beach!
Free family movies nights complete with FREE popcorn!
Free DVD and board game rental for your room
Arcade
Playground
Basketball
Fitness Room
Volleyball
Washer & Dryers
Car Vacuuming Center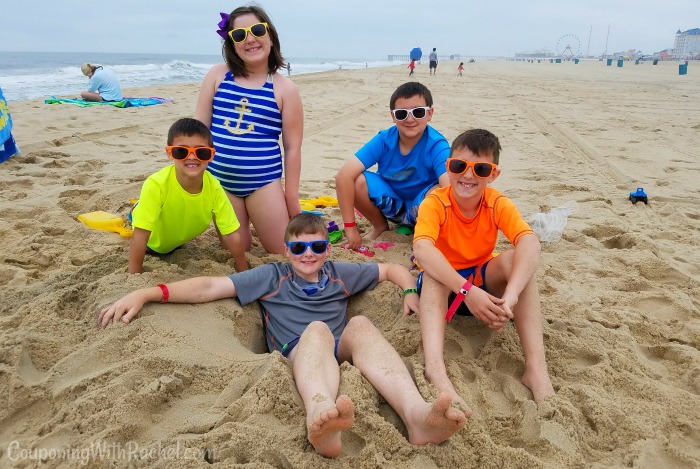 Things to do in Ocean City, Maryland
While we spent just four days in Ocean City, it would have been easy to spend a week or more (most families do)! When we weren't enjoying the resort, we ventured out and explored the city. With the beach only be minutes away, we enjoyed building sand castles and and enjoying the sun!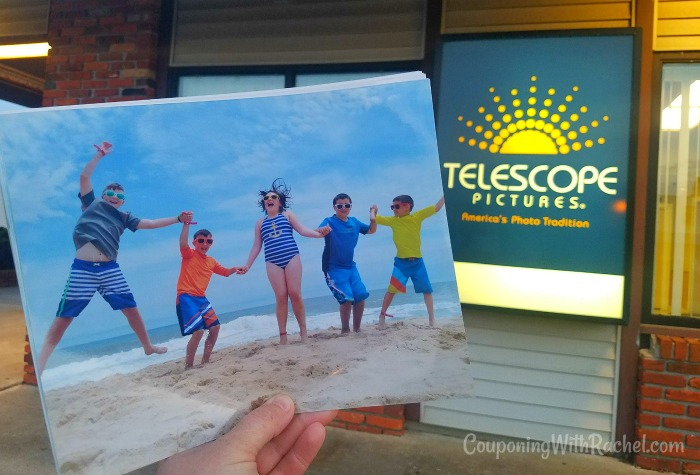 I will highly recommend getting family pictures done if Telescope Pictures comes by on the beach. These strolling photographers ask families on the beach if they want their pictures taken and while I was skeptical at first, I was completely blown away by the price and quality. We were able to get a ton of pictures for only about $6 a sheet. What a deal!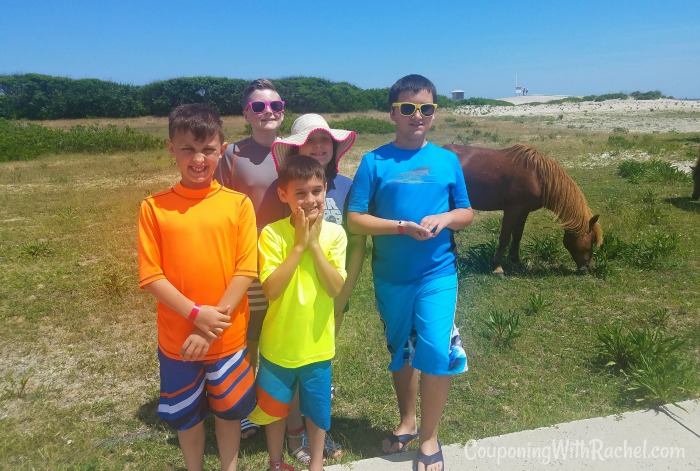 Just a short drive away on you can visit the wild ponies that roam the beach on Assateague Island. We didn't see any ponies while we spent our day on the beach but did get to see quite a few while we were driving around. Be sure not to get too close as they have been known to bite.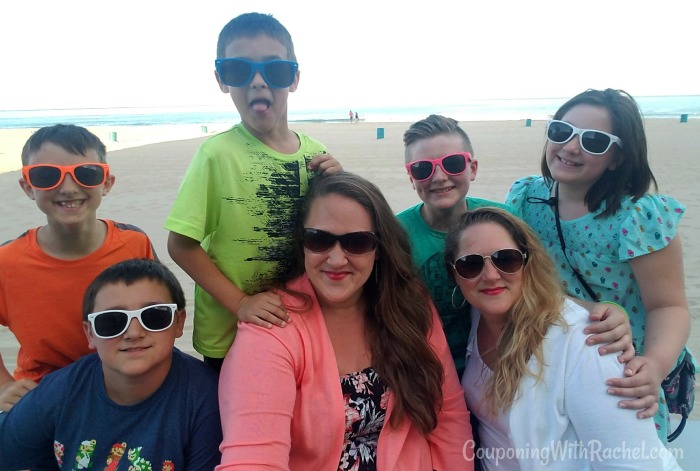 The Ocean City Boardwalk is a MUST SEE too! This three mile iconic boardwalk is filled with stores, delicious restaurants and entertainment. It's perfect for a morning bike ride (you can rent bikes) or an evening stroll. At the peak of the season there are often performers, sand castle demonstrations and other events. We grabbed a pizza one night and ice cream cones another.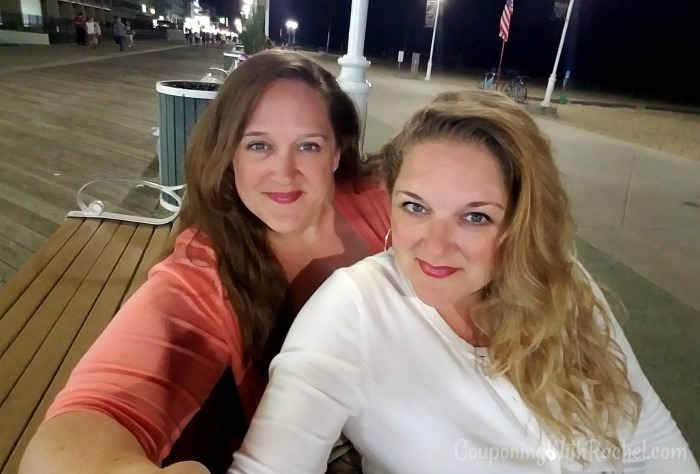 Ocean City and the Francis Scott Key Resort is a perfect place to create lasting memories. This trip with my sister definitely wasn't the same as the one in our college years … in fact, it was even better!