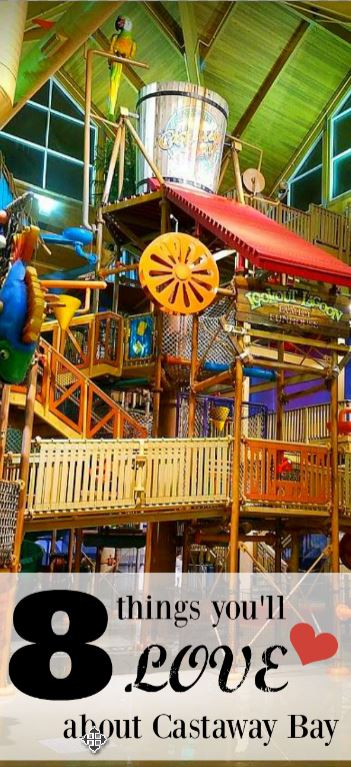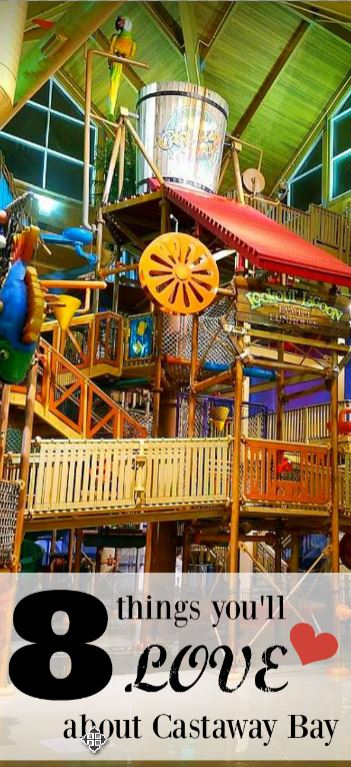 My family and I visited Castaway Bay recently and we had a blast! Located right outside the gates of Cedar Point in Sandusky, Ohio, Castaway Bay, is an easy drive from Ohio, Michigan and Indiana. We've been visiting Castaway Bay for a few years and there are some things we simply LOVE about it! Here are eight things you'll love about Castaway Bay too!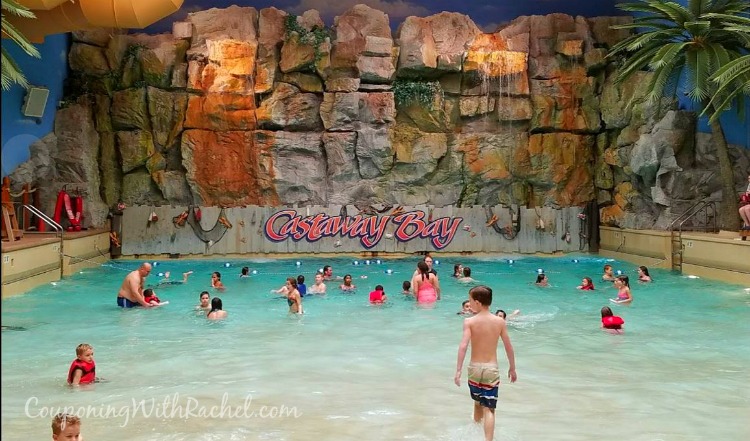 1 – It's always 82 degrees –
Need a tropical getaway? Head to Castaway Bay! With the tropical theme and warm temperature, you'll feel like you've landed in an island paradise. Best of all you'll be able to get that island feel without spending the big bucks flying to the islands. Castaway Bay is the perfect thing to chase away those cold weather blues! There is truly something for everyone from a toddler area to zooming water slides for the more daring!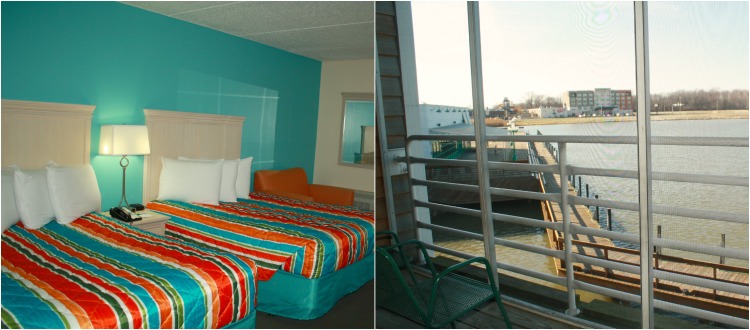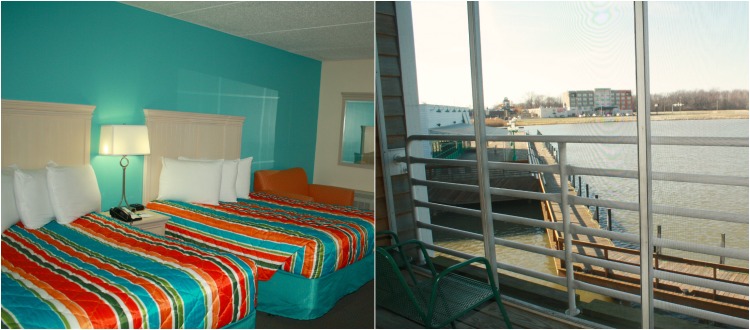 2 – The Comfy Rooms –
Whether you are a small family or a large one, Castaway Bay has you covered. Castaway Bay has many rooms to pick from and we've stayed in a few different types. Last year we stayed in the large two-room Tarpon Suite and this year we opted for the Starfish Bayview. As a family of five, we had more than enough room and we loved our balcony with a view. This is first time I've ever seen a pull out chair (a twin pull out bed) and it was the perfect size for our oldest son. Since a mini fridge and microwave come in the room, be sure to bring along some snacks and drinks for after your time in the waterpark.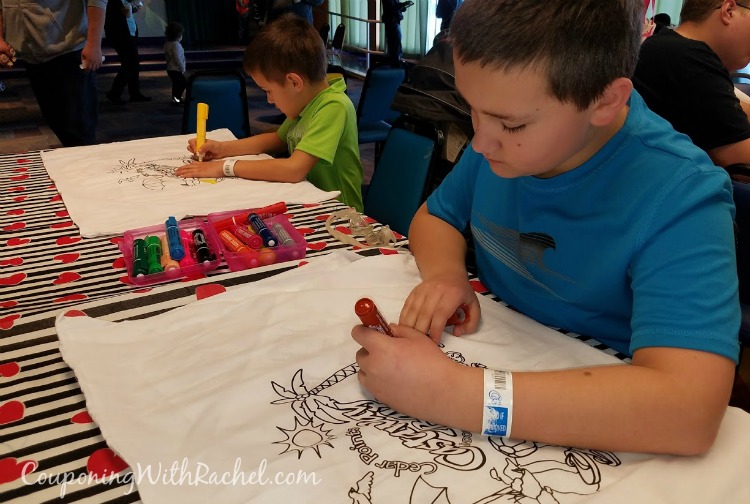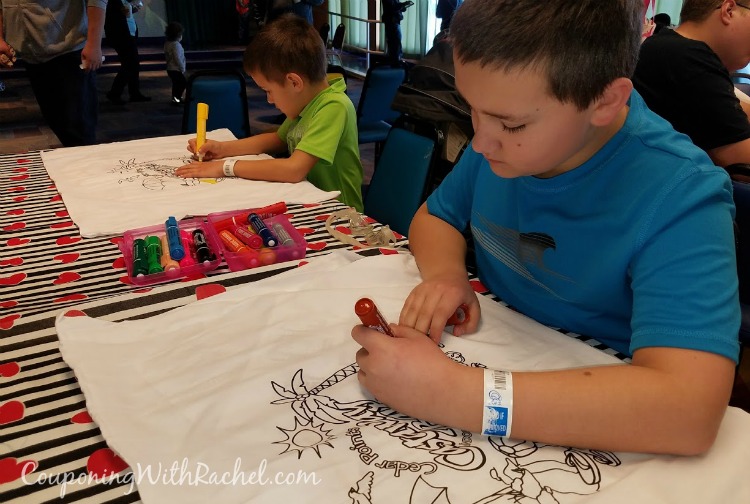 3- Club Castaway –
Castaway Bay keeps you busy both inside the waterpark and out! If your kids are looking for FUN, check out Club Castaway. From encounters with the Peanuts Gang such as Snoopy, Charlie Brown and the rest of the gang to dance parties, story times and movie nights, you are sure to have a blast! Best of all, it's FREE! When checking in, be sure to check out the daily schedule of events so you won't miss any. If arts and crafts is your thing be sure to check out the craft area where kids can color their own t-shirt, beach blanket and more! This year we chose to create a pillow case and the boys couldn't wait to get it on their pillows once we got home. With prices as low as $5.00, it's sure to fit into your budget.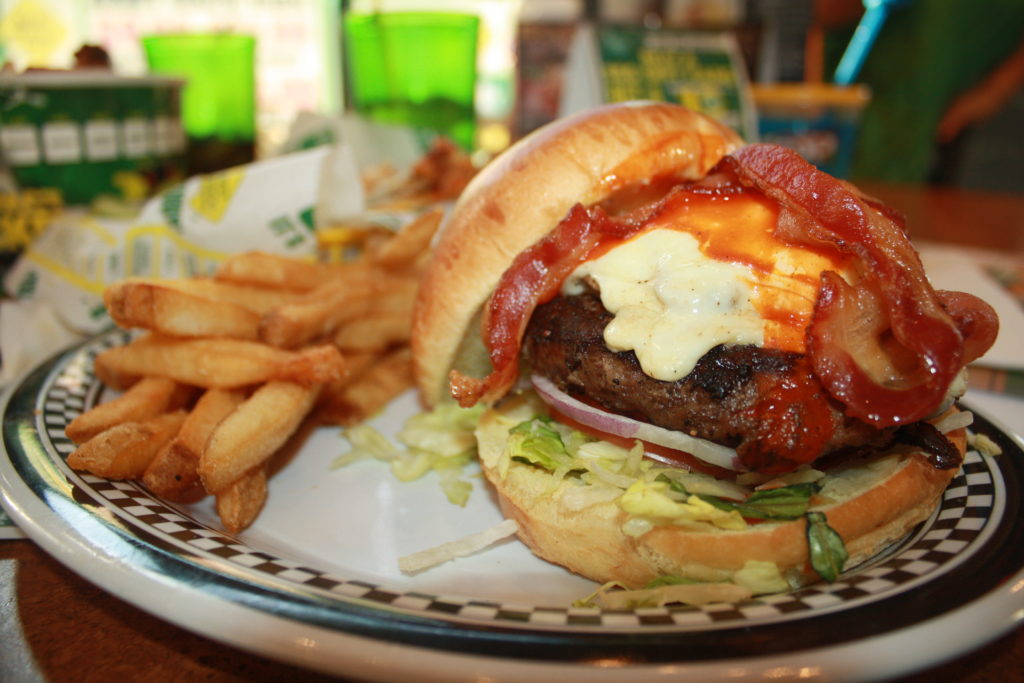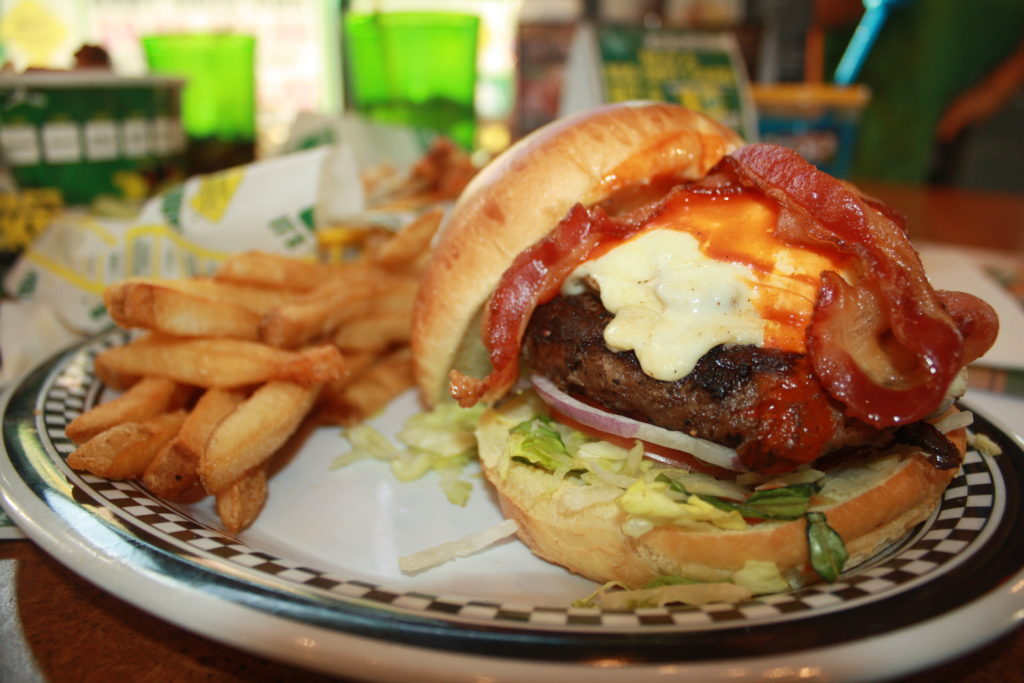 4 – Restaurants On Site –
You won't go hungry at Castaway Bay. Mango Mike's breakfast buffet is delicious and features fresh fruit, freshly-baked pastries, scrambled eggs, cold cereals, hash browns, pancakes, french toast, biscuits and gravy along with many other breakfast favorites. This price is good and you won't be hungry for quite a while!. Quaker Steak & Lube is also attached to the hotel and serves award winning ribs & burgers, plus offers chicken wings with 25 of their signature sauces. It is a large restuarant inside and features patio seating in the summer. Our food came out quickly and my little guys loved that their meals came in a cute race car box!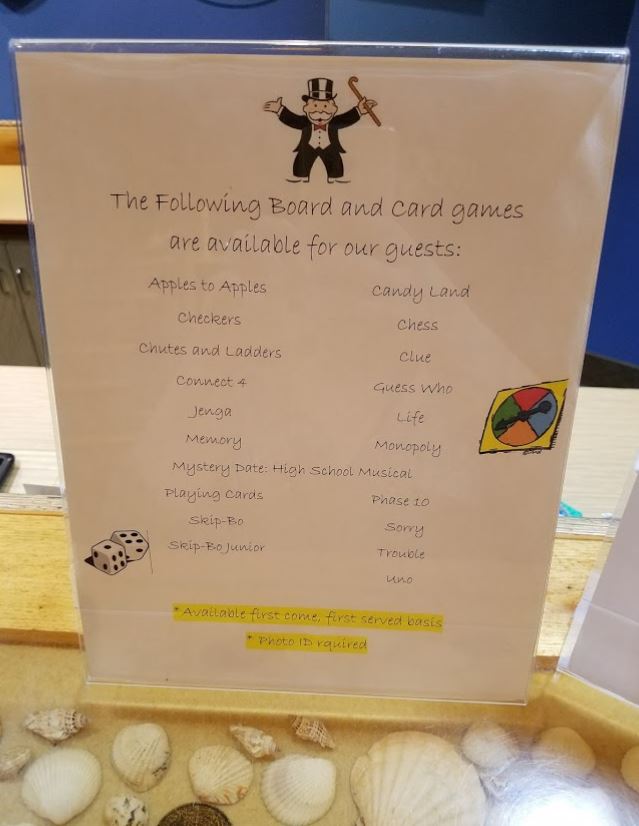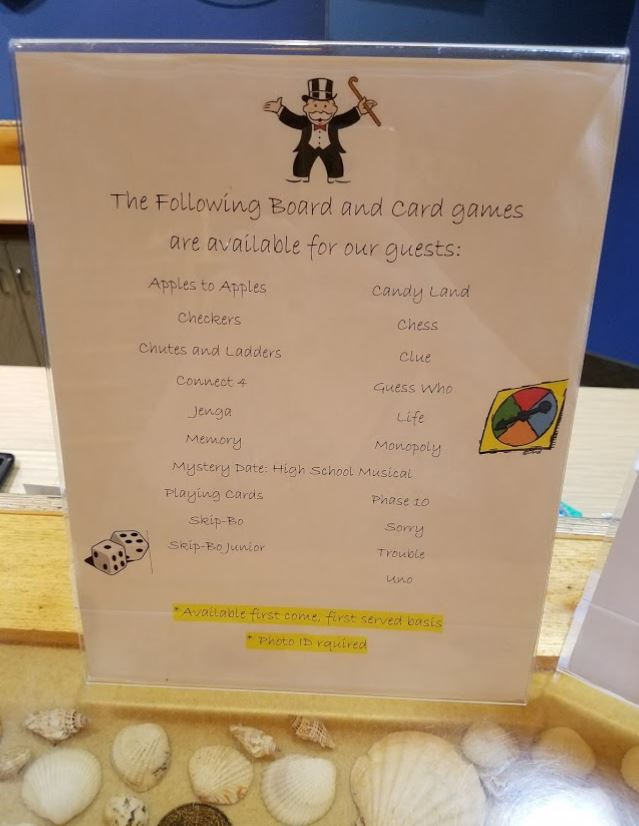 5 – FREE Board Games –
If you are looking for some fun in your room, head down to the front desk. You can choose from a large variety of board games such as Connect Four, Candy Land, Monopoly and more. These are FREE to use for Castaway Bay guests  but you will need to leave your ID. Keep in mind that selection is available on a first come, first serve basis.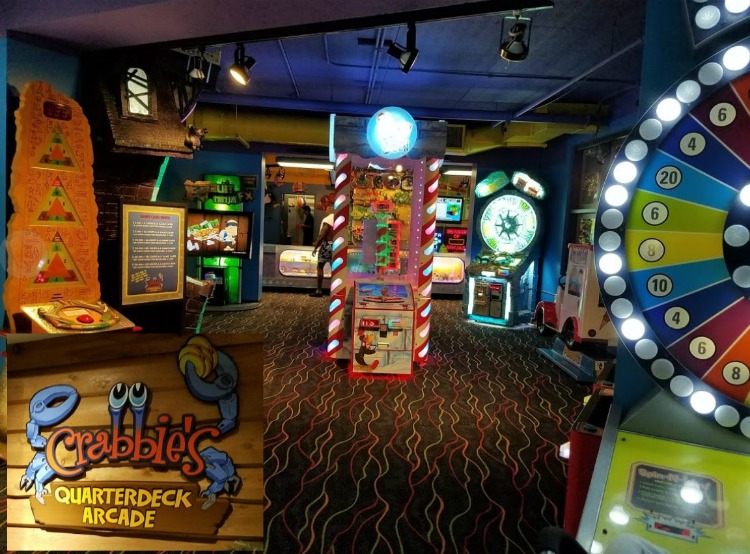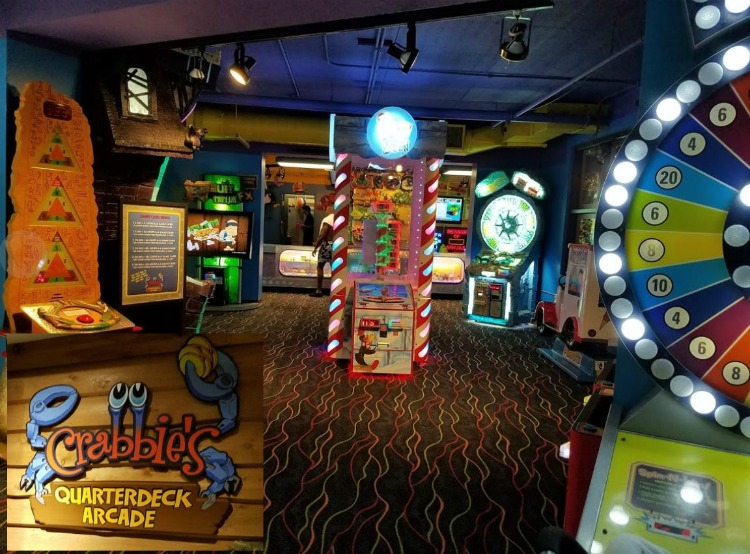 6 – Crabbie's Quarterdeck Arcade –
There's something for everyone at Crabbie's Quarterdeck Arcade. Inside you'll find the latest in arcade in video games such as basketball, air hockey and ticket redemption games. To make it super easy for families, tickets earned are directly loaded onto the arcade cards and they are reloadable. Best of all, many games award tickets that can be redeemed for awesome prizes. The only problem you may have is that your kids will never want to leave!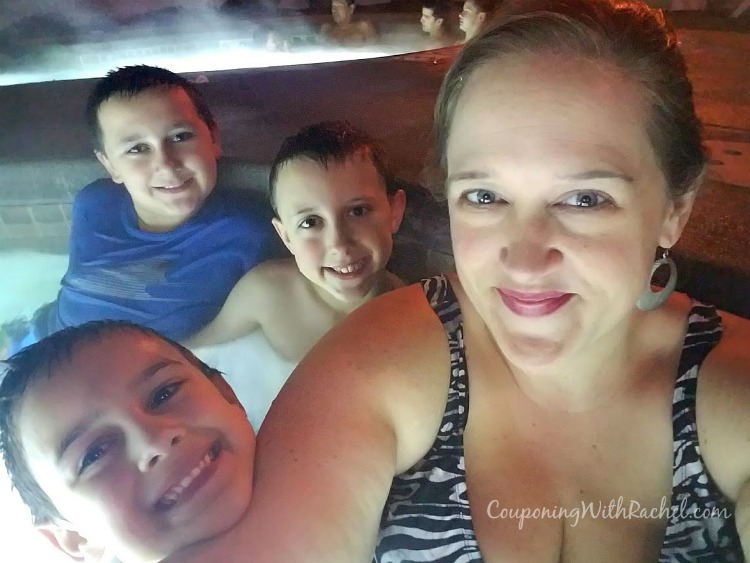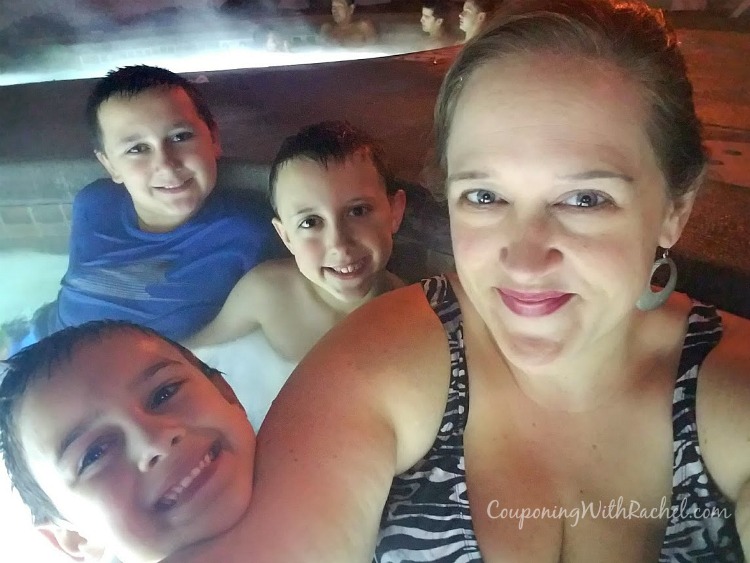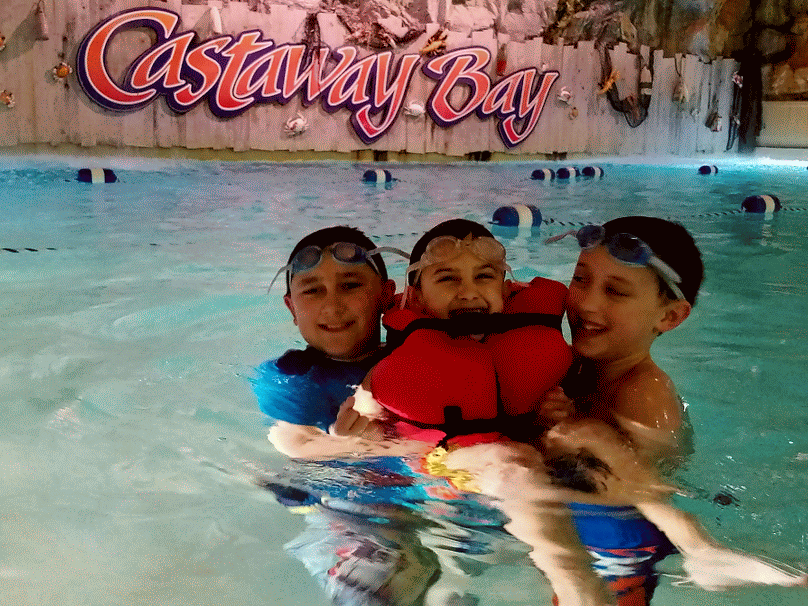 7 – An Amazing Waterpark –
As soon as you walk into Castaway Bay Waterpark, you'll be amazed. From the toddler area for your little ones to the water roller coaster for those that dare, there is truly something for everyone. This five-story enclosed waterpark features a vaulted wood ceiling in a natural setting of palm trees, huts, inland lagoons and plenty of wet and wild water adventure. The indoor/outdoor hot tub is a family favorite and we spend a lot of time in there. Safety is important at Castaway Bay so keep an eye out for the posted signs and life jacket requirements. Best of all there are plenty of lifeguards to help you keep an eye on your kids.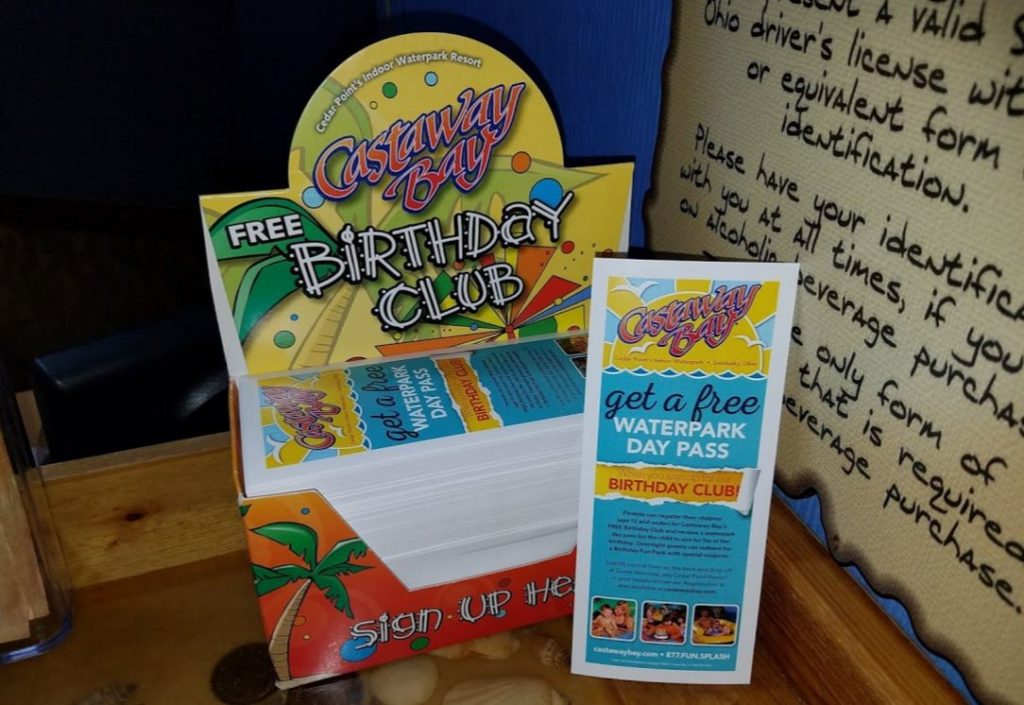 8 -FREE Castaway Bay Waterpark Day Passes –
If you haven't already, be sure to sign your kids up for Castaway Bay's FREE Birthday Club! After signing up, the birthday child will redeem their voucher for either a complimentary waterpark day pass, a birthday fun pack which includes a free food item, t-shirt or backpack and a pre-loaded arcade card (overnight guests only), or free admission for the birthday child when booking a birthday party package for 8 or more guests. In addition to this you'll also receive a special savings from Castaway Bay and Cedar Point!
More fun tips when visiting Castaway Bay:

Want a cheap breakfast? Stop into Ebb and Eddy's the night before where you can grab 1/2 priced donuts!
Take the family on a scavenger hunt! Clues are scattered all over Castaway Bay and will lead you to a treasure chest! This hunt starts at the front desk.
Take a few minutes to catch Big Mamma's song and brief show at the pirate ship in the lobby.
Bring a plastic bag for your wet clothes if you are heading to the waterpark after checkout or grab the plastic laundry bag from your room.
I left Castaway Bay still wearing my flip flops in spite of the cold weather! I was missing the 82-degrees of the water park and definitely not wanting to let go of our fun and relaxing trip to Castaway Bay
Connect with Castaway Bay on Facebook or Twitter.
GIVEAWAY:
Have you visited Castaway Bay? If not, here is your chance! Enter below to win 4 one-day passes to Castaway Bay!
One winner will be randonly chosen. You can enter everyday!