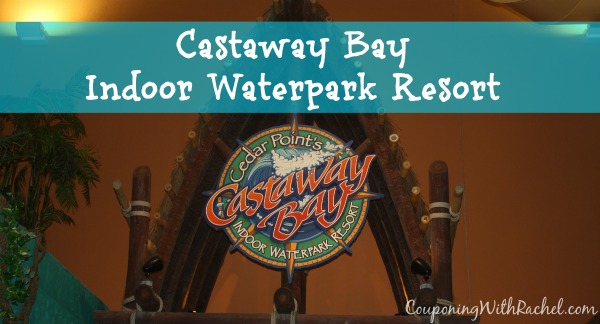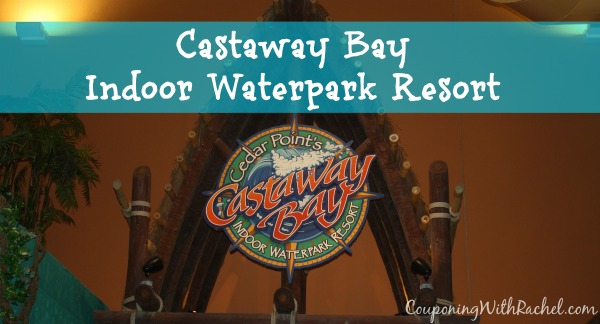 **Want more deals?  Find me on Facebook, Instagram, and Twitter!**
A couple weeks ago my family and I stayed overnight at Castaway Bay in Sandusky, Ohio. Being Ohio residents, we couldn't wait to get out of the unpredictable, cold weather and into the balmy 82 degree indoor waterpark.
As soon as we pulled into the parking lot, my boys squealed with delight! They knew they were in for a great time of splashing, waterslides, swimming and maybe even a few arcade games. When we checked into our room, my boys ran to the sliding glass door and stood on our private screened in balcony. My youngest pointed at the road ahead and then turned and said, "Mom, that's the Cedar Point road".  Being Cedar Point season pass holder's, it was great to know that the world's best amusement park was just right down the road.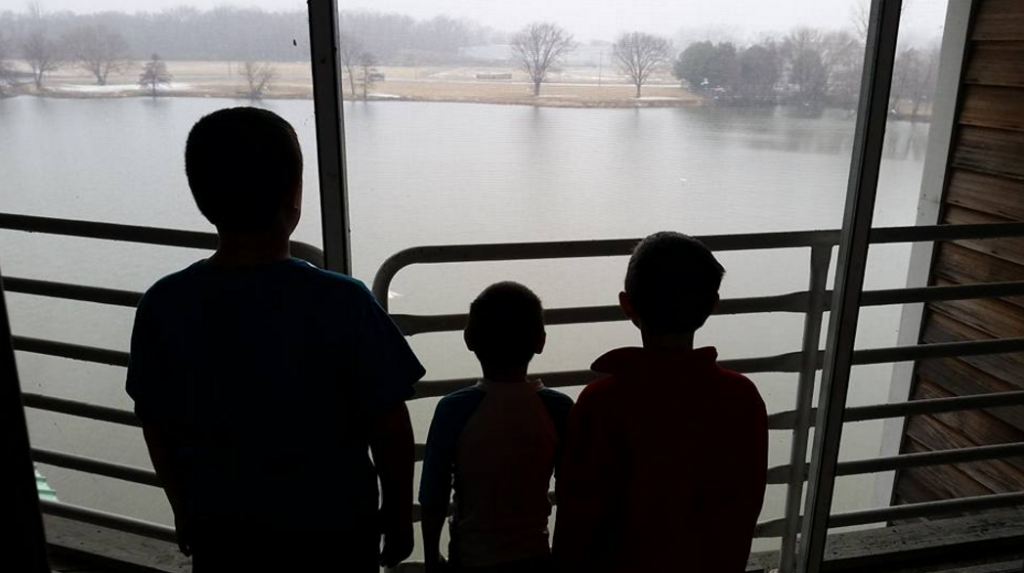 Rooms:
Castaway Bay features 237 hotel rooms and suites including family-oriented units.  There are many different types of rooms which are perfect for families of any size. From standard rooms to large suites, Castaway Bay offers comfortable accomodations to make a perfect overnight stay.
As a family of five, we stayed in the Tarpon Suite. This suite offers a comfy king size bed and two sets of bunk beds in a semi-private sleeping area. My boys loved that they had their own special space and TV. Our room offered a small refrigerator and microwave. This was great to keep our beverages cold and made our late night snack of popcorn convenient to make.  I especially liked that our room offered a large walk in closet. This made it easy to store our bags, shoes and coats without cluttering our room. I'm not sure if this is offered in every Tarpon Suite but according to the layout on their website, it looks like it.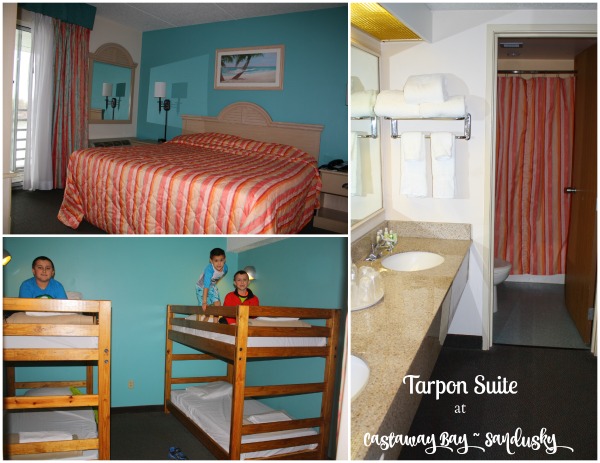 Castaway Bay rooms and suites feature a private deck or balcony (in most), flat screen television, free wireless internet, microwave, mini-refrigerator and coffee maker. Also, many rooms have access to adjoining rooms – perfect for extended families or large groups.  With rooms and suites that fit 4 – 6 people with both balconies and non-balconies, it's sure to fit just about any budget.
Castaway Bay Room Information: 
When you check in, be sure to ask for an activity sheet. This paper lists all the fun activities that are going on that day. From family movies, crafts, bedtime stories and so much more, Castaway Bay is so much more than just a waterpark.  The Peanut character meet and greets are a family favorite! In fact, on the two days we were there we were able to meet Linus, Snoopy and a few other characters. This makes for great photo opportunities!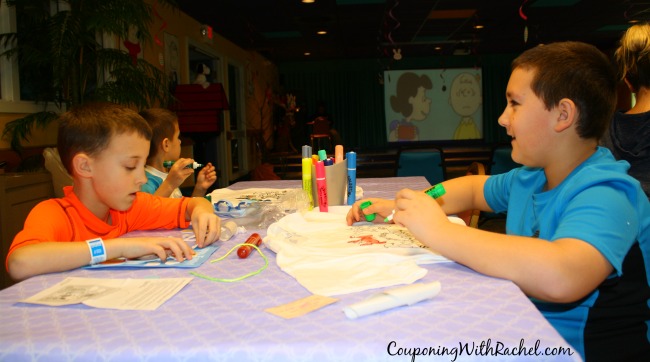 While staying at Castaway Bay, don't miss Club Castaway! This large area located on the third floor and features a large screen TV, dance floor and tables for crafts. Club Castaway  offers up FUN for all ages. While we were there my boys designed t-shirts and created Easter crafts. While some things have a small fee, many activities are free. You got to love that!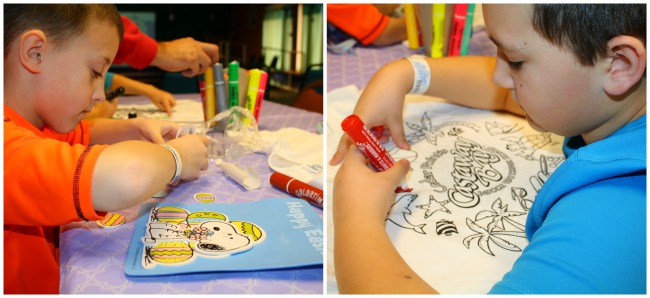 On top of all the other activities offered that weekend, they also had a hot cocoa meetup in the lobby. We were offered free cookies and hot chocolate. While it was a little busy, the employees were on top of it and it was extremely organized. It was fun to snuggle by the fireplace with our little ones and talk about our day before bed.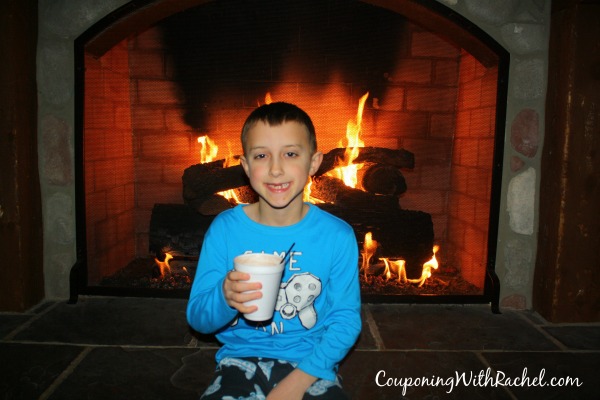 The Waterpark:
Castaway Bay offers up a 38,000-square-foot, tropical theme indoor waterpark resort. This waterpark is loaded with water activities for all ages. Our first stop was the Castaway Bay wave pool where we frolicked in the warm waters and jumped in the waves.  This was an area the whole family enjoyed from my youngest to the oldest.  There are chairs surrounding this zero entry area so even if you don't get in, you can sit and dip your toes in.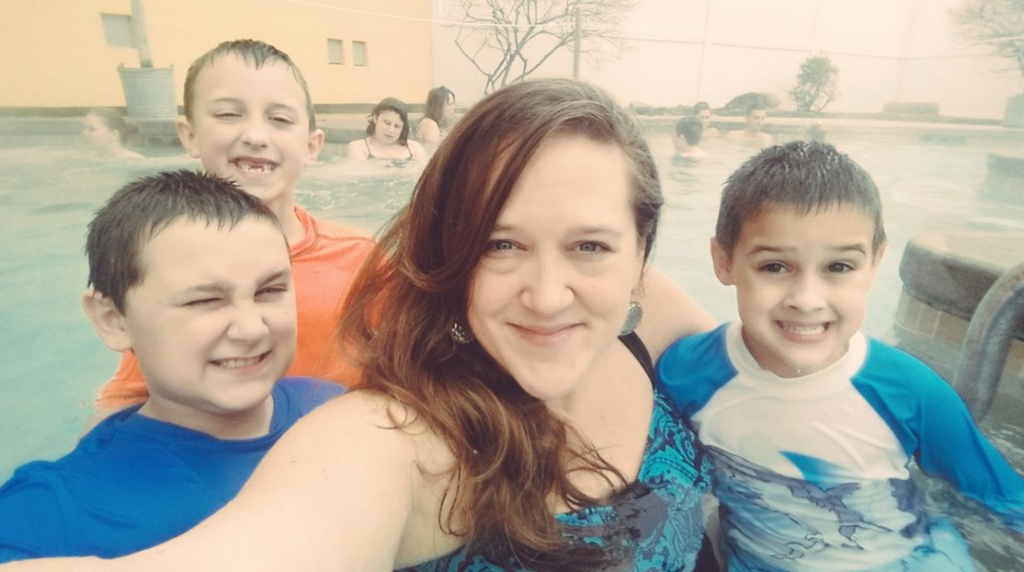 Another favorite was the indoor/outdoor hot tub.  The weekend we visited it was freezing outside, so it was a lot of fun to enjoy a soak while snow was falling all around.  It was so relaxing to let the jets massage my aching muscles and bask in the warm waters. This area was open to our whole family but children under a certain height do need accompanied by and adult.
Castaway Bay offers slides for both the younger ones and those young at heart.  In fact one called Rendezvous Run, is a rousing 35-foot-high, 520-foot-long water roller coaster that propels you uphill using water jets. Of course, this Cedar Point waterpark is going to have a COASTER WATERSLIDE!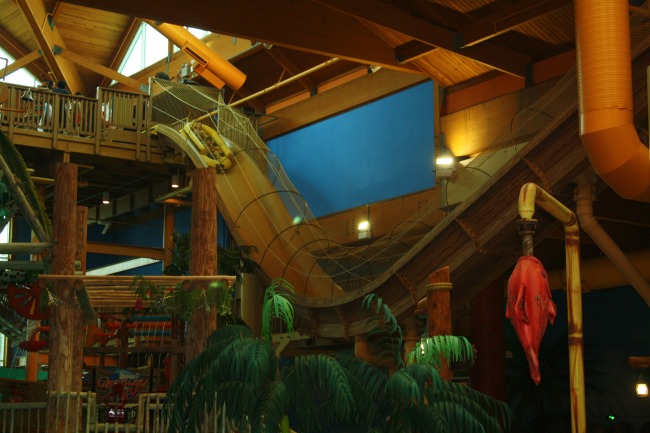 If you have little ones, you won't want to miss the Lookout Lagoon Family Funhouse which features pint sized slides, bridges, water guns and a 1000 gallon tipping bucket. They also offer Toddler Tide Pool with smaller slides and a zero entry pool and Creature Cove which offers basketball hoops and numerous flotation devices.  Our family spent a lot of time in this area just swimming about.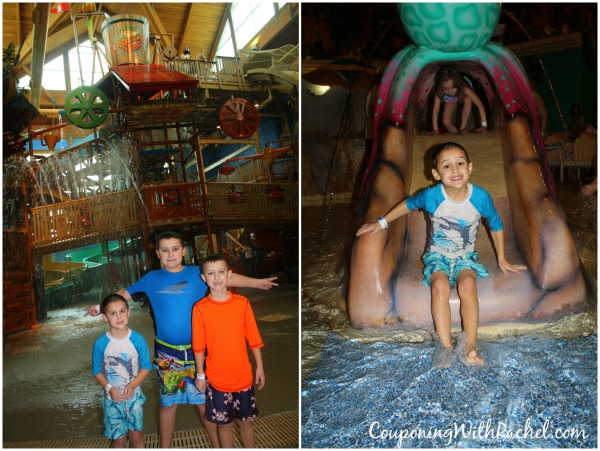 Restaurants:

If you get hungry, you don't have to go far as Castaway Bay offers up several eating options.  Inside the waterpark you can eat at Big Daddy's Snack Shack where they offer up menu items including pizza, wings and breadsticks, hot dogs, warm pretzels, soft serve ice cream and more.  If you are a bit hungier, hop into Mango Mike's right outside the main lobby. This buffet style restaurant offers both breakfast and dinner options at separate times.  My family has eaten at both of these restaurants in the past and really liked both.
Looking for a snack? Ebb & Eddy's is your place! Menu items include quick service breakfast items, fresh bakery selections, deli wraps, salads, ice cream, assorted cold beverages, Starbucks coffee and other assorted hot beverages.  Here's a little tip. After 6:00pm you can snag a donut for just a dollar each. Grab a few and keep them for breakfast the next morning.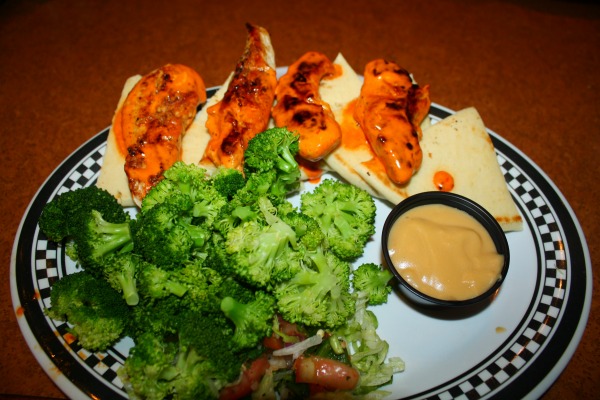 On This trip my family and I ate at Quaker Steak & Lube. Since this restaurant is located on the property of Castaway Bay and connected to the building, you won't have to leave at all.  This award winning restaurant offers up ribs & burgers and delicious wings in 25 signature sauces. While my kiddies ordered their typical kids meals, I scored a tastly yet healthy dish of grilled chicken and steamed broccoli. It was delicious!
GIVEAWAY:
Want to escape the cold? Enter to WIN 4 Castaway day passes! Simply enter below. Keep in mind, you can enter each day.
One winner will be selected. Winner will be mailed day passes within two weeks of winning.